Cycling is great for your mental and physical health. But it can be daunting learning to cycle for the first time as an adult, or getting back in the saddle after a long time not riding. So, we've put together this handy guide with all our top tips to help you feel confident and safe on your bike.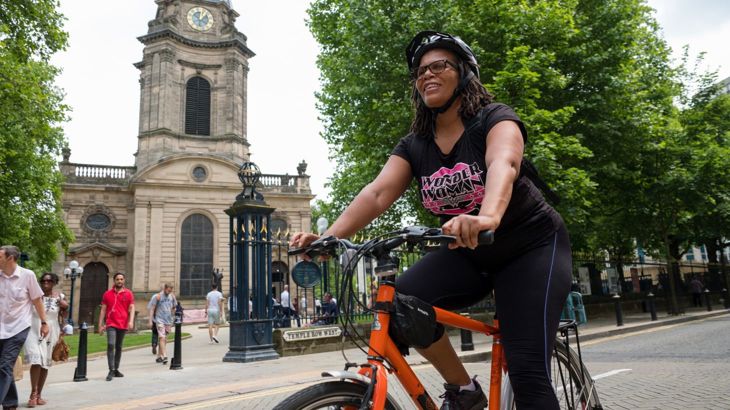 Having the right size bike means that your bike is much easier to control, keeping you safe.
If you're new to cycling, this handy guide offers top tips to help you to feel safe and confident when out on your bike.
The Covid-19 pandemic has shown us the importance of our green spaces and that riding a bike helps to improve both our mental and physical health.
As a result, many of us are trying out cycling for the first time or for the first time in a long while.
And so we've got all the advice you need to enjoy the simple pleasure of riding a bike.
We've split our guide out into nine sections:
Buying the right bike for you
Choosing the right size bike
When you're choosing a bike it is important to buy the right size frame for you.
Having the right size bike means that your bike is much easier to control, keeping you safe. 
There are no standard guidelines on different size frames for adults.
So think about the type of bike you want, and the kind of riding you'll be doing.
  
A bike to reflect your lifestyle
Your bike should complement your lifestyle.
Choose the type which reflects the majority of journeys you intend to make for a more comfortable and enjoyable ride.
Learn more about the different types of bikes and choosing the right size for you.
  
Pre-owned bikes
If you're on a tight budget or simply giving cycling a try, a pre-owned bike can be a much better value for money.
There are many recycle bike schemes in towns and cities across the country, so it's worth having a look to see if there are any near you.
Take a look at our 'Bike shops near me' interactive map for cycle shops and services in your area. 
Choosing the right bike for you and learning the rules of the road and paths are great first steps.
It's also important to have your bike set up for a comfortable and efficient ride.
By making a few simple adjustments, your bike will be a perfect fit.


Riding position
Your riding position can be altered by adjusting the saddle and handlebars.
There are three things you want to achieve:
The right saddle height – to make the most of your leg power and to make sure you can put a reassuring foot on the ground.
Good contact with your pedals to maximise the power in your legs.
Ability to reach the handlebars and your brakes – for good control and comfort. Everyone is different so you will need to find a comfortable balance that suits you.
  
Positioning your handlebars
Well-positioned handlebars are crucial for your comfort and important for control of your steering and brakes.
A good position to start is with your handlebars at the same height as your saddle.
  
Positioning your saddle
Getting the saddle in the right place will help you get the most from your pedal power without straining your body.
Adjust the saddle so your leg pushes vertically down on the pedal.
If you find you want to slide forward or backwards as you ride, adjust the saddle to suit.
Get more in-depth details about setting up your bike.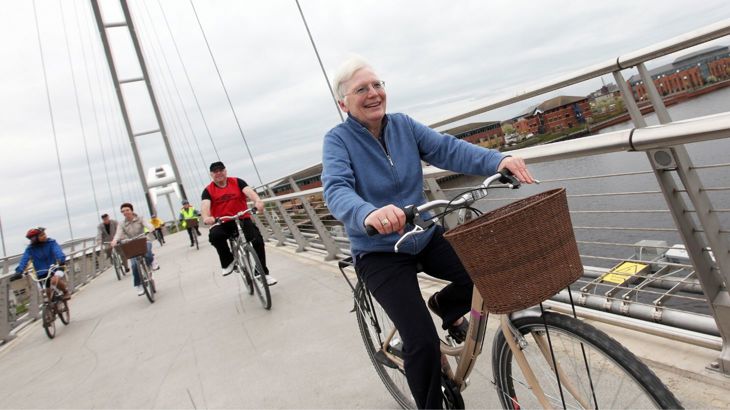 Your riding position can be altered by adjusting the saddle and handlebars.
Cycle training is by far one of the best ways to boost your confidence on two wheels.
It will help to make your journeys safe and enjoyable. And it will teach you many key skills such as good road positioning, signalling, and visibility.
Even the most experienced cyclist is guaranteed to learn something new.


Bikeability
Bikeability is the name of the cycle training in the UK and is based on the National Standards for Cycle Training.
It's like cycling proficiency, but better.
You can find registered and quality assured Bikeability providers in your area by entering your local authority in the 'Find a Course Near You' tool.
For more information on Bikeability visit the Bikeability website and the Bikeability Trust.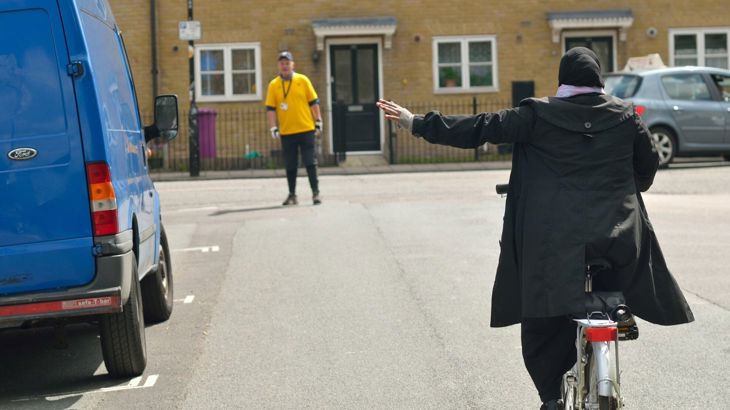 Bikeability is the name of the cycle training in the UK and is based on the National Standards for Cycle Training.
When you're new to cycling, it's important not to push yourself too hard from the get-go.

The satisfaction and fun to come from cycling can sometimes make us forget that our bodies are not used to doing this type of exercise just yet.
This can lead to muscle pain in the following days, which puts many people off getting back on their bike.
Try to keep your first few rides fairly short and in your local area.
Allow your muscles some time to get used to the riding position and the new demands on the body before you take on a ride over two or three miles.
When you're not riding your bike, you should always keep it securely locked.
To cut the risk of bike theft make sure you use a good lock or two and use them effectively.


Best ways to lock up your bike
D-locks are sturdy, but also consider using a cable lock as well to secure any parts of the bike which are quick-release, such as the saddle or front wheel.
Make sure the lock is not touching the ground, where it can be smashed with a sledgehammer.
Finally, make sure you are attaching your lock to an immovable object, such as a sturdy bike stand or railing. 
Our Bike Security blog has more tips to secure your bike and stop it from being stolen.
Like any machine, a bicycle will work better and last longer if you care for it properly.
Get in the habit of checking and cleaning your bike regularly.
Simple checks and maintenance can help you enjoy hassle-free riding and avoid repairs.


The M check
The M check is a simple way to make sure your bike is safe to ride.
It comes with 11 steps and an easy to follow video on how to check your bike. 
  
Cleaning
It is also always a good idea to keep your bike clean.
Any dirt or grit that's on the moving components of your bike can start to wear and damage them.
By giving it a good clean and oiling the chain, you'll notice how much quicker and smoother your bike feels to ride.
Follow the steps
Set your bike somewhere stable and make sure it's not going to fall over.
Pour a little degreaser into a pot and use your toothbrush to gently scrub your chain and cogs with a degreaser.
It's a good idea to change gears while cleaning, this means you can access all the cogs and clean them fully.
Get a bucket of warm, soapy water and liberally wash all the mud and grime off the frame of your bike with a sponge or an old cloth
Now it's time to lube up the moving parts of your bike. You should be careful not to get any oil where it shouldn't be (such as on your brake pads or wheel rims). 
Leave the oil to soak in for five minutes or so and then wipe off any excess.
Bounce your bike up and down carefully to dislodge some of the water then either let it drip dry or towel it down with some old cloths.
Take a look at our more detailed instructions on how to clean your bike.
How to repair a puncture
In the video below Sustrans' Ben describes how to repair a puncture using a quick patch.
How to repair a puncture using a quick patch
Cycling in different weather conditions
With the right approach, cycling is possible in all conditions and weathers.
Below are some tips and advice about cycling in different conditions: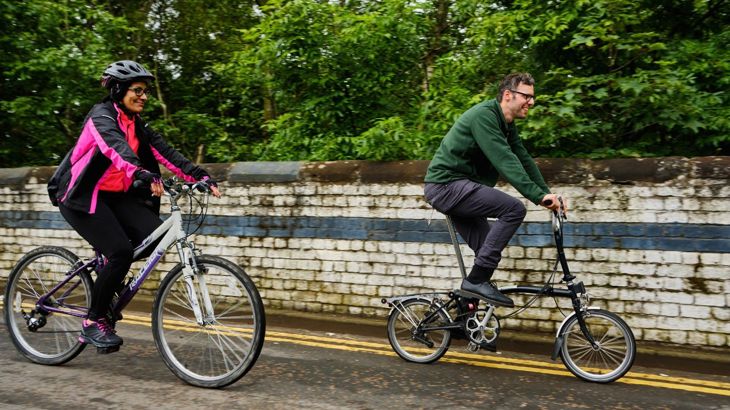 With the right approach, cycling is possible in all conditions and weathers.
We recommend having an idea of the route you would like to take before setting off.
This will help you to avoid finding yourself on busy roads or in places not suitable for bike riding.


Traffic-free route guides
Download one or more of our free guides for easy and traffic-free trails near you.
  
Route planning apps
There are many mobile phone apps that will help you to plan your route.
But the app you pick really depends on the purpose of your journey and your personal preference for how they look and feel.
Here's a short overview of some of the most popular route planning apps and what they are best for.
  
How to use the National Cycle Network
The National Cycle Network is a UK-wide network of signed walking and cycling paths connecting our cities, towns, and countryside. 

We have plenty of resources to help you plan and discover cycle routes.
The video below gives a good introduction to using the National Cycle Network and how to plan your ride.
How to use the National Cycle Network
Riding on shared-use paths
Many people including young, older and disabled people benefit from shared paths.
They provide valuable opportunities to travel in a safe, traffic-free environment.


Check your speed
People riding bikes tend to be the fastest movers on these paths.
Make sure you consider your speed when passing others, particularly those who are frail or who have reduced sight, hearing or mobility.
  
Best practice
When riding a bike, travel at a speed appropriate to the conditions and ensure you can stop in time.
It is also good practice to ring a bell well in advance if approaching people from behind.
Be particularly careful at junctions, bends, entrances onto the path, or any other 'blind spots' where people could appear in front of you without warning.
If there is a dividing line segregating cyclists from pedestrians, keep to the appropriate side.
This is normally indicated on blue and white road signs and by logos on the road surface.
Find out more about using shared-use paths.
 
Share, respect and enjoy the National Cycle Network
Due to the Coronavirus pandemic, it's great to see more people than ever using their local routes.
So we've also created some easy-to-follow guidelines for using the Network so that everyone has a safe and enjoyable time.