Traffic-free, shared-use paths help many people make their everyday journeys safely. They're also important for leisure, with lots of people using them for exercise and days out. Take a look at our advice and tips for using shared-use paths.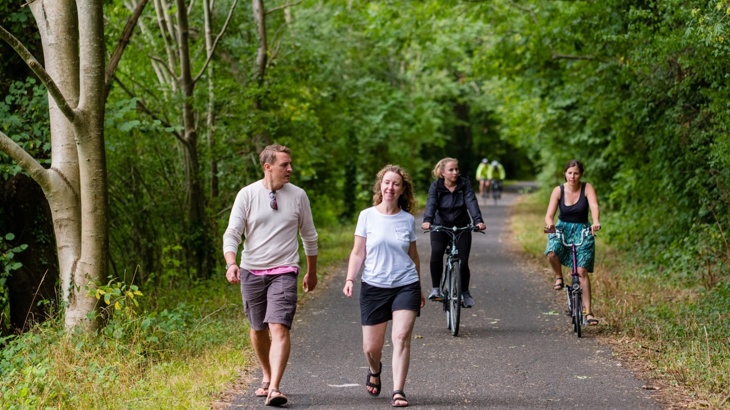 Many people including young, older and disabled people benefit from shared paths.
They provide safe spaces for us all to travel, relax, unwind and play.
So we've put together some advice and tips for using shared-use paths. Together, we can make sure everyone enjoys using these routes.
All users of shared-use paths have responsibilities for the safety of others they are sharing space with.
People riding bikes tend to be the fastest movers on these paths. 
If you're cycling, we recommend that you consider your speed so you don't accidentally startle other people. Particularly those who are frail or who have reduced sight, hearing or mobility.
Top tips for sharing the space
Use the path in a way that is considerate to the comfort and safety of others.
If there is a dividing line segregating cyclists from pedestrians, keep to the appropriate side; this is normally indicated on blue and white road signs and by logos on the road surface.
When it's dark, or in dull conditions, make sure you are visible to others, use lights at night.
Be particularly careful at junctions, bends, entrances onto the path, or any other 'blind spots' where people could appear in front of you without warning.
When riding a bike, travel at a speed appropriate to the conditions and ensure you can stop in time.
Be courteous and patient with other path users who are moving more slowly than you and slow down as needed when space is limited or if you cannot see clearly ahead.
Please be aware, especially of more vulnerable users such as older people, people with small children, people in wheelchairs, or the hearing or visually impaired.  
Give way to slower users and wheelchair users and take care around horse riders leaving them plenty of room.
When riding a bike, ring a bell well in advance if approaching people from behind.
Keep your dog on a short lead when walking on a path shared with people who cycle.