Cycling is a wonderful way to have fun as a family. These rides on the National Cycle Network make for a brilliant family day out.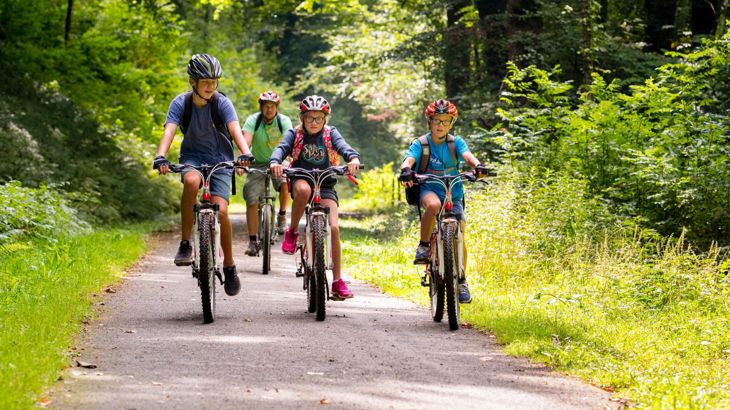 The Tarka Trail in Devon.
Kids will love being able to ride their bikes on these largely traffic-free paths and there are lots of things for them to see and do along the way. You can pack a picnic and have a great cheap day out for you and your kids.
So take some time out and make some wonderful memories on these great routes.
The path features a variety of sculptures and a working steam engine at the old train station at Bitton. Enjoy a pub lunch at Saltford, with wonderful views of the River Avon. In Bath, you'll find a variety of ways to spend the rest of your day including the Roman Baths, art galleries, shopping and Botanical Gardens.
One of the most popular recreational routes in the country, the Camel Trail runs from Padstow to Poley's Bridge, via Wadebridge and Bodmin. The trail passes through the wooded countryside of the upper Camel Valley and alongside the picturesque Camel Estuary.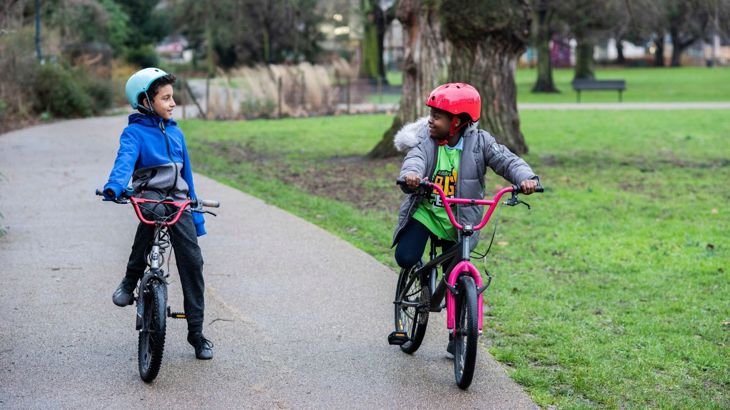 Traffic-free routes are a perfect day out for families with young children.
This route is one of the country's longest continuous traffic-free walking and cycling paths and gives you superb views across the mouth of the Taw Estuary. A hybrid bike is recommended to enjoy the peaceful surroundings to its fullest as the trail has a few sections which would be unsuitable for a road bike. There are lots of wildlife habitats along the route including estuary mudflats and salt marshes, oak woodland, streams, ditches and meadows.
Marriott's Way provides a lovely green corridor from the heart of Norwich into the countryside along a disused railway. There are some on-road sections through Norwich, but otherwise the route is traffic-free and flat.
Starting in the historic market town of Monmouth - the birthplace of Henry V - this trail is straight out of a children's story book. There's so much to see and do with old-time pubs, quaint shops and heritage sites including castle ruins.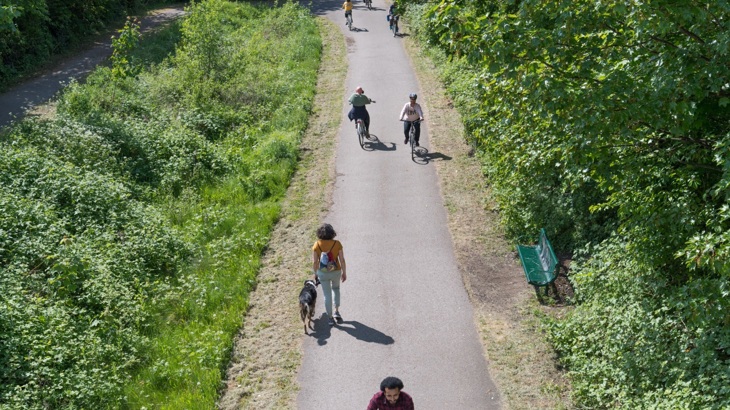 Traffic-free routes can make for excellent walks, too.
This route is a wonderful green corridor near Dewsbury which passes a wildlife reserve and has fantastic moorland views. The path is home to a collection of artworks Sustrans commissioned and is also one of our Greener Greenways where we are working to enhance the biodiversity and habitats of the route.
The Cuckoo Trail is one of the most popular family cycle rides in the South East. The trail runs through a mixture of broadleaf woodland, open grassland, arable farmland, and pasture with verges often thick with seasonal wildflowers like vetch and willowherb. Along the way are dramatic sculptures and plenty of carved wooden seats to stop and take in your surroundings.
This route between Consett and Sunderland travels past the Beamish Open Air Museum and the Wildfowl and Wetlands Trust Centre. As you head into Sunderland you pass the new Stadium of Light before arriving at the beach at Roker.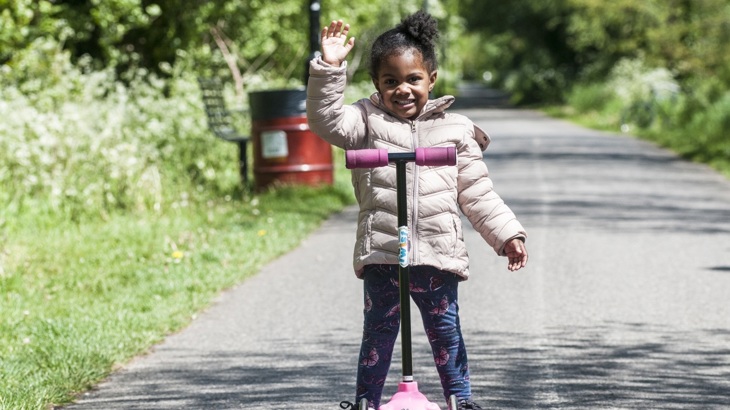 On the Bristol and Bath railway Path
This easy, traffic-free ride takes in three of Wales' most picturesque parks. At Hengoed you pass the magnificent 'Wheel of Drams' artwork, an eight-metre-high sculpture, constructed from old coal carts, known as 'drams'.
A tranquil green corridor all the way from Comber to the heart of East Belfast along the old Belfast to Comber railway line. You arrive at the newly developed Titanic Quarter - a great place for a bite to eat.
Boasting views of the Cairngorm Mountains and finishing in a place also known as the "Osprey Village", this largely traffic-free route is known for its stunning natural scenery. But there's also history to be enjoyed - the restored Strathspey Steam Railway runs nearby and bikes are allowed on it. 
Want more content like this?