Want to find a new walking or cycling route but don't know where to start? Here's our guide to some of the most popular route planning apps. Choose the right one for you and discover a local hidden gem or get planning your next big adventure.
Choosing the right app for planning your walking or cycling journey can be confusing - there's so many out there.
But the app you pick really depends on the purpose of your journey and your personal preference for how they look and feel.
Here's a short overview of some of the most popular route planning apps and what they are best for.
You'll also find below a little more information on how to find your local routes on the National Cycle Network.
Watch this short video to get an overview of some of the most popular route planning apps out there.
Route planning apps
The route planning apps mentioned in the above video are:
Google maps is simple, easy to use and great if you have a specific destination in mind. 
Strava is good for recording routes whilst exploring or exercising. 
It also has a 'route suggestions' feature where you can explore routes suggested by your local community. 
OS Maps is great for exploring, with on and off-road route planning abilities and reliable 'right of way' information. 
With just a few taps, you can see and follow routes created by other walkers, runners and cyclists.
You can also plot your own routes and share them with friends.
OS Maps is also the only app where you can view the National Cycle Network in its entirety and explore its routes. See how below.
Komoot is another great app for exploring routes. You can calculate the most efficient route for you based on your active travel type (walking, cycling, hiking etc.) and fitness level.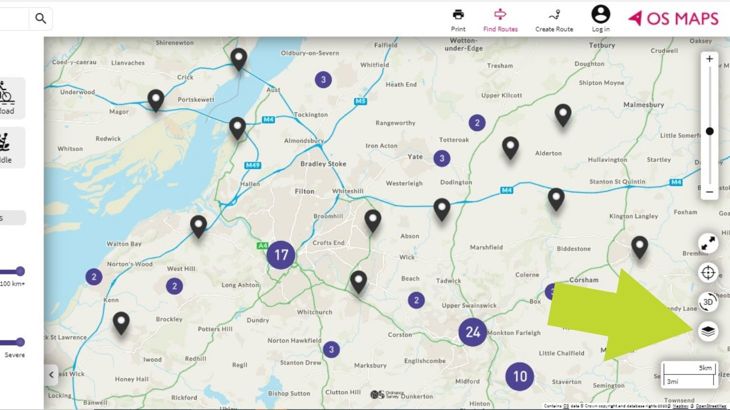 On the right of the screen, click on the symbol that represents layers.
Using OS Maps to discover The National Cycle Network
All route descriptions on our website include a link to view the route on OS (ordnance survey) Maps.
Alternately you can view the whole National Cycle Network by taking the following steps:
Open the OS Maps website
On the right of the screen click on the symbol that represents layers (see image above)
Select 'National Cycle Network'.
If you have the OS Maps app:
At the bottom right of your screen, tap the layers icon
Scroll down and tap the National Cycle Network layer
Open the menu top left and choose 'find routes'
Browse and click on the route you want to follow
Select 'add to favourites' to automatically sync the route to your OS Maps app
To find your routes, tap on the 'routes' tab under 'my routes and maps'
Tap the 'favourite routes' tab and find your National Cycle Network routes
Tap 'follow route' and off you go.