As we head into autumn and winter, the weather is getting a little wetter. But that doesn't mean you need to put your bike away for the next six months. Instead, cycling in wet weather is much easier than you think. Here are our top tips for protecting your bike and keeping yourself dry in the rain.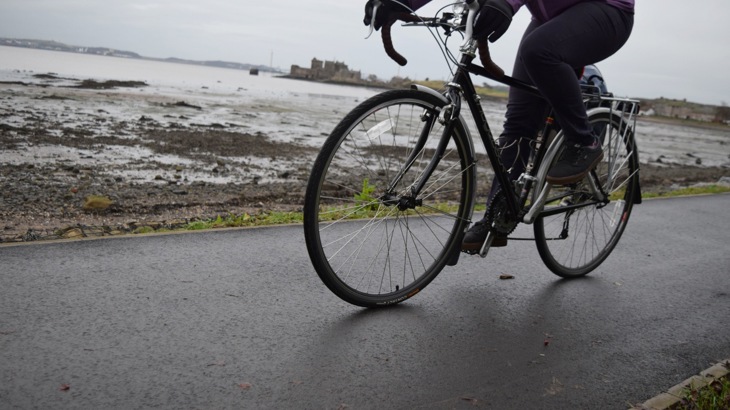 Wet weather cycling can seem daunting, and being cold and damp can be rather miserable. But there are lots of things you can do to prepare for the wet weather.
Want to know how to look after your bike or what kit you should wear?
Here's everything you need to know about cycling in the rain.
Looking after your bike in the rain
Check your wheels
Before heading out, it's important to check your tyres.
You will need to lower the pressure slightly to increase the surface area of the tyre.
That way they will grip on the road and make the ride more comfortable.
To get a better grip in the cold and rain, a thicker tread tyre may be a good idea. A minimum of 25mm is good, with many opting for 32 or even 35mm.
If possible add a soft flap to your mudguard, it's amazing the difference they make especially if you like dry feet. Or make your own from an old plastic milk bottle.
Get yourself some mudguards
If it's looking like a particularly wet ride, mudguards will make a big difference. They can help protect you from some of the spray from vehicles.
Not all bike frames can fit the more robust full-cover mudguards, but even clip-on guards can offer some protection.
  
Keep your chain nice and greasy
It's a good idea to apply chain grease or lube to protect your chain. Wipe it down until try and then apply the lube to keep your chain lasting for years.
Wet lube is designed for rainy days so try that if you're finding that your chains have less movement.
I'm a big fan of using a waterproof phone mount in the rain, especially when you want to navigate with your phone on your bars. Also, take a little air out of tyres for more grip in the wet, and it's better on the damp leaves.
Light up
As the days get shorter, riding in the dark becomes more frequent. And with wet weather can come poor light levels, so you need to attach lights to your bike to stay safe. 
Place your lights at the front and back so you can not only see where you're going better, but you are also more visible to other road users.
A pair of flashing LED lights can also be easily kept in a bag or pocket in case of a sudden downpour.
Remember, the law requires front and rear lights and reflectors if cycling after dark.
  
Get a firm grip
Another great tip is to apply some anti-slip handlebar tape to your handles and brake levers.
This kind of anti-slip tape can be found in most hardware stores. And it will help you keep a firm grip, stopping them from slipping if wet.
It's always worth carrying some spares, especially if you're off on a long journey. In wet weather, consider inner tubes and a pump in case of a puncture.
  
Keep the seat dry
If you're leaving your bike out in the rain, even for a few minutes, it's a good idea to cover the seat of your bike.
One reason for saddle sores is being damp in your undercarriage area.
How to clean your bike after a wet and muddy ride
After your ride, check your tyres for cuts and grit and clean the chain.
If the whole bike gets muddy, spray it down before it dries and becomes hard. Then, brush down all the moving parts, wiping them down to prevent rust.
It is best to put away your bike clean and dry, ready for your next ride. Remember to keep checking your tyres regularly, and reduce the pressure when needed.
It's a bit of a silly one, but it doesn't actually rain as often as people might expect. I got properly soaked three times last winter cycling to or from work. Most of the time it looks worse than it actually is. Also, I'd recommend that you don't use a bike with steel rims. They look beautiful but they're terrifying in the wet!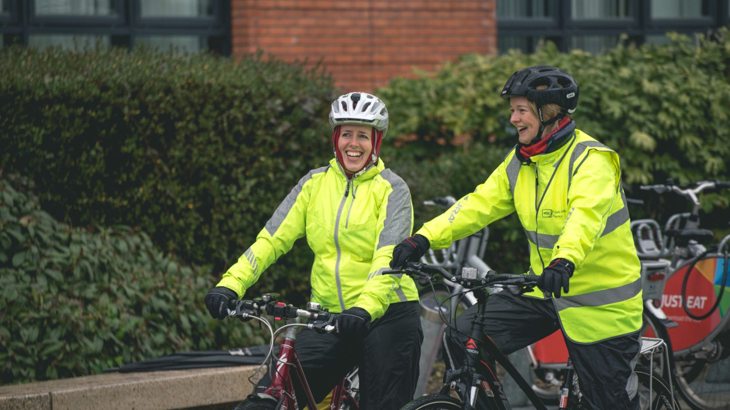 Wet weather gear: What to wear when cycling in the rain
Now we've covered the equipment, let's look at the best wet weather cycling clothing from head to toe.
Your head, chest, hands and feet are the main areas to keep warm and dry.
So as long as you've got these covered your cycling experience should be much improved.
Protect your head
Starting at the top, a cycling cap may be a worthy addition to your cycling gear.
Helmets are excellent protection, but often have air vents that let in the rain. So, a cap worn underneath can help keep you head dry.
Cycling caps are specifically designed to have a peak at the front, which diverts the rain away from your face. Otherwise, a helmet cover or helmet with no vents will do the job.
  
Make sure you can see clearly
Cycling glasses can be useful to keep the spray from your eyes. Wrap-around glasses help to keep your face dry.
Remember the rain and water from the road is far from sterile, so you really want to avoid this getting in your eyes.
  
Don't forget your neck
Wear a scarf or snood to keep your neck warm and dry and avoid the dreaded dripping down your bike.
I recently bought a poncho for cycling in the rain. I love it. You can wear your normal clothes underneath and it packs up fairly small for when I reach my destination.
Wrap up warm
Perhaps the most important part of your wet weather cycling gear is your rain jacket. A high-quality waterproof jacket can protect you and your clothes from the rain and spray from the road.
A jacket also helps regulate your body temperature, so consider a breathable material.
The thinner the jacket, the more layers you can build up underneath therefore increasing the chances of remaining dry.
Next, keep the other half of your body dry with some waterproof trousers.
Or, if you prefer, you can try waterproof over trousers, which go over your usual clothes. They have handy ankle zips to make putting them on over your shoes easier.
  
Keep your hands warm but agile
Keeping your hands and feet warm and dry will make a rainy cycle ride much more enjoyable. They're the most vulnerable parts of the body, so remember to keep them covered.
It's really worth investing in a good pair of cycling gloves, as the thinner flexible material will help you keep control of your bike.
Make sure they go as far up over the wrist as possible, to create a seal that no annoying drips can get into.
Personally, once you are a bit soggy you get used to it pretty quick! But it does help when you have dry clothes to change into at your destination, including shoes.
Wrap up your feet
Next, wearing waterproof shoes or boots can make a big difference. Otherwise, some water-resistant overshoes or shoe covers can do the job too, by slipping over your regular shoes.
Also, don't forget your socks. Try some waterproof socks if you find you get damp feet often.
A cheap alternative is a good old-fashioned reusable plastic bag.
Simply wrap the bag over your socks, and then put another bag over your shoes and overshoes. This adds a few layers to keep the rain at bay.
  
Keep your bag dry
Keep your belongings dry too by using a waterproof bag or panniers. Alternatively, a secure rain cover can do the trick.
Attach a reflective belt or band to add an extra layer of visible protection.
  
Get changed as soon as possible
Lastly, remember to get out of any wet clothes right away as soon as you return home.
Then you can get to work cleaning your bike and then you can relax after a successful rainy ride.