Carefully chosen accessories can transform any bike from a leisure vehicle into a valuable year-round mode of transport.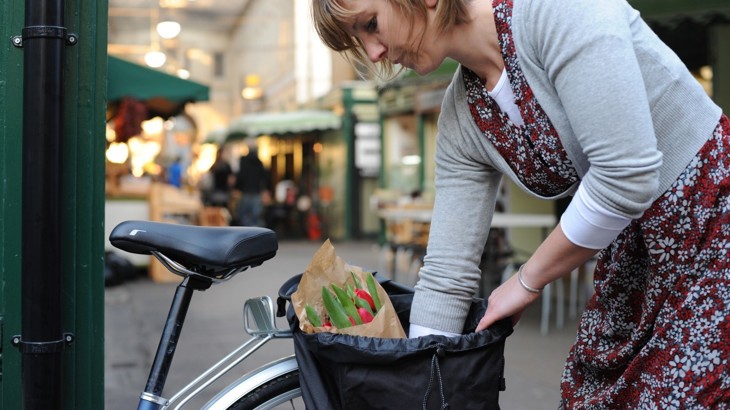 If you're planning on carrying shopping, its worth investing in panniers.
There are many accessories available for you and your bike, but what should you spend your money on?
Well, we can help by guiding you from the 'must-have' accessories through to the luxury items to kit out your bike with.
Why should you invest in accessories?
Safety is the number one reason you should consider accessories.
You need to be seen and you need to be protected.
The second reason is comfort.
The more you ride, the more you will benefit from extras that make life on a bike a bit easier.
Essential bike accessories
Lights
Lights are a must-have for making sure you can see and be seen.
When cycling in the dark, you're required by law to have a white light on the front and a red light on the rear.
These can clip onto your bike, backpack or your clothes.
If you're looking to eliminate the need for batteries opt for lights with a generator that gets powered by your pedalling.
Pump
It's a good idea to have your own pump so you can keep your tyres inflated and fix a flat tyre.
There are different types of bike valves and most pumps will adjust to fit both, or you can buy an adaptor.
Lock
Always lock up your bike when you're not riding it.
Cheap locks are not worth your time, so make sure that you keep your bike safe and secure with a strong, reliable lock. 
Tools and puncture repair kit
It is sensible to carry a puncture repair kit at all times.
For long journeys, you may want to consider a spare inner tube and tyre levers too.
Buy your pocket puncture repair kit
Mudguards 
A lot of bikes are sold without mudguards, so you'll need to get a pair fitted if you want to avoid mud or dirty water being sprayed up your back in wet weather.
They also reduce the spray trail left by your bike in wet weather, meaning that you're being considerate to the people you ride by, as well as your washing machine.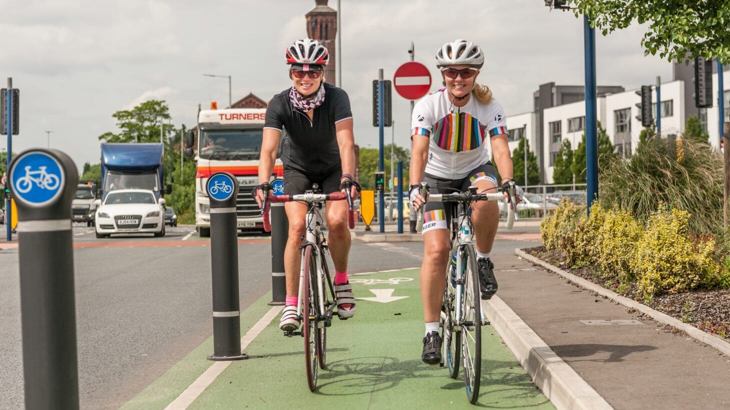 Nice-to-have bike accessories
Panniers, baskets and trailers
Rucksacks are fine for carrying light loads, but they can make you hot.
If you're making long, regular journeys or carrying shopping, it's worth investing in panniers.
Alternatively, you could strap your rucksack to a bike rack, or put a basket on the front of your bike. If you want to carry really heavy loads, use a bike trailer.
Browse panniers and bags in our shop
A friendly ring will let people know you're approaching but never assume they can hear you.
Mirrors can be useful for checking traffic behind you.
They can be attached to the handlebars or clipped on to your helmet.
What cycling clothing do I need?
For short and local cycling trips there is no need to wear special clothing.
You can even cycle in smart clothes, provided they give you enough freedom to pedal. 
Footwear
Flat shoes that are suitable for walking are also great for cycling.
A shoe with grip will make good contact with the pedals and give you more control.
Reflective clothing
If you ride at night or in heavy traffic, it's important to make yourself as visible as possible to other users.
A reflective vest or jacket is ideal. Vests are a cheap solution and easy to stow in your bag.
Gloves
Wear gloves to keep the cold away, and earmuffs can also come in handy - just make sure that you can still hear!
Waterproofs
Don't let a little rain hold you back. All you need is a waterproof jacket and trousers plus some reflective gear.
There is a variety of specialist cycling clothing for any budget and technical requirements. But don't forget you can cycle comfortably in your normal clothes. 
Take a look at our reflective clothing
Personal safety equipment 
Helmet
A helmet is not required by law and it won't prevent accidents from happening, but can provide protection for your head if you fall off your bike.
They are particularly recommended for young children. Ultimately, however, wearing a helmet is a question of the individual (or parent) choice.  
Our top tips for cycling helmets:
Always buy a new helmet which conforms to one of the recognised safety standards such as BS or CE. 
A good helmet should be firmly fitted with no gap between the helmet and your head.
If you will be cycling for long periods, choose a helmet with air vents to help keep you cool.
Check your helmet regularly for wear and tear and, if it takes a bash, replace it.