The sun is out, and it seems that the warmer weather is here to stay. It's hard to beat the feeling of the sun on your skin, but when you're heading to work it can come with its challenges.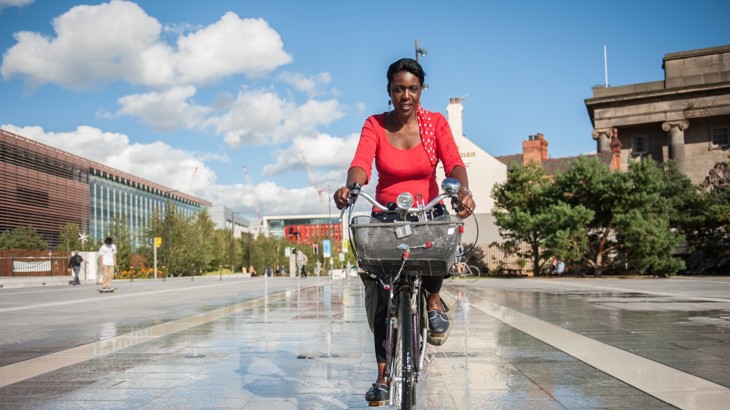 No one wants to arrive at work sweaty and rumpled (your colleagues probably won't be best pleased either).
But help is at hand, just follow our super simple tips and you'll stay cool and collected this summer.
1. Swap the rucksack
If you stash your possessions in a rucksack you're much more likely to get sweaty while you are walking or cycling to work.
For cool, breezy summer cycling it's a good idea to invest in some panniers or a basket for your bike.
For walking, invest in a rucksack with a breathable mesh back, or try a shoulder bag.
And don't forget to carry water with you in case you get thirsty.
2. Think about materials
When choosing which clothes to wear, think of lightweight, breathable fabrics – you'll stay cooler. Loose-fitting clothes tend to be cooler as well.
Although when cycling beware of anything that might get caught in your chain such as long, billowy skirts.
Cotton or linen are both great at keeping you cool.
There's no need to overthink it though, as long as you stay away from denim, wool, leather and other cold-weather clothes you'll be fine.
We're lucky not to have to endure extreme heat here in the UK.
3.
 

To shower or not to shower? 

This is a personal choice but as long as you take it fairly easy on your commute then you probably won't need to shower, a quick spray of deodorant and maybe a change of top should be enough.

If you'd like to shower but you don't have one in your office then you do have a few other options.

Bring a towel, a damp flannel and a change of clothes and you can undertake a fairly decent sink wash.

Or you may be able to find a nearby gym that'll let you use the changing facilities for a reduced fee. 

Some cities even have secure bike storage facilities that come with showers.

 
4. Take it easy and slow down
Cycling and walking to work in the warmer months is enjoyable, so why rush it?
Leave a bit earlier and take it down a notch, to enjoy your surroundings.
It can be useful to think of your summer cycling or scooting commute as walking with wheels rather than sprinting.
5. Consider investing in a lighter bike (or tuning up the one you already have)
Obviously getting a new bike is a big investment and not something to do on a whim.
However, if you're thinking of getting a new bike (or you're lucky to have access to more than one), then consider switching to a lighter racer style bike for the summer.
A light bike with a range of gears will make your commute much easier and the less you have to work the less you'll sweat.
Even if you have no intention of getting a new bike you can make small adjustments to your existing ride to make sure it's running at optimal efficiency.
Check your brakes are set up properly and aren't rubbing against your wheel, there's nothing more exhausting and sweat-inducing.
Next, make sure your tyres are inflated to the correct pressure.
They lose air over time, and if you haven't pumped them up for a while, they'll be running a little under pressure. Having them fully inflated (don't overdo it) makes for a faster ride. 
If you haven't checked your bike for a while it's worth doing an all-over maintenance check to make sure everything is still running smoothly.
You can do it yourself or take your bike to your local shop for a service. It'll make a noticeable difference.
6. Think about adjusting your route
Quieter, tree-shaded streets, routes through parks or alongside water will all be considerably cooler than main roads lined with tall buildings that trap the heat.
If you can, try adjusting your route to work.
And remember that in the UK we're blessed with very mild weather.
Our summers are rarely very hot, and our winters are never very cold.
It's perfect cycling weather, just remember to pack a lightweight waterproof year-round and you should be right as rain.