We set up a girls bike club in a Brighton and Hove secondary school to address the gender gap in students choosing to cycle to school. The project was funded by Active Sussex and aimed to build the pupils' confidence in cycling.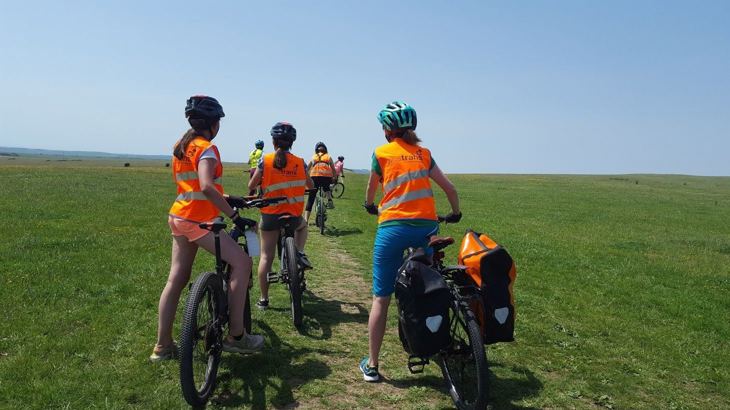 The Girls' Bike Club from Blatchington Mill School enjoy a cycling expedition in the South Downs
Why a girls bike club?
In 2018 Sustrans released a report exploring the gender gap in cycling.
It showed that in England, men make three times as many cycle trips as women do per year.
In Brighton and Hove this gender gap is clear from an early age. Just 1.5% of primary school-aged girls cycle to school regularly, compared to 3.9% of boys.
At secondary school the gap widens further; the percentage of boys increases to 4.7%, whilst for girls, it drops to 0.4%.
Our Bike-it Officers have seen this first hand, as well as the impact a lack of exercise has on girls' physical and mental health.
  
Bridging the gender gap
With these issues in mind, we applied for funding from Active Sussex with the intention of setting up our first girls' bike club.
Our Bike-It officer, Lucy, identified girls interested in joining the club at Blatchington Mill School in Hove.
They discussed any concerns and barriers to cycling that the girls had, and how we could overcome them.
We enlisted two young female trainers to work with the girls.
They would deliver weekly sessions to increase confidence on bikes.
And also to teach bike maintenance skills and encourage more physical activity.
  
Bike-it Wild: Celebrating a year of girls' bike club
To celebrate a successful first year of the club, we planned an overnight 'Bike-it Wild' expedition in June 2019.
It would continue to build the girls' skills and confidence.
A year ago I would never have thought I'd be able to do this. Being with my friends, as part of this adventure has given me the encouragement and confidence I needed. I absolutely loved it!
We worked in partnership with Sussex Wildlife Trust, South Downs National Park and Truleigh Hill YHA.
Sustrans staff led the ride into the South Downs.
The girls were able to explore their local landscape and bond as a team as they prepared meals and camped out under the stars.
Sussex Wildlife Trust delivered activities throughout the trip.
They taught the girls about the local wildlife and habitats in the National Park.
This film was funded by South Downs National Park, in partnership with Sussex Wildlife Trust and Truleigh Hill
Bike-it Wild was the culmination of a year of preparation. It promoted team-building and collaboration.
And it allowed the girls to celebrate their achievements with an adventure on wheels.