Sustrans is providing refugees in Hastings with cycle loans and support to help them travel around the area in a low-cost and sustainable way. This is part of Your Active Journey, East Sussex County Council's active travel programme.
The cycle loan project aims to help people seeking refuge to feel part of the local community, by providing better access to essential services and ultimately independence.
The project is possible thanks to funding from East Sussex County Council, with support from Hastings Borough Council's Syrian Resettlement Programme.
The value of travel independence in a new country
In 2021 the number of asylum applications to the UK was 48,540.
When fleeing conflict, people often leave behind everything they own, so when they arrive in the UK, they need essentials to survive.
In a country where the native language is different from their own, lack of communication and financial instability can be very isolating.
Providing a cost-effective and sustainable mode of transport can help people to feel welcome, and support their integration into the local community.
Access to a cycle means volunteering opportunities, education, training, and local amenities are now within reach.
Active Steps welcomes refugees
Active Steps cycle loans were set up to offer economically vulnerable people better access to the local area in a way that is affordable, and also is good for physical and mental health.
By reaching out to organisations working with refugees, the Active Steps programme has been adapted to support people seeking refuge in Hastings.
Refugees face a multitude of challenges. Access to a low-cost means of travel gives them access to the services they need to get help.
Not just a bike loan
We are working with outreach workers at Hastings Borough Council, via the East Sussex Syrian Resettlement Programme, to provide refugees living in Hastings - who are interested in the free loan - with a bicycle, helmet, lock, and lights.
One-to-one cycle sessions are also offered to participants who needed additional support with cycle confidence or skills.
Cycle maintenance lessons are offered to enable participants to keep their bicycles running smoothly and fix any simple issues, such as punctures.  
The available group rides help participants get to know each other whilst learning safe routes around their new home.
The group gets to experience the joy of cycling and experience first-hand its benefits.
By simplifying our approach, and in some cases using a translator, we are overcoming language barriers.
Throughout the project we capture the travel and activity levels so we can measure the impact of the programme and adjust our approach where needed.
Meet Fawaz, a participant on the Active Steps for Refugees programme
A refugee outreach officer from Hastings Borough Council got in touch about the cycle loan scheme with a few refugees in mind who were keen to borrow a bicycle. This is how we were introduced to Fawaz.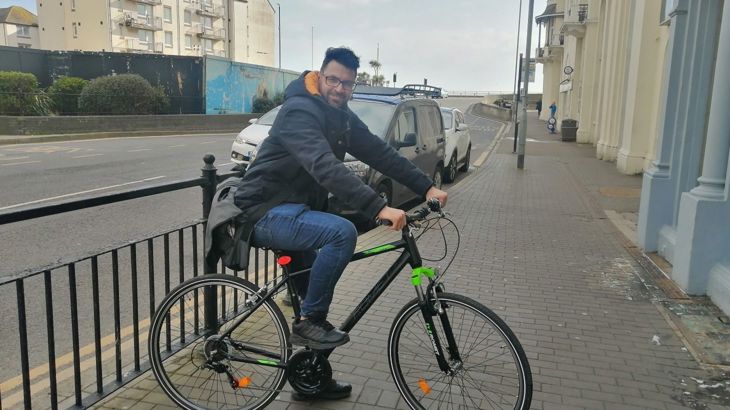 Fawaz, a participant of the Active Steps programme for refugees in Hastings.
After discussing the logistics, we selected a bicycle, helmet, lock, and lights for Fawaz and met him at Hastings train station.
He completed a pre-loan survey about his activity levels, and we ensured he felt confident cycling.
Fawaz said: "I'm using the bike for everywhere; shop, college and keep fit, thank you."
Paulo, Resettlement Employability Office East Sussex Syrian Resettlement Programme, Hastings Borough Council, said:
"The bike has been brilliant for Fawaz, he uses it for everything, and it is helping him get around Hastings.
"Every time I've met Fawaz since he got the bike, he was on it… being able to ride helps him keep costs down."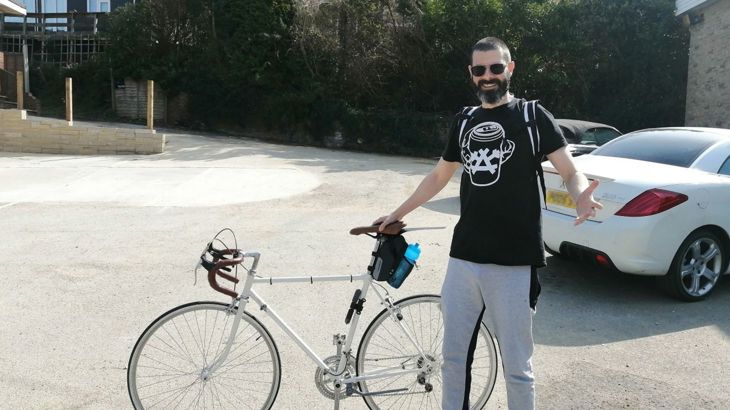 Paulo, Resettlement Employability Office, East Sussex Syrian Resettlement Programme, Hastings Borough Council.
Considering the programme, Paulo added: 'This is a great initiative, and our clients are really enjoying having a bicycle for the freedom it gives them to cheaply and quickly get around town.
"The son of one participant already had a bike, since getting a bike from the project now father and son can exercise together.
"Another participant is using the bike to get to his ESOL lessons at college, while another now uses his bike to get to his new job, which makes his commute time much quicker.
A 'life changing' project
All participants who took up the free cycle loan are using them regularly, saving money on public transport and accessing education services in the area.
The maintenance sessions have provided further independence and joy in being able to change a tyre and look after their cycle. Participants have reported that the free bicycle loan has been 'life changing'.
Councillor Dowling - East Sussex County Lead Member for Transport & Environment said:
"We are very supportive of this cycle loan project which is having a positive impact on refugees lives as they begin to resettle in the county, enabling them to access to education, training and work as well as supporting their health and wellbeing."
Delivering the project in partnership
Your Active Journey is an East Sussex County Council initiative to help people to walk and cycle more for everyday journeys.
One of the key aims of Your Active Journey is to help with economic recovery and 'levelling up' by enabling access to employment, education, training, public transport and key destinations.
For more information or to get in touch, email Helen, our Programme Manager in East Sussex.