In March 2019, Sustrans Research and Monitoring Unit held a roundtable discussion on women and cycling to determine what needs to happen next.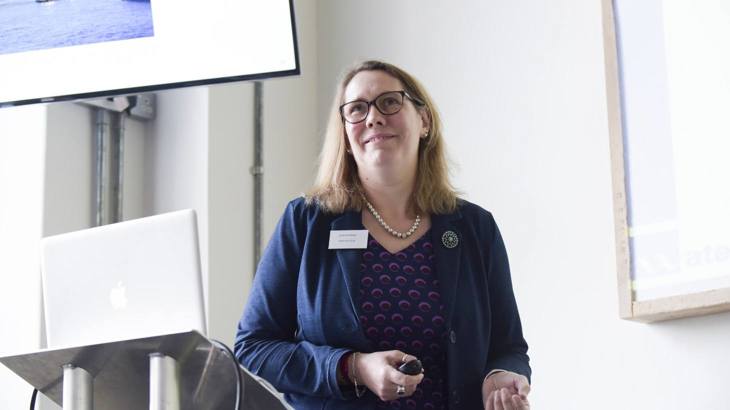 We invited a broad cross-section of speakers and guests who had an understanding of the issues around the lack of women cycling in our towns and cities. Over the coming weeks, we'll be sharing the insights we gained.
One speaker was Joanna Ward, a Transport Planner from Waterman Group in Nottingham. Here are her perspectives: 
In 2018, Sustrans published the report 'Are we nearly there yet?' which examined the role of gender in active travel.
The findings were shocking and included the following;
Most political committees and advisory boards have less than 15% female membership and none have equal representation (Transgen, 2007)
The report also found there is a lack of evidence to show how women participate in creating transport policy and planning in the UK. Currently, transport has the lowest percentage of women in senior posts within the public sector in Scotland, with women representing only 6.25% heads of transport bodies. In addition, the transport sector accounts for only 22% of female workers UK-wide.
In fact, the number of women working in transport has declined since the Sustrans report was published. The latest data shows we're now down to 20% of the transport workforce being women.
It is well-known that half the population are women. We all use the same transport infrastructure, so how can it only be designed and planned by half of the population?
I welcomed the news that Sustrans Scotland had decided to follow up on the report and hold a 'Women and Cycling Roundtable' to examine the issues further and discuss what actions could be put in place to improve the situation.
It is well-known that half the population are women. We all use the same transport infrastructure, so how can it only be designed and planned by half of the population?
I was even more thrilled when they not only invited me to attend the event in Edinburgh but to speak about my experiences of working in the transport planning sector for the last twenty years.
I started my role in Transport Planning in 1998 and have been lucky enough to work for mostly open-minded and positive public, private and charity sector organisations for a wide client base; although back in the late 1990s, things were not very gender-balanced in the transport sector, but I've never let this put me off.
However, I did some work last summer further examining how much things had changed but, again, I was a bit shocked to observe there wasn't a huge difference.
This brought up some clear memories from a couple of years into my career, when I worked in the Highways Maintenance at a Local Authority, and I went to a well-established conference on this topic. Walking into the conference hall, I realised I was not only the youngest person in the room, but also one of only two females at the event! What must the other delegates have thought?
So, I've since been actively taking notice at meetings and conferences that I've attended to observe where the gender-balance of attendees can be improved!
It was interesting that delegates at the event last week in Edinburgh didn't over-congratulate themselves that the event was happening, in fact they immediately noted those who weren't in the room and the need for those with different background to be included in discussions on transport, as well as the further work that needs to be done to achieve this.
I noted there were around 40 delegates in attendance, both female and male, who wanted to discuss these issues further.
It was chaired by Sara Thiam (Director of the Institution of Civil Engineers Scotland) and presentations were provided by Sustrans, Dr Rachel Aldred, Jools Walker and myself, covering a wide range of topics/issues and giving much food for thought.
I was then delighted to chair one of the break-out sessions looking at 'Women's Representation in Transport Planning' where we discussed 'the Good, the Bad and the Ugly' of being a woman in the transport field. I can safely say that all those elements were there!
There is still so much to do to make transport at any level more equal for all but that's the thing with transport planning, it doesn't exist by itself, but for the movement of people and goods. Those movements need to fit within everyone's expectations and needs otherwise you are alienating half the population.
With this, I'm heralding a rallying cry of sorts to all of you:
the women who work in transport planning
the men who work in transport planning
everyone who needs to get themselves anywhere using transport.
We need to refocus on how our transport can be planned, built and used for everyone, and that means engaging with the whole population. I see that my role is to keep these conversations and discussions going.
The real work starts now, but how do we carry on this discussion in a positive way to ensure more women and others get involved in transport, ensuring that it is planned and designed for everyone?
Joanna Ward is a Principal Transport Planner for Waterman Group.