During the Covid-19 pandemic, we adapted our workplaces programme funded by East Sussex County Council to run remotely, helping employees to stay active through lockdown.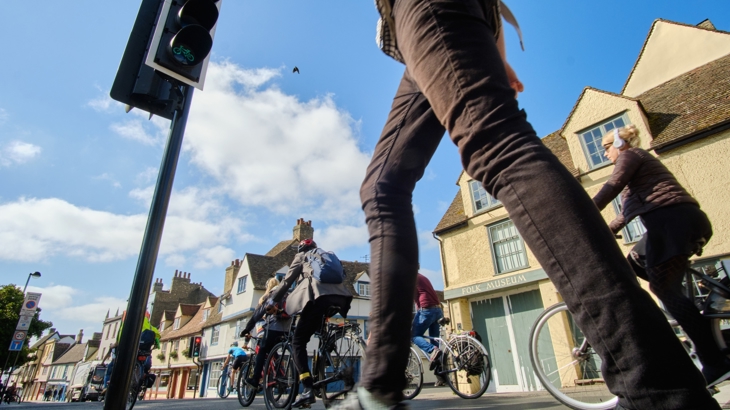 Workplaces and their employees benefit from choosing an active commute. Photo: PhotoJB
Our work to make it easier for people to walk and cycle includes those in their workplaces, and increasingly those working from home.
The Active Steps project is part of our effort to achieve this in East Sussex. The project is funded by East Sussex County Council as part of its East Sussex Active Travel Programme. The programme aims to enable behavioural change by promoting active travel to local schools, communities and workplaces.


Benefiting from an active commute
Research has found that regular walking and cycling:
reduces absenteeism
increases productivity and morale
lowers staff turnover rates.
And that's on top of all the environmental benefits of choosing a sustainable mode of travel. 

Active Steps before the pandemic
Before the pandemic, we were running Active Steps to support employees to improve their cycle skills, confidence and motivation.
We loaned participants a bike for 10 weeks, taking them out on led rides for practice and group support.
We also offered basic maintenance training sessions to those who wanted them.

An agile project
Then the country went into lockdown. This posed a big dilemma for the programme: no group exercise was allowed, and we had to stop all face-to-face projects.
Instead, we developed a remote version of Active Steps in East Sussex.
We would carry on loaning out bikes, along with helmets, locks and lights.
We would set up WhatsApp groups and weekly Zoom meet-ups for anyone who wanted to stay motivated and to create a sense of group support.
We would give advice, cycling tips, videos and printed resources, and set the participants some fun motivational challenges.


Piloting the remote version
For the pilot of the remote programme, we invited a group of employees from different workplaces across the area to take part. These included Southdown Housing, East Sussex Council and the NHS.
Over the course of 10 weeks, we covered a variety of skills, including understanding gears, where to position yourself on the road, cycling in British weather, and much more. 
The first motivational challenge was for everyone to get out, take a 'healthy selfie' and tweet it for Active Sussex's #HealthySelfieSussex campaign.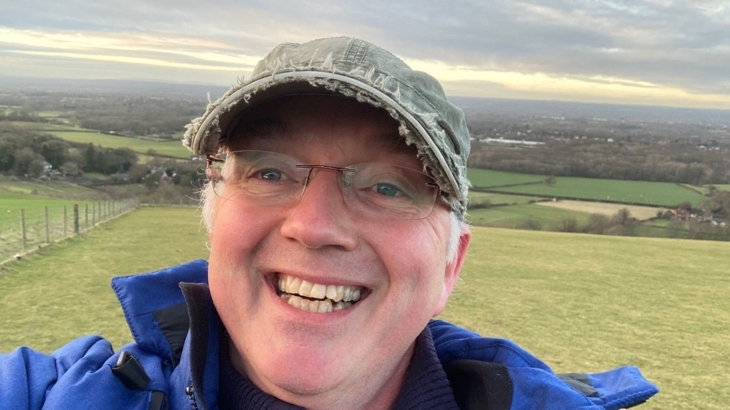 A 'healthy selfie' by Robert Laslett, Sustrans Active Travel Officer for workplaces in East Sussex County Council
Having a positive impact
Feeding back after the 10-week programme, one participant said:
"Massive thank you to Active Steps for this amazing programme which is so valuable especially at the moment to lift spirits, embrace being active and promote good healthy living."
Another participant added:
"Excellent. Positive, encouraging and friendly facilitators. Knowledgeable and informative. I am more confident now and keen to cycle."
Robert Laslett, who leads the Active Steps programme in East Sussex, said:
"It's brilliant that we were able to have a positive impact on people in a really difficult time. What really makes the programme work is the positivity and enthusiasm of those taking part."


A participant's experience
Sally Burr, employee at Southdown Housing, recalls her experience of the programme:
"It was the depths of the original lockdown when I was emailed a poster for Sustrans Active Steps.
"The ad offered staff a bike loan for 10 weeks – delivered to your door! Plus a helmet and lock and lights. Everything you needed to get cycling.
"I live on my own and although I was lucky to still have a job, I was starting to feel quite isolated working from home.
"I wasn't very active either at the time. All the normal exercise from just everyday living had come to a halt and I had put on a bit of weight.
"I signed up for the Active Steps scheme and it was brilliant! It was life-changing to have a bike."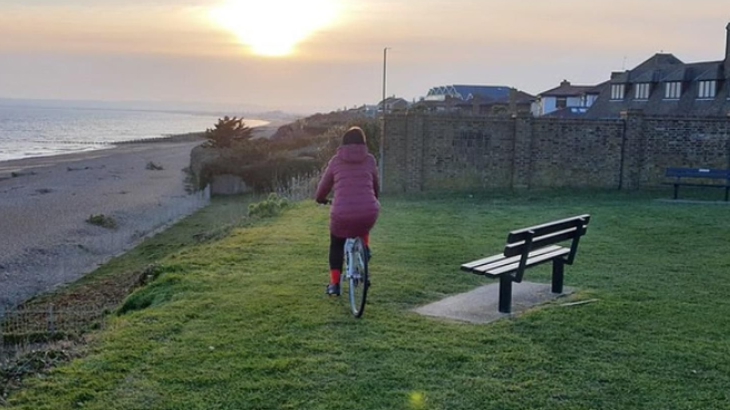 Sally on her loan bike, cycling by the sea.
Sally continued:
 
"We had weekly Zooms with Rob and Jamie from Sustrans, and the other participants, and posted updates on a Whatsapp group.
"It was really motivating to hear about where people were cycling and it inspired me to use my bike more.
"By the end of the programme, I was shopping at Aldi with my bike and a rucksack rather than taking the car.
"I've got a bike now (a fold-up bike as I live in a flat). I am aiming to get a hybrid bike and join a cycle club.
"It's a cheap activity and it's really sociable. And there's nothing else I can think of that makes you feel 10 years old again, flying down a hill with your wind in the hair."
Outdoor Active Steps is back
We are currently able to run the Active Steps programme outdoors with groups, so we can once again meet up for safe, fun led rides.
But if we have to go back to full lockdown (though let's hope not), we are prepared.