So, why does getting more women cycling matter? To answer this question, I'd like to take you back to April 2014 when Sustrans launched the York Bike Belles project, funded by City of York Council. Its aim was to encourage more women of working age to ride bikes, every day, across the city of York.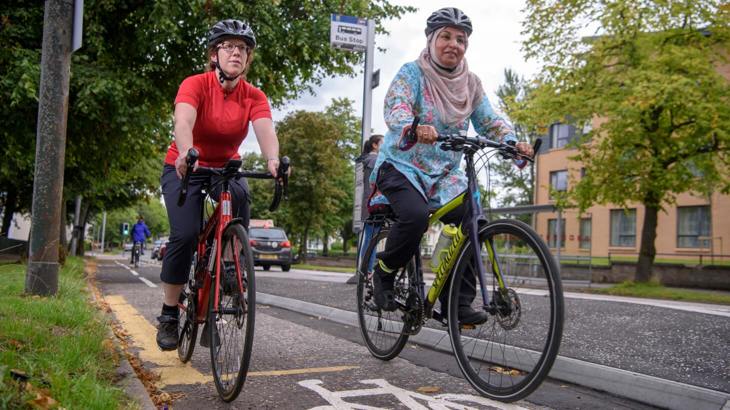 There was a programme of social rides, cheese and wine bike maintenance workshops, creative community events, champion recruitment and a dedicated social media stream. Activities focused on bringing women together in fun and friendship while addressing key barriers. The programme was inclusive and accessible for all ages and abilities, with women at the heart of its delivery and development.
What happened next?
What happened next was astounding – within six months, around 2,000 women had engaged in project activities and over 6,000 joined in the conversation online. There was an active team of over 20 champions and daily interaction on our Facebook page. Of the women engaged, 75% went on to say that contact with the project had increased their cycling levels, with self-reported improvements in levels of confidence and self-esteem.
A wider positive cultural impact
The impact of York Bike Belles on women and on levels of cycling in York has been undeniable. However, the wider cultural impact was unexpected and equally striking.
Women were cycling more often with their partners, going on cycling holidays together, and teaching partners how to fix punctures.
Women were buying more bikes and equipment and challenging poor customer service in bike shops.
Women were starting to cycle with their young ones and cycling to school and work more often.
Women were asking for better infrastructure for their families and better cycle parking in city centres to help with shopping journeys.
But not only that. The friendly and accessible nature of the group and its activities were attracting a wide range of people into taking up cycling, not just women. This included older men, teenage girls, those not working, visually-impaired groups and those being cared for in the community.
By creating a project that had both women at its heart and an ethos of inclusivity and accessibility, it was making cycling life in York better for everyone.
We need inclusivity at the centre of every cycling strategy
David Cameron in 2013 said that he would like to see a "cycling revolution". Rachel Aldred (University of Westminster)'s paper of 2015** established that "simply increasing cycling modal share has not proved sufficient to create an inclusive cycling culture" and that "policies towards currently under-represented groups" are required.
To really achieve a cycling revolution we need inclusive initiatives at the heart of every cycling programme. We need inclusivity at the centre of every local, regional and national cycling strategy, and for it to be an essential consideration in every cycling decision.
* "At all ages, lower proportions of women tended to cycle than men – on average, 20% of men cycle, whilst only half that proportion of women did so (10%)" (PDF)
**"In areas where cycling has increased, there has been no increase in the representation of females. Importantly, simply increasing cycling modal share has not proved sufficient to create an inclusive cycling culture. The culturally specific factors limiting female take-up of cycling seem to remain in place, even where cycling has gone up.  Creating a mass cycling culture may require deliberately targeting infrastructure and policies towards currently under-represented groups." (Does more cycling mean more diversity in cycling? Rachel Aldred, James Woodcock & Anna Goodman (2015) PDF)