Sustrans has joined up with local community groups on the Holiday Activities and Food (HAF) programme to provide active travel games, workshops and activities for children during the school holidays.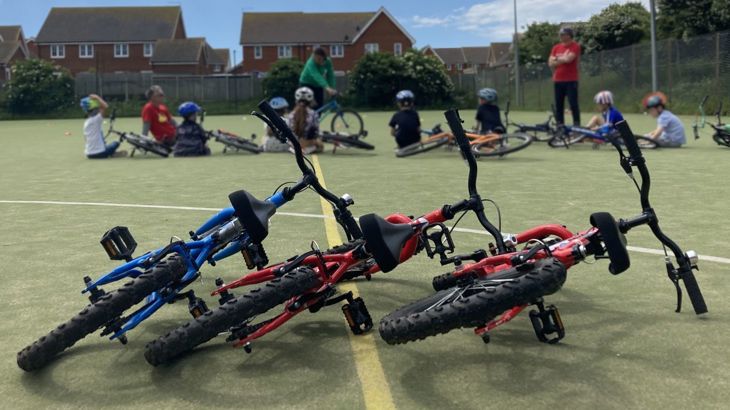 Sustrans offered add-on activities to the Holiday Activities and Food programme in East Sussex. Credit: Sustrans
This is part of our work with Your Active Journey, East Sussex County Council's active travel programme.
What is the Holiday Activities and Food (HAF) programme?
The HAF programme provides free healthy meals and activities for children between the school terms. 
Eligibility criteria for free participation is being between five and sixteen years old and receiving free school meals during term time.
East Sussex County Council receive the funding for the programme and invite local organisations to deliver the sessions for children in the community.
Working in partnership to provide additional activities
Working together with East Sussex County Council, we brought our expertise and support to the local providers by running add-on activities as part of the existing sessions.
We were able to collaborate with the organisations already involved and provide additional value to an already vital resource for children in the area.
This support was made possible through the Your Active Journey project. This means the HAF funding remains solely with the community groups to spend on more support for the children.
Ben Baker, HAF Programme Project Manager for East Sussex County Council said: 
"It has been fabulous to work in partnership with Sustrans, through the East Sussex Your Active Journey programme, to develop our Holiday Activities and Food offer this summer.
"One of the core aspects of the Department for Education funded HAF programme is to encourage young people to get more active over the summer holidays, and the sessions and resources available from Sustrans have been perfect for this.
"Their support has proven invaluable to many HAF providers who have been able to utilise the expertise and access to cycling equipment through Sustrans to extend their HAF activities."
What activities did we offer?
The sessions hosted by Sustrans officers build skills, knowledge and confidence around walking, wheeling and cycling, reaching children that are unlikely to have access to a cycle at home.
As well as learning to cycle, the sessions also raise awareness of how travel can be sustainable, how it can help to protect the environment around us, reduce local air pollution, and ultimately make us feel healthier and happier.
A large variety of sessions were available for half days, full days, or as part of a wider carousel of activities.
The sessions were for all ages and adapted to suit the needs of the group or provider. 
They were either hosted at our nearby cycle hubs or brought to the location of the session.
The activities included:
learn to ride
cycling skills
cycle maintenance
nature trails
exploring the outdoors 
air quality and the impact of pollution.
Enjoying the great outdoors
Julia Vogado, All Abroad! Bus, HAF provider in Glynde, said:
"We had a great visit from Paul and Louise at Sustrans to our All Abroad! Bus summer clubs.
"They linked their clean air and sustainable travel workshop to our theme that day of visiting the Alps.
"They led a range of activities which engaged the kids and got them moving.
"Despite very wet weather, this included encouraging the children (aged 7-13 years old) to head outside and gather up some natural materials to then observe through small microscopes as well as on a projector via a super high-powered microscope, which they all found fascinating!
"Thank you Your Active Journey and Sustrans for coming aboard and enriching our journey!"
Extending our reach into the school holidays
The Your Active Journey programme aims to enable, encourage, and support primary and secondary school children to choose active ways of getting to and from school, such as walking, wheeling, cycling and scooting.  
These holiday sessions provide an opportunity for children to give cycling a try.
They learn new skills, build confidence, and discover the importance of staying active during the break – something that can continue when the school term begins again.
5
community organisations supported with our add-on activities
112
children attended cycling activities
95
children attended air quality activities
Building confidence in cycling
Phoebe Smith is Senior Community Development Worker for Sussex Community Development Association.
As manager of the Peacehaven HAF events, she told us:
"It was so special seeing the children, especially the ones that were nervous, get on the bikes and learn the safe way to ride.
"It boosted their confidence and gave them new positive core memories."

Meet Lizette
Lizette, aged eight, joined the HAF programme in July 2022.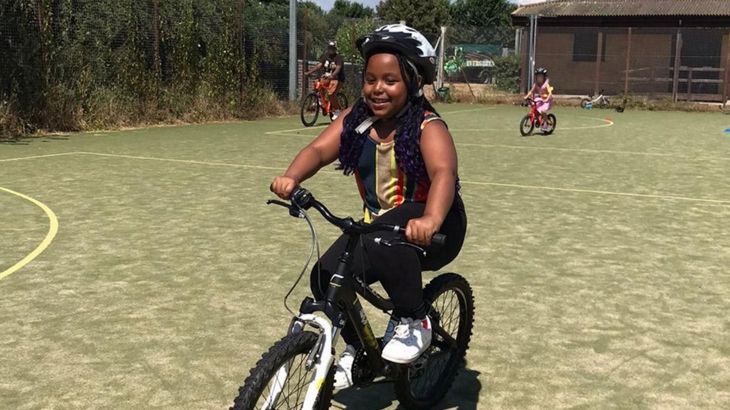 Lizette learning to cycle during the school holiday programme. Credit: Sustrans
With a fleet of cycles from our Peacehaven Cycle Hub brought to the session, Lizette was able to give cycling a try for the first time.
She was nervous at first but determined to give it a go.
With focus, resilience, and a positive attitude, by the end of the session she had gained the skills and confidence to cycle a short distance and was enjoying cycling.
Before the first lesson I didn't want to get on a bike because I was scared. Ania helped me with the confidence to keep going, and by the end of the session I didn't want to get off. Thank you, Sustrans!