Maintenance and management is part of the Sustrans traffic-free routes and greenways design guide. It covers maintenance as part of the design process of a traffic-free route, inspections and the involvement of volunteers as a valuable way of undertaking maintenance activities.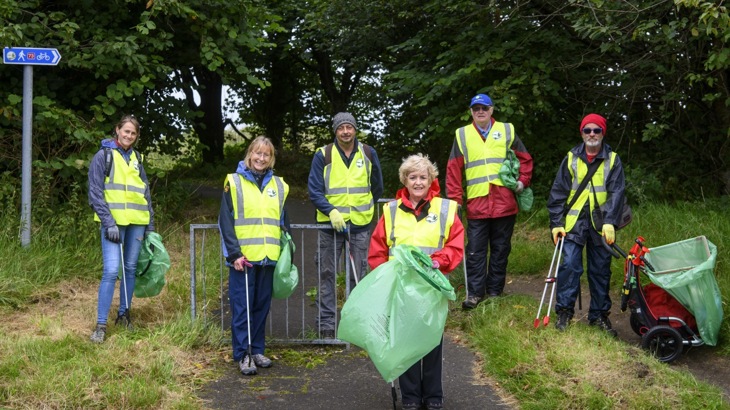 Key principles
It is important that a traffic-free route be well maintained to encourage and sustain high levels of use.
Consider maintenance as part of the design process of a traffic-free route.
Include a maintenance period in construction contracts for new paths.
Inspections should form a key part of a maintenance regime.
Involvement of volunteers may be a valuable way of undertaking maintenance activities.
11.1 Designing for maintenance
11.1.1.
Design decisions can have an impact on the level of maintenance that is required through the life of a traffic-free route. Maintenance considerations should be an integral part of the design process. For example:
Surface type – sealed surfaces cost more to install, but require less maintenance over their lifetime and so have an overall lower 'whole-life' cost.
Drainage – appropriate design of path alignment and drainage provision can significantly reduce the damage caused by surface water run-off.
Planting – should be designed to incorporate slow-growing vegetation close to the path.
Trees – construction of a new route should address trees that are likely to cause problems in the future during construction. This could include removal, or where appropriate, installation of root barriers.
Ancillary features such as signing and artwork - consideration should be given to how they will be maintained, and whether it is appropriate to provide them at all where there are existing or anticipated anti-social behaviour problems.
11.1.2
The quality of a route and level of maintenance required can be influenced by the construction method. More specifically, undertaking stages of the construction process by hand can lead to a poorer and more inconsistent finish than that produced by mechanical means. This is important when constructing the path surface.
However, using larger equipment can create logistical challenges and so how a route will be constructed needs to be considered as part of the design process. To achieve this, it can be useful to assess construction challenges through design risk workshops. It is important to ensure that someone with experience of the construction of traffic-free routes attends.
11.1.3
Maintenance arrangements should be determined as part of the development of the route. How maintenance will be funded should also be considered through the Scheme Assessment process.
It is suggested that the maintenance liability for a new path should rest with the contractor. The period of responsibility should be defined within the construction contract. This arrangement will serve to encourage the contractor to execute the works to a high standard.
Thus reducing the need for maintenance works during the agreed maintenance period. This approach will also provide enough time for vegetation and planting to become established while the contractor is still involved in the project.
11.2 Maintenance inspections
11.2.1
Traffic-free routes must be subject to routine maintenance inspections. These will serve to monitor the condition of all components of a route. Maintenance inspections should be based around a robust risk-based reporting structure. From this, defects can be prioritised and addressed in a timely manner.
The inspection of trees must be incorporated into any maintenance regime. This will ensure that they do not pose a hazard, or serve to reduce the effective width of a path.
11.2.2
Structures will usually be subject to a separate inspection that is undertaken at greater intervals to that of the routine path inspections. These inspections are likely to focus on structural condition and pay less attention to the wider route environment.
The path surface over or through any structure must still be considered as a part of the routine path inspections.
11.2.3
Features such as artwork, interpretation panels and benches need regular inspection. This will ensure that they are cleaned and repaired quickly after being subjected to damage or graffiti. This approach will also ensure that damaged features do not detract from the attractiveness of the route.
11.3 Maintenance plans
11.3.1
Traffic-free routes should be subject to a Maintenance Plan. This is likely to include activities such as cutting verges, cutting back overhanging vegetation, tree work, path sweeping, drain and ditch clearance and litter picking. Vegetation clearance work should be undertaken outside the bird-nesting season, which in general runs from February to the end of August.
However, this can be subject to change because of seasonal variance from year-to-year. If in doubt, a qualified Ecologist will be able to advise on the most appropriate scheduling of maintenance activities.
Developing a Maintenance Plan during the planning and design stage of a route can assist in determining costs associated with ongoing maintenance, which will be required for the purposes of Scheme Assessment.
11.3.2
Structures, particularly older ones, are likely to require more intensive maintenance. This will normally be dictated by the inspection regime. Smaller bridges on traffic-free routes may have wooden decks with anti-slip treatments.
The condition of any anti-slip treatment must be monitored to ensure that the decks do not become slippery. This is particularly important where a bridge is shaded.
11.3.3
It is also important to ensure that drainage features, such as channels, gullies, ditches and pipes are kept clear of debris and silt. Piped drains may need regular cleaning to ensure they function as designed. Otherwise, the route may become susceptible to flooding.
11.4 Vegetation
11.4.1
A traffic-free route can become unattractive and difficult to use if vegetation is allowed to grow freely. Overgrown vegetation can serve to prevent access for some route users. Particularly those using adaptive bikes.
Maintenance regimes should ensure that vegetation is managed to keep the route clear of encroaching vegetation. This will allow natural light to fall onto the path, and enable attractive plants and flowers to grow. This is important to enhance the ecological value of the route.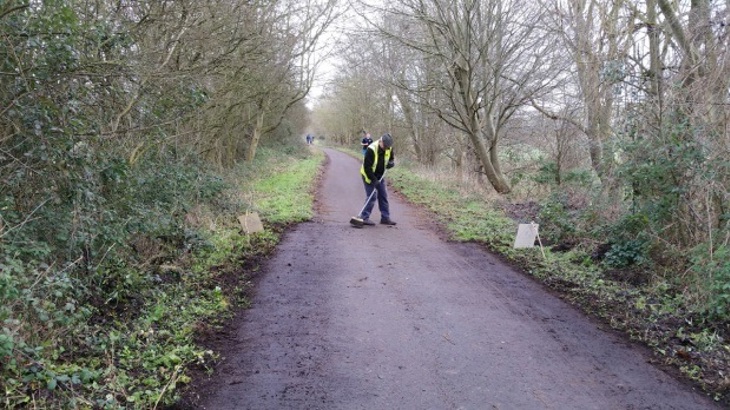 Increased path width resulting from cutting back of vegetation.
11.4.2
To keep a route attractive, and maintain good personal security, it is important to keep vegetation cut back. This will prevent a tunnel effect that can be created where trees have encroached into the path envelope.
Vegetation clearance may need specialist equipment and will, therefore, need consideration during the design stage. Particularly if heavy machinery could result in excessive loadings being placed on the path.
11.4.3
Keep vegetation under control so that it does not obstruct the structure. This allows inspectors a clear view of the structure so that they can identify defects. Keeping vegetation cut back also avoids damage to masonry joints and corrosion of painted surfaces.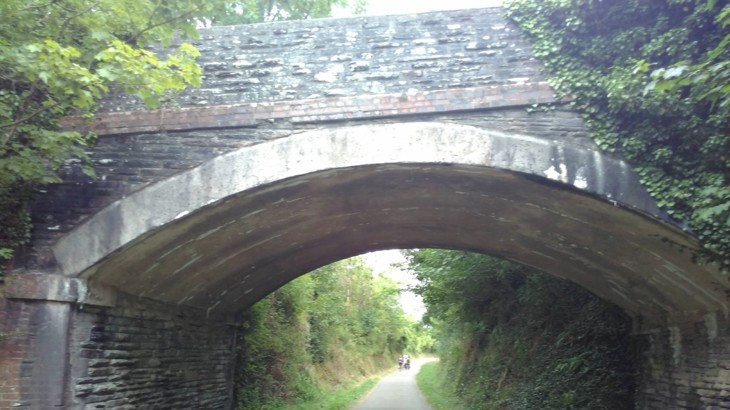 Vegetation encroachment onto a structure.
11.4.4
Cutting a 1m wide strip of vegetation along the path edge to a length/height of approximately 10-15cm will keep vegetation off the path without injuring amphibians or small mammals living in it.
If notable or rare plant species are known to be present, then the maintenance regime should allow them to set seed before mowing, as this will encourage new plants.
11.5 Maintenance access
11.5.1
The requirements for maintenance access should be considered during the planning and design stage. Access requirements may vary from a small van through to a lighting inspection lorry. Therefore, the design of any access points should take this, as well as the turning requirements of these vehicles, into consideration.
11.5.2
Designs should avoid locking mechanisms where keys could be lost or features that could be vandalised or require additional maintenance. Where vehicle access is necessary, any access point should be set back far enough to allow the largest vehicle to wait off the road safely without the access control being removed/opened.
Where the designer believes access by motor vehicles will be required along the path, then the frequency of visits and subsequent loadings of these vehicles must be considered in the path design. More specifically, the specification of the path may need to be increased to ensure that premature deterioration does not occur because of motor vehicle loading.