Space requirements is part of the Sustrans traffic-free routes and greenways design guide. It covers the importance of treating signing as an integral part of the design process, signage consistency, legibility and maintenance and the need for designers to be sensitive to the environment.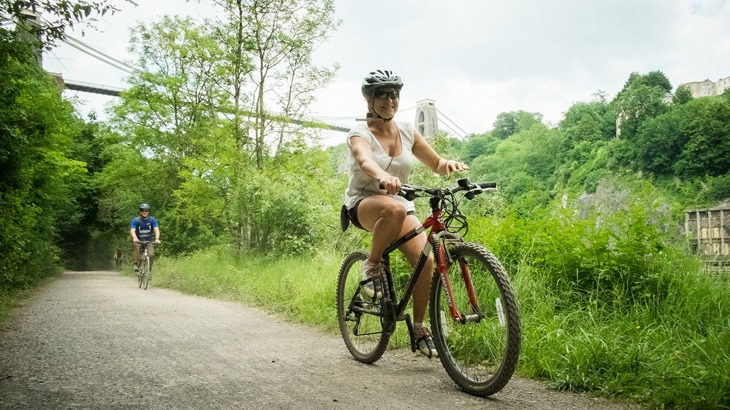 Key principles
Enough width should be provided for all users of traffic-free routes. The width must accommodate those walking and wheeling, as well as those riding a bike or a horse.
Traffic-free routes must be designed to accommodate standard, adaptive and utility bicycles.
6.1 User dimensions
6.1.1
Traffic-free routes should be designed to ensure there is enough space for everyone. The space provided should enable users to enjoy the route in a safe, relaxed and sociable manner.
Designers should be aware that all path users will have different space requirements. People riding bikes will have different requirements to people walking side-by-side. Space requirements may also change throughout the day, week or year. For example, a utility route may have a higher number of cyclists during the morning and evening peaks.
A utility route may have higher numbers of cyclists during the morning and evening peaks.
It is important for designers to consider how changes in path usage can affect space requirements. Failing to do so could result in the exclusion of some users groups.
6.1.2
When considering space requirements for people riding bikes, the typical dimensions of a conventional bike are 1.8m long and 0.65m wide. For a solo adult cyclist, 0.75m is the typical static width. However, extra width must be considered to account for lateral movement when in motion.
This extra width is often referred to as 'deviation'. The total of the static width and deviation of an adult cyclist amounts to a 'dynamic' width. Designers should note that dynamic width could vary depending on the speed and type of bike. See the design envelope of a conventional bike below: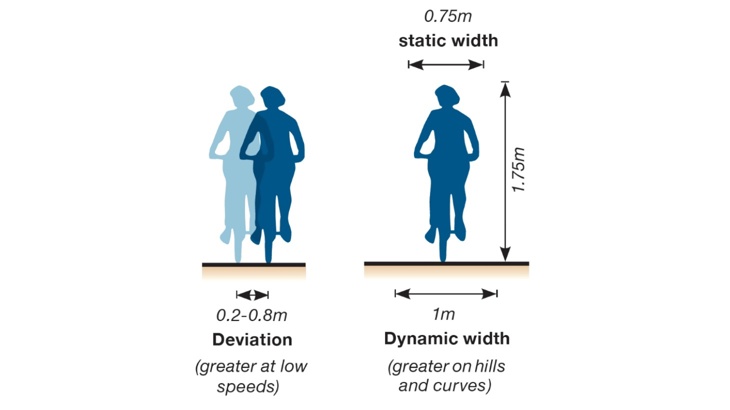 6.1.3
An inclusive approach to implementing traffic-free routes means that all types of bike must be considered through the design process. Designers should assume route use by cargo bikes, bikes towing trailers and adaptive bikes.
These bikes can come in a variety of different lengths and widths. The diagram below shows some examples of the types of bikes that routes must be designed to accommodate: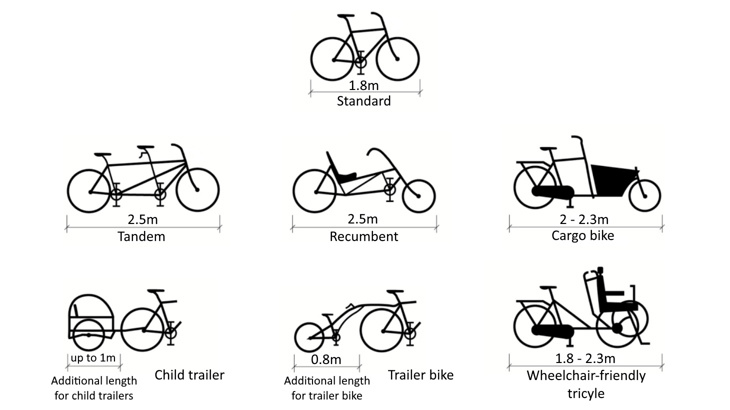 Understanding user space requirements is a useful tool when designing a route. Established guidance uses a standardised design envelope to account for a variety of different types of bike. The design envelope adopted throughout this guidance consists of a 1.3m width by a 2.5m length. This standard is taken from the London Cycling Design Standards.
Designers should note that the Highways England guidance adopts a design envelope of 1.2m width by 2.8m length. Using this design envelope would also be a satisfactory approach when designing traffic-free routes and greenways.
6.1.4
Walkers and wheelers also have specific space requirements. The table and figure below sets out typical widths associated with people walking and wheeling.
6.1.5
Widths required for people walking and wheeling.
6.1.6
Horse riders are regular users of traffic-free routes. They have different space requirements to walkers, wheelers and those riding bikes.
British Horse Society guidance recommends at least 3m width for horse riders. Irrespective of whether a path is bounded by a hedge or fences, or may become bounded by such in the future.
6.2 Headroom
6.2.1
Headroom on a traffic-free route should be provided as set out in the table below. The minimum headroom requirements should be provided over the full width of the path surface and the adjacent verges.
6.2.2
Where an existing structure is being adapted for use as part of a route, it may be possible to relax headroom requirements. In this instance, mitigation measures such as advance warning signing would be required.
Relaxing headroom requirements must be considered through a Designers Risk Assessment. This will ensure that any residual risk is acceptable to the Design Team and the custodian of the route.
Adopting anything other than the preferred standard will also need to be assessed with regard to its potential to exclude users. Where the risk of exclusion cannot be eliminated, designers should question the suitability of the environment for a traffic-free route.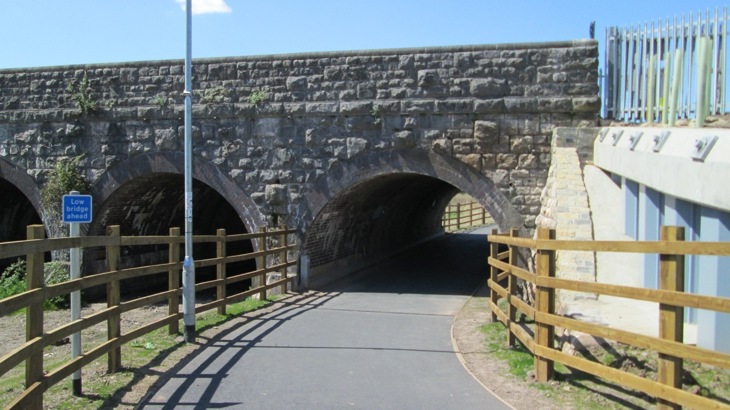 Restricted headroom at structure, Newton Abbot, Devon.