Quality standards is part of the Sustrans traffic-free routes and greenways design guide. It covers core design principles, how designers can ensure a high-quality user experience and the importance of monitoring quality.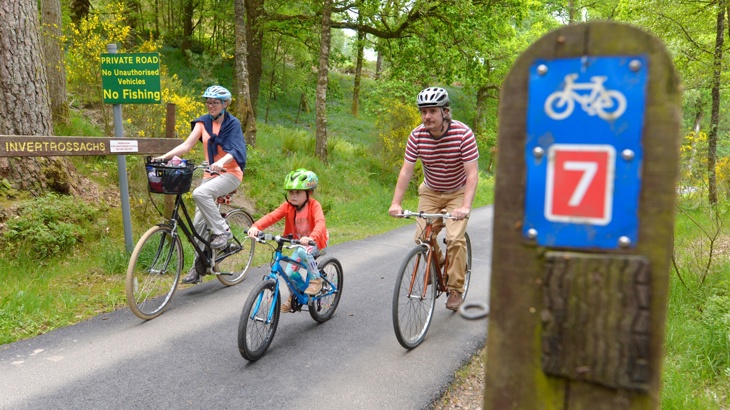 Key principles
Core design principles
Ensuring a high-quality user experience
Importance of monitoring quality
2.1. Core design principles
The traffic-free route design principles are:
Be traffic-free.
Be accessible to all legitimate users.
Be wide enough to accommodate all users, considering future and predicted usage levels
Minimise maintenance.
Clearly and consistently signed.
Enable all users to safely cross roads.
Be attractive and interesting places to be.
Have a smooth surface that is well-drained.
Feel like a safe place to be. 
These principles will ensure routes are inclusive, safe and attractive. Designers should use the principles to supplement their existing knowledge and experience. The principles should be used alongside existing best-practice design guidance.
2.2. Level of Service (User experience)
An enticing traffic-free route can be enough to persuade people to take up a non-motorised mode of transport.
Assessing the performance of a traffic-free route can be useful to understand how enticing existing routes are, or how enticing new routes could be.
2.2.1
The performance of a route is often referred to as 'Level of Service'. There are existing tools used across the industry to measure Level of Service.
These tools form part of Design Guides such as Design Guidance: Active Travel (Wales) Act 2013, the London Cycling Design Standards, and the Transport for London Pedestrian Comfort Level assessment.
The performance outcome of many of these tools is based upon the following assessment criteria:
Coherent
Direct
Safe
Comfortable
Attractive
2.2.2
It is important to understand how user experience performs against the above criteria. To understand this, the following questions could be presented to existing route users.
Designers could also consider these questions to design routes that perform well once constructed.
2.3 Monitoring and evaluation
2.3.1
Monitoring information can be used to examine Level of Service and inform future designs. It can also be used to build the case for future support and investment in traffic-free routes, as well as to support the continued improvement of existing routes.
2.3.2
A Monitoring and Evaluation Plan should be developed at the outset of a project. The scheme objectives, outcomes and impacts will be critical to developing the plan.
The following questions will be useful:
What is the route for? (Objectives: provision of a tourism resource, increasing recreational activity, making journeys to school safer).
What might the route achieve? (Outcomes: increased tourism activity, increased recreational activity, improved perceptions of safety).
What results from the intervention? (Impacts: increased tourism revenue, healthier communities, reduction in accidents involving school children).
The development of the plan could be supported through the use of a logic map or framework, an example of which is shown below:
2.3.3
It is important to account for monitoring and evaluation costs at the outset of a scheme. This should include allowances for producing the plan and undertaking the monitoring itself.
The investment in monitoring should be proportionate to the level of intervention proposed. A new route could need a high level of monitoring. An improvement scheme on an existing route may have lower monitoring requirements.
2.3.4
Data may be available for some existing routes. This can be used to reduce the amount of extra monitoring required. A reduction in monitoring could serve to reduce overall delivery costs.
2.3.5
A wide range of tools are available to collect data. The output requirements of the Monitoring and Evaluation Plan will inform tool selection. Tools will either adopt a quantitative or qualitative approach to data assessment.
A common data collection tool used for traffic-free routes are cycle counters. These can be mounted in the form of detection loops on the surface of the path. They can also be sensors mounted on a post erected alongside a path. Tools can be chosen to accord with the environment in which they are located. For example, cycle counters in timber posts are less visually intrusive in rural environments.
2.3.6
The approach to data analysis should be set out in the Monitoring and Evaluation Plan. This needs to be considered alongside the approach to data collection. Both data collection and analysis should address the requirements of the plan. For example, there is no need to report on school trips if the outcome measure is to understand tourism generated revenue.
2.3.7
Presentation of data and analysis findings must be suitable for the target audience. Detailed analysis may be appropriate for a technical audience, such as designers. But a more visual emphasis may be more appropriate for other stakeholders. Examples of monitoring outcomes are shown below: