Our guest blogger takes a look at the impact bike repair stations can have on encouraging active travel. And how businesses and local councils can use them as a powerful statement of their intent to promote cycling.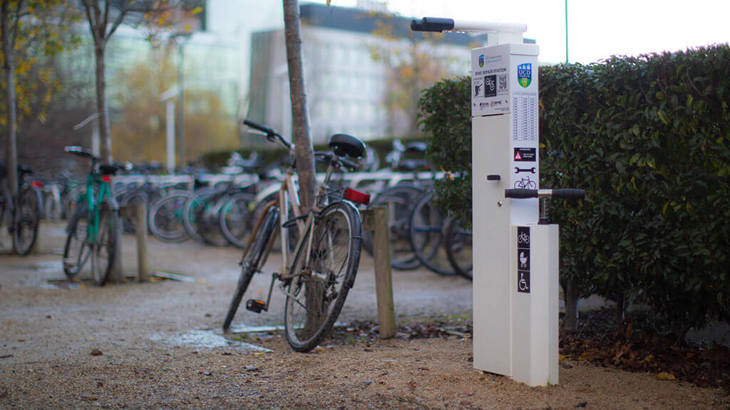 Bike repair station at University College Dublin
What are bike repair stations?
Bike repair stations are stand-alone units equipped with the tools people need to fix, tune and repair the most common mechanical problems with their bikes.
Stations can be installed in a wide range of locations. They keep people cycling and encourage others to cycle too.
The benefits and simplicity of bike repair stations make them an essential cycling staple in our towns and cities.
Where to install and find bike repair stations
Public cycle parking spaces at supermarkets, gyms, swimming pools and shopping centres could benefit from bike repair stations.
Shopping centres in both Meadowhall and Ealing Broadway have included repair stations within their new cycle parking facilities, alongside e-bike charging points.
Central England Co-operative have introduced bike repair stations at several new store locations.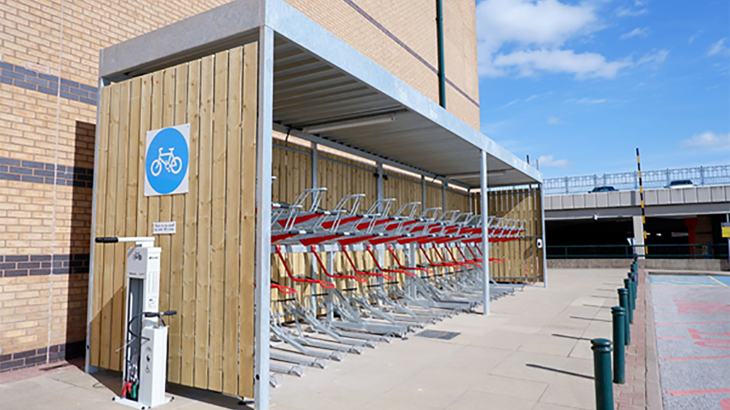 Bike Repair Station at Meadowhall Shopping Centre, Sheffield
Providing all-inclusive parking facilities encourages more people to cycle to stores, helps reduce the car parking space required and provides an added service to existing clients and local communities alike.
Encouraging cycling to work
The economic benefits of being a cycle-friendly employer are well known.
They include increased productivity, improved employee retention and a reduction in the need for car parking spaces, among others.
According to British Council for Offices research, 38% of those surveyed said that an increased provision and better quality facilities at the office would encourage them to cycle to work.
Installing bike repair stations is a simple solution to encourage more people to cycle to work.
They are an ideal partner to bike storage facilities and also complement bike racks and bike stands creating a cycle hub for employees.
They help employees to reduce costly bike repairs and provide the means to resolve minor issues on site.
Creating active travel hubs at train stations
Enabling active travel between cities for business, leisure or longer commutes, requires active travel to be compatible and integrated with public transport.
As train stations look to increase cycle parking capacity, it's important to recognise that there are more ways to make them cycling-friendly transport hubs.
Having easy-to-access repair stations could be a lifesaver for those on combined cycle-rail commutes.
It also means cyclists are less likely to abandon their bikes if they can't fix a mechanical issue.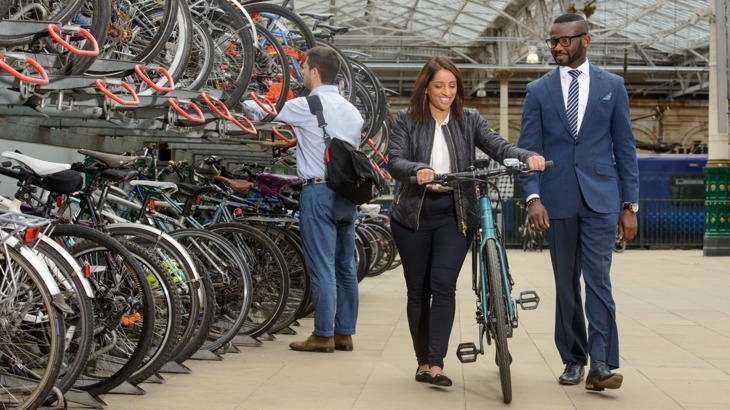 Combining hands-on training with maintenance tools to promote active travel
Education is crucial in enabling more people to confidently use bike repair stations to service their own bikes.
The installation of bike repair stations provides people with the means and opportunity to fix broken bikes that have otherwise been sitting idle in garages.
Whilst hands-on training programmes, such as the popular Dr Bike sessions, give people the skills and confidence to maintain and repair bikes.
Similarities with electric vehicle charging points
Electric vehicles are being considered as an alternative to fuel-based motor vehicles.
However, people will only be able to use electric vehicles if they're able to conveniently access charging points.
Similarly, for cycling to grow as a preferred method of transport, it's essential that the necessary maintenance tools are readily available, especially for new cyclists.
Electric vehicle charging points are similar in size and construction to bike repair stations.
The rollout of public bike repair stations should see them installed in similar areas and take equal priority.
It makes sense to combine both units with car parking facilities, whether that's at workplaces, supermarkets or high-street parking zones.
Commitment to active travel
Installing bike repair stations along popular routes improves the reliability of cycling as a mode of transport.
By installing bike repair stations businesses and local councils are demonstrating their commitment to active travel and making a visible statement that cycling is encouraged.
The stations' bright colours make them easy to spot and brand logos inspire confidence that the units are for public use.
The more we see bike repair stations on our high streets, in supermarket car parks, at swimming pools, gyms and at work, the easier it will be for everybody to take up and keep cycling.