Key benefits include improved employee health and wellbeing, increased productivity, reducing the impact of traffic on the local community, employee retention and motivation, and a reduction in the need for car parking spaces. By promoting active travel, employers can demonstrate corporate social responsibility whilst improving staff wellbeing.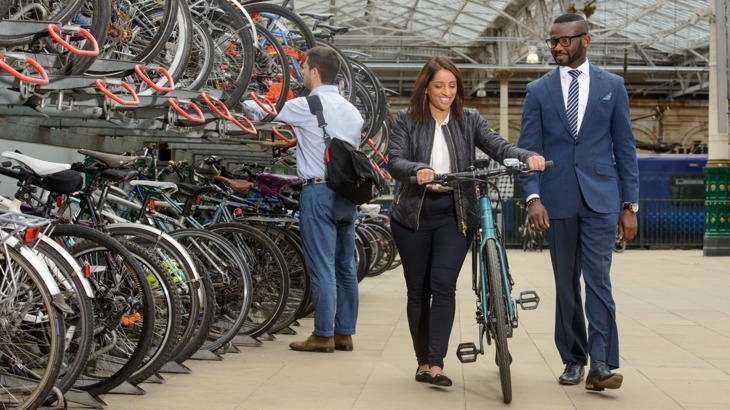 1. Healthier, more productive staff
Employees who cycle to work are fitter, healthier, happier, and less likely to take sick days.

 

[1]
Our survey of people who cycle on the National Cycle Network found they take nearly half as many sick days as the average UK worker.

 

[2]
2. Reduced costs
Employers involved in the Bikes for Business scheme estimated the average savings to the organisation at £25-80 per month per bike.

 

[3]
GlaxoSmithKline found that investing in those willing to give up their cars enabled them to make an annual saving of £2,000 per car parking space reduced.

 

[4]
Transport for London has estimated that removing one car parking space could save up to £2,000 per year in high-density urban areas.

 

[5]
3. Less congestion
Rush-hour congestion can have an impact on the economy by preventing the movement of goods and services. Congestion on England's roads cost the economy over £10 billion a year in urban areas alone in 2009 and could rise to £22 billion by 2025.

 

[6]
4. Reduced carbon emissions
The total cost of the carbon emissions for car trips made in the UK each year is £3.98 billion.

 

[7]
If the journeys made on the

 

National Cycle Network

 

during 2012 had been by car the potential CO2 emitted during the year would have been 883,904 tonnes, at a cost of £51.2 million.

 

[8]
5. Attracting and retaining talent
The 'millennials' (those born after 1983) will make up 75% of the workforce by 2025. They think that their employer should be doing more to reduce their impact on the environment, particularly in terms of reducing resource scarcity and combatting climate change.

 

[9]
If you're an employer, take a look at cycle scheme providers such as Cyclescheme or the
Green Commute Initiative.
References
[1] Guidance from the National Institute of Health & Clinical Excellence (NICE) shows that on average, physical activity programmes can reduce absenteeism by 20% by helping staff to achieve recommended weekly physical activity levels, Public Health Guidance PH13 (2008)
[2] YouGov, 2013 Commute and Exercise Survey commissioned by Sustrans. YouGov Plc interviewed a total sample size of 2,205 adults, of which 1,261 commuted to work but not usually by bike. Fieldwork was undertaken between 29 April and 1 May 2013. The survey was carried out online. The figures have been weighted and are representative of all UK adults (aged 18+)
[3] Transport for London 2008 Pool Bikes for Business
[4] Transport for London, Workplace cycle parking guidance (2006)
[5] Transport for London, Workplace cycle parking guidance (2006)
[6] Department for Transport (DfT) 2006 The Eddington Transport Study The case for action: Sir Rod Eddington's advice to Government
[7] Calculated using standard methodology adapted from DfT's appraisal guidance (WebTAG3.14.1), using data from the National Travel Survey supplied by ONS
[8] Calculated using standard methodology adapted from DfT's appraisal guidance (WebTAG3.14.1), using data from the National Travel Survey supplied by ONS
[9] The Deloitte Millennial Survey 2014