We've got lots of great ideas and actions that you can use to change your workplace. Some of them are really quick and easy and you can get started on them today.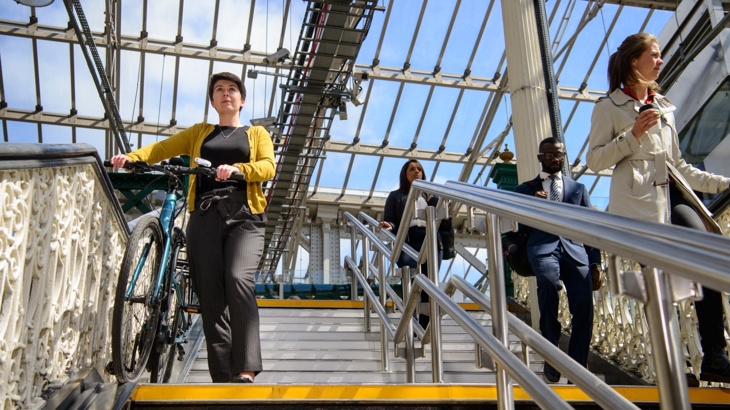 1. Find out how staff travel to work
Carry out a survey to get a clear understanding of people's travel choices.
What are the barriers that currently prevent people from walking, cycling, using public transport or car-sharing?
2. Survey your workplace with a site survey
Build up a picture of how easy your workplace makes it for those who want to walk, cycle or use public transport, and identify areas for improvement.
3. Review your policies
Do your organisation's policies support walking, cycling and public transport use?
Clear company guidelines offering support for staff are crucial in changing organisational culture.
4. Map the route to work
Provide travel directions to your office in the healthiest order to encourage new staff and visitors to travel more actively.
Start with walking and cycling, then public transport and finally travelling by car.
Make sure you include car-share options.
5. Provide information
Gather and distribute local walking, cycling and public transport information.
6. Encourage car-sharing and bike buddying for new cyclists
Find out more about car-sharing or investigate car club membership options in your area.
You can also help staff to set up bike buddy programs where an experienced cycle commuter shows a new cyclist the best way to get to work.
7. Cycle training and bike maintenance at work
Organise cycle training, bike maintenance sessions and group rides.
Why not book a local bike mechanic to come in to check staff bikes and teach them some maintenance basics?
8. Consider financial and practical support
Register for the Cycle to Work scheme to help your staff spread the cost of a new bike over 12 tax-free instalments.
You may want to consider offering monthly loans for public transport season tickets.
You could purchase a small fleet of pool bikes and stock the office with spare locks and puncture repair kits for cyclists.
Walkers would appreciate a supply of umbrellas for rainy days.
9. Create opportunities to be part of a wider movement
Being part of a group makes it easier for individuals to change their own habits, so join up with national events like Bike Week, Cycle to Work Day and Lift Share Week, or create your own organisation-wide challenge.
We've got a special team of staff who create bespoke challenges for workplaces.
10. Appoint staff travel champions
Staff who are keen walkers and cyclists are a real asset to your organisation.
Invest in these people and encourage them to spread the word to colleagues.
Don't forget to let staff know about the benefits of active travel with posters in the workplace, articles in your organisation's newsletter/e-news and messages on payslips.
Change can take some time to embed but there are definitely quick wins to be had and by repeating your activities over time you will create a lasting change in your organisation.
Let us help you with a personalised Sustrans Travel Action Plan
If your organisation would like some help in getting staff travelling actively, you may wish to invest in a Sustrans Travel Action Plan.
This will provide you with a step by step implementation plan to reduce single car occupancy and encourage smarter, cleaner travel for commuting and business.
To understand the current situation, we will:
audit site facilities and travel options
deliver a staff travel survey
map staff postcodes to calculate the best travel options.
After which, we will create a Travel Action Plan. We'll define objectives, set targets, identify measures and develop an implementation plan.