When it comes to encouraging your staff to travel actively to and from work, providing effective bike storage is an excellent place to start. So we asked Jonathan Oldaker from Turvec Cycle Parking Solutions to share some of the easiest ways offices and employers can improve bicycle storage to create a happier, healthier workplace.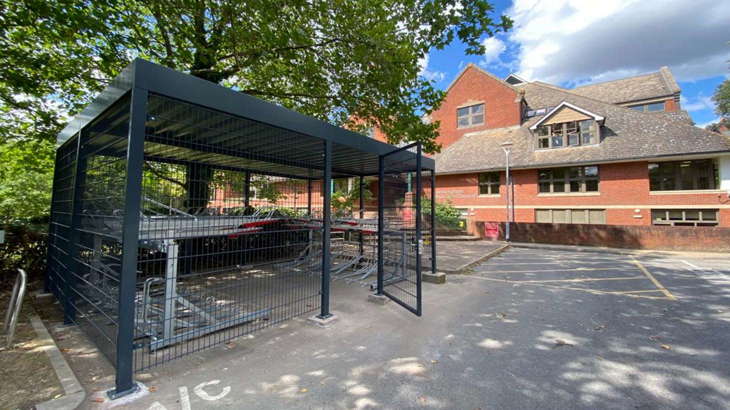 A secure gated compound with a full-width roof and timber cladding, glass panels, or wire mesh adds a greater level of security and weather protection. Photo: cycle shelter for Wokingham Borough Council.
Just like protected cycle lanes make your daily commute safer and easier, the bike storage facilities installed at your workplace can make all the difference too.
With better cycling amenities, offices and employers can encourage more employees to cycle to work. 
And getting your staff to be more active can help to improve their health and wellbeing, and even increase productivity.
So here are some of the ways you can improve your bike storage facilities for offices and employees.
  
Include a bike repair station
Arriving at work with a flat tyre can mean catching a taxi home, or arriving the next day to pick up the bike by car.
Even worse, it can lead to abandoning the bike altogether, costing precious parking space.
Bike repair stations and pumps allow people to repair and tune their bikes, monitor tyre pressures, replace flat tyres, as well as all manner of other fixes.
They're a sign that the cycle storage is designed to look after the cycle owner, beyond just box-ticking.
They keep commuters moving, as well as preventing abandoned bikes.
  
Weatherproofing and security is essential
Clear sheeting shelters will keep most of the British weather out.
But a secure gated compound with a full-width roof and timber cladding, glass panels, or wire mesh adds a greater level of security and weather protection.
These different finishes all have their advantages. For example, timber cladding obscures cycles from view, which is preferable depending on your office location.
Alternatively, mesh cladding is a cost-effective alternative, offering the same level of security.
Glass shelters allow you to add company branding to the store, promoting your organisation's investment in cycling and offering a welcoming environment for people to store their bikes.
  
Bike racks need to be easy to use
These days, there are a wide variety of cycle racks to choose from.
Traditionally, the Sheffield cycle stand is the most common bike rack in the UK.
It's still a popular choice for its user-friendliness and easy-to-reach locking points.
At the other end of the spectrum, modern two-tier systems fit a higher volume of bicycles in a smaller space.
Some two-tier systems can look a bit unsafe to use. But high-quality one includes a gas-strut to aid lifting and rubber supports to protect the bike.
Additionally, there are vertical wall-mounted racks, as well as Sheffield stands suitable for cargo and freight bikes.
The rack installed is ultimately dependent on the number of parking spots required, and the space available.
Regardless of which system you choose, you should focus on ease-of-use and correctly protecting the bicycle from damage and theft.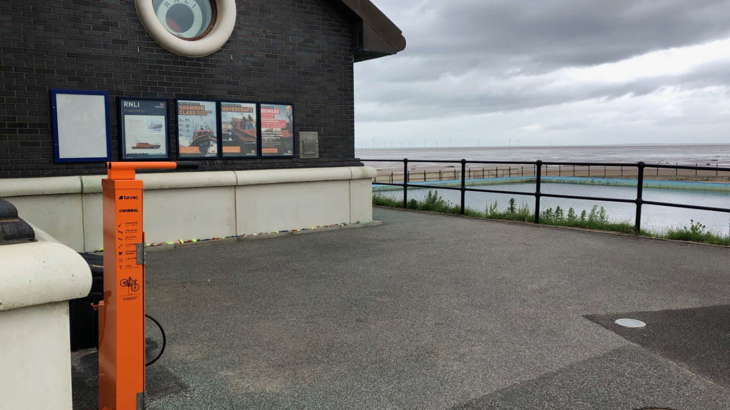 Bike repair stations and pumps allow people to repair and tune their bikes, monitor tyre pressures and replace flat tyres. Photo: a bike repair station outside the RNLI building on the Wirral.
Easy accessibility is key 
Even with the highest quality cycle store or shelter, if you have to take several stairs, travel through multiple doors, or walk through several gates to reach it, it will be unpopular with those using it.
Winding corridors leading to a cold, concrete basement store, or finding a couple of old bike stands behind the bins can be off-putting for first-time commuters.
Instead, workplaces should supply cycle commuters with easily accessible parking.
This means including friendly wayfinding, visible graphics, and bright, well-lit access.
Transforming older facilities and making cycle parking more welcoming with lights and wayfinding doesn't cost much either.
It's these simple solutions which motivate commuters to cycle to work more regularly.
  
Consider providing pool bike schemes
While cycle to work schemes provide affordable options for purchasing new bikes, another way to get employees cycling is a pool bike scheme.
Employers can choose to have one or more shared bikes that can be used for travel to meetings, client visits, or even just trying out a new commute.
Schemes such as the Brompton Locker provide a simple, cost and space effective way to encourage cycling at the workplace.
  
Make sure you include showers and lockers
A twenty-minute commute is unlikely to require a shower afterwards.
But for many who put in the extra miles, the absence of a shower block will all but stop them cycling to work.
You might recognise that embarrassing feeling of walking into a meeting still hot and sweaty from your cycle to work.
A shower for many bike commuters is essential.
What's more, they encourage other modes of active travel such as running. And they're ideal for lunchtime gym-goers.
Pre-made, freestanding shower blocks are an option.
Alternatively, there are hire schemes available, similar to those found at festival sites.
In addition, lockers provide storage for clothing and helmets, as well as gym bags and other essentials.
  
Prepare for the e-bike revolution
E-bike sales are continuing to grow. So, how can workplaces accommodate this demand?
In general, e-bikes tend to be more expensive than regular bikes, so it's increasingly important that cycle racks look after the bike.
Make sure your cycle parking offers enough security and bike protection.
And even adding charging stations will keep e-bike users cycling to work.
With thanks to Jonathan Oldaker from Turvec Cycle Parking Solutions for writing this article.