On Thursday 4 November, a collaborative cycling project supporting women and children staying in a refuge in Brighton was awarded 'Best Partnership' at the Modeshift National Sustainable Transport Awards 2021.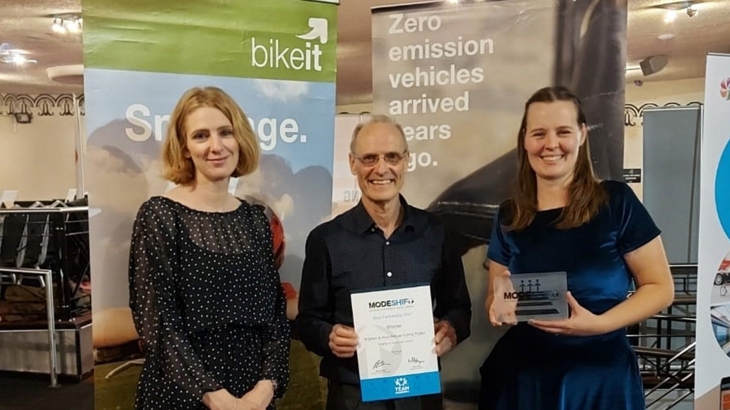 Representatives from Sustrans and Brighton and Hove City Council accept the award for Best Partnership.
The project helped those escaping domestic violence and abuse to reconnect with the joy, practicality and many benefits of cycling.
It was delivered through the combined efforts of Sustrans officers and volunteers, Brighton and Hove City Council, community bike workshop Cranks, and the local women's refuge.
Asking the local community for help
Earlier this year, the project put out a call to the local community for unwanted cycles for the project.
The response was overwhelming, with over 150 donated.
Once received, the cycles were serviced and made available to the women and children at the refuge.
Karola, Sustrans volunteer and bike mechanic from Cranks community workshop, said:
"It was amazing to see such a great response from the community that donated all those bikes to be refurbished.
"We didn't expect so many people to offer their old bikes when I first suggested doing a call out. It was really lovely to see that people want to help each other out."


Learning new skills and building confidence
We ran 20 cycling sessions for the women and children, focusing on learning to ride, cycle skills, maintenance and puncture repair.
Sustrans Bike It Officer Lucy Dance, who was instrumental in setting up and running the project with partners, said:
"It's been a delight to watch the women grow in confidence on their bikes and see their excitement as they learn new skills.
"Riding a bike has given them more independence and freedom to travel around the city, as well as supporting their physical and mental health.
"This project has enabled some women to ride a bike for the first time!"
A ray of light in difficult times

Having access to a cycle and the skills to use it means journeys that were previously out of reach because of cost or distance are now possible.
Everyday journeys like the school run become fun, and mother and child can cycle together.
Shona Kynoch, Domestic abuse caseworker at Stonewater Women's Refuge, said:
"Having to move to a refuge is never easy, and even harder these past two years with all the challenges the pandemic has brought."

"The cycle scheme at refuge has been a constant ray of light during these times and so many women and children have gained so much pleasure from taking part."

The value of working in partnership
Shona continued:
"This scheme highlights how valuable working in partnership can be.
"Sustrans, Brighton and Hove City Council and Cranks have all played a huge part in creating this scheme and making it such a success."
Amy Heley, chair of Brighton and Hove City Council's Environment, Transport and Sustainability committee, added:  
"This is a fantastic project supporting women and children in the city and I want to congratulate everyone involved for winning this award.
"I'm delighted that so many have benefited from the generosity of people in the city and the wonderful impact cycling has had on those at the refuge."
If you are experiencing domestic abuse or are worried about someone, you can contact the
 

National Domestic Abuse Helpline

 

on 0808 2000 247.