The physical differences between us should be celebrated. As we have different body shapes, sizes and needs, there are a variety of cycles out there to suit everyone. Things like the frame size, which type of saddle you choose, and the weight of the cycle are factors which can suit different physical needs.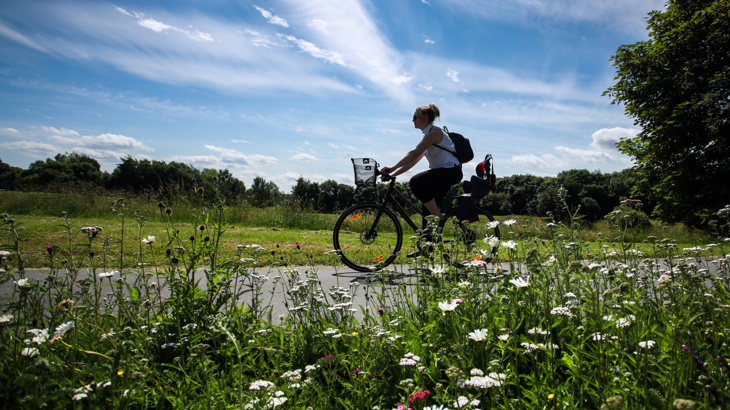 Dropped frame cycles can suit a wide range of people. ©Chris Foster/Sustrans
Before purchasing a cycle, here at Sustrans we recommend researching and test riding before you make your choice to ensure it will suit your needs in the best possible way.
If you can, testing, hiring or borrowing kit beforehand will give you a great insight into the type of cycle that's best for you.
As there are a variety of cycles out there for everyone, which are designed to suit different physical needs we've highlighted some of these factors which you can take into account when choosing your cycle.
What are drop frame cycles?
Drop frame cycles, or step-through cycles, get their name from the distinctive dropped crossbar, positioned between the seat post and the handlebars.
They're designed to provide ease when stepping through the frame and can make it easier when getting on and off a cycle.
For instance, for older people, pregnant people, or people with physical disabilities, this type of frame may suit their needs better than an average cycle frame.
These types of cycles also tend to have a shorter frame which means there's less reach between the saddle and the handlebars, this can provide a comfier seating position. 
Saddles
There are a number of different saddles out there to choose from.
Some saddles are wider at the back and narrower at the front.
And some have lots of padding which can enhance your comfort levels when cycling, especially on longer distance rides.
It's best to try a few out before deciding on which one is best for you.
Handlebars
The distance between you and your handlebars can make a difference to your riding experience.
If you have a smaller body size then reduced space between your body and the handlebars is recommended, to ensure you're not overreaching.
It's ideal to be able to reach the handlebars without slouching or stretching to ensure a comfortable ride and protect your back.
Cycle weight
Another factor to consider is the overall weight of the cycle, especially if you need to lift it up to a storage rack or carry upstairs.
Folding bikes are less bulky and easier to manage, whereas titanium or carbon fibre frames are lighter, making them easier to handle.
Whichever bike you decide to go for, make sure you try out different styles to find a good fit for you.