International Women's Day allows us to reflect on, and celebrate the global achievements of women across sectors. Each year as we approach this day, I find myself looking around in the world of city and town design and transport, to see how women are taking the lead in reshaping the environments around us. And how places designed with women's needs and travel habits in mind are places for everyone.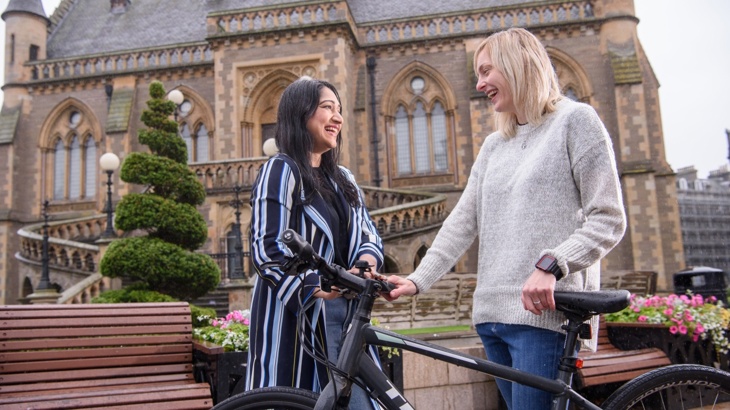 Themes of equity and social justice are deeply embedded in what we experience. Especially as women or the more vulnerable in society.
How we travel, how we experience our streets and our public spaces, how safe and how welcome we feel are being discussed far more widely now.
I am an architect and urban designer. I grew up in India and Indonesia, and have had the good fortune to have lived and worked in Singapore, the US, London. And since 2014, I have made Edinburgh my home.
How you get around impacts quality of life
I started working in sustainable transport almost eight years ago. But it wasn't until then that I could truly reflect on how much the quality of my life in all those places has was influenced by how easily, conveniently and affordably I could get around.
In Bombay and Singapore, I used public transport to get everywhere. I felt safe even travelling late at night.
In America, I lived in a small town where I had to hop in a car to go to the gym or to buy milk, as there were no pavements to get there. I wasn't in a good place then, either physically or mentally, and I think my dependency on the car played a big part.
In Edinburgh and London, I discovered the joy of cycling, getting to places quicker, feeling healthier both physically and mentally.
We need to remove the silos from city-building and re-think the measures we use for the impact of public spaces on our wellbeing.
Women-led design
One of the big learnings I have taken from my work so far is that we need a whole systems approach.
We need to remove the silos from city-building and re-think the measures we use for the impact of public spaces on our wellbeing.
And we need to ensure that women are part of that conversation at every level. From planners, designers, community leaders, engineers, and decision-makers.
We need to be at the table to make that difference to address women's unique needs and travel habits.
For instance, a working woman with a child under the age of five will increase her trip-chaining - the series of trips made by people every day - by 54%.
While a working man in the same position will only increase his by 19%. This difference would be addressed at the planning stage if more women were involved earlier on.
We need more women in senior transport jobs
In Sustrans, we published a report called 'Are we nearly there yet?' that looked at gender and transport in the UK.
And something that stood out to me in the report is that currently, transport has the lowest percentage of women in senior posts within the public sector in Scotland.
Women represent only 6.25% of heads of transport bodies. And the transport sector accounts for only 22% of female workers UK-wide.
Designing through a gender lens
In Vienna, they have worked on city design through the lens of gender with some incredible results.
They started with a photography exhibition that documented a day in the lives of eight different women and girls – from a young child to a wheelchair user, to an active retiree.
It was a simple concept that showed a side to the city that was rarely considered.
Like most European cities then and now, Vienna was being designed by male planners for men like them: going between home and work, by car or public transport, at mostly set times.
There was no accounting for unpaid labour such as childcare or shopping, carried out mostly by women, in many short journeys on foot during the day.
And that has led to a complete change in the way the spaces and connections are designed.
I will end on a positive – things are changing here. I led a project in Edinburgh called the City Centre Transformation project.
And without engineering it that way, it was truly women-led, from technical lead to project management and policy.
At the final committee, one of the members said: 'what I love about this project is, it isn't a traditional transport project, there's space for emotion here.' I am so proud of that.