Almost 33,000 journeys on public transport, foot and bike were made by commuters as part of a month-long Challenge to beat the traffic and get healthier in Northern Ireland.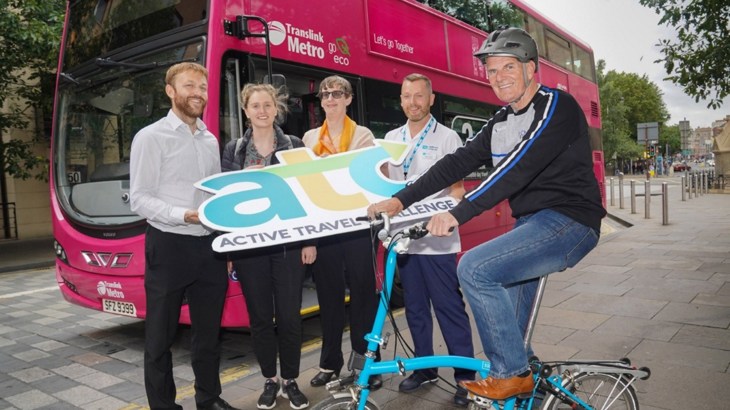 More than 2,000 people from a wide range of workplaces across Northern Ireland left their cars at home and walked, cycled or hopped on the train or bus.
Staff from public and private sector organisations went head-to-head in the Active Travel Challenge in June, organised by Sustrans and Translink and funded by the Public Health Agency (PHA) and the Department for Infrastructure (DfI). This was one of the most successful Challenges to date.
Belfast Lord Mayor Cllr John Finucane congratulated the winners and all those who took part in the regional Challenge at a recent awards ceremony at the Black Box in the city's Cathedral Quarter.
Allstate NI were champions in the largest workplace category, with Libraries NI and AECOM also winners in their workplace categories. Three employers were joint winners in the smallest workplace categories:Strabane Community Project, MCR Consulting Ltd and Clarus Financial Technology. [See the full list below]
Civil servant Laura O'Hare, from the Department of Finance, logged the most overall journeys; while Jessica White from Jacobs Engineering took first place for the most public transport journeys.
The workplaces that topped the Active Travel leaderboard were:
Small Workplace winner (3-20 employees) Joint winners: Strabane Community Project, MCR Consulting Ltd and Clarus Financial Technology
Workplace winner (21-90 employees) Jacobs Engineering
Workplace winner (91-249 employees) Arup Belfast
Workplace winner (250-499 employees) AECOM
Workplace winner (500 -1000 employees) Libraries NI
Largest Workplace winner (1001+ employees) Allstate NI
Over 80 workplaces registered for the Challenge with a total of 2,120 people registered, 70% of whom actively participated.
The Active Travel Challenge is just one part of a wider PHA-funded project called Leading the Way with Active Travel, that is engaging with staff in some of Belfast's largest workplaces to encourage and facilitate active travel.  
David Tumilty, Senior Health and Social Wellbeing Improvement Manager at the PHA, said: "Congratulations to all who took part in the Active Travel Challenge. Its success has shown how more people are continuing to embrace active travel as part of their daily lives.
"It offers great examples of how easy it can be to fit walking, cycling and public transport into the working day and enjoy the health benefits of doing so.
"The PHA encourages everyone to actively travel as much as possible and this can help contribute to meeting the Chief Medical Officer's recommended minimum amount of physical activity of 150 minutes each week."
Of the 33,000 journeys made during the Challenge, 10,000 of these were by public transport.
Translink Group Chief Executive Chris Conway said: "The Challenge has been a fantastic platform to showcase the economic, social, health and environmental benefits of public transport.
"We were pleased to kick-start it during Bus + Train Week with many participants choosing bus, coach and train to make their challenge journeys.
"Last year, 84.5million journeys were made on Translink services in Northern Ireland - the highest level in 20 years and an increase of over 3m compared to the previous year, removing over 2.8 million car journeys from local roads.
"This initiative is an effective way to attract even more people on board public transport. Congratulations to everyone who took part!"
Lynda Hurley, Head of Promotion and Outreach Branch, Department for Infrastructure, said: "The draft Programme for Government sets out a clear ambition to transform how we travel by increasing the number of people walking, cycling and using public transport. 
"We know that if more people consider making sustainable travel choices it will help to reduce congestion on our roads, protect the environment and, importantly, lead to improved physical and mental well-being.
"The Department welcomes the increased uptake for the Active Travel Challenge this year and congratulates all those who took part. 
"We will continue to work collaboratively with others to increase the number of people using sustainable methods of travel."      
Ashley Hunter, Sustrans Northern Ireland and Republic of Ireland Director said: "Given the serious amount of congestion we experience in our urban areas across Northern Ireland it is important to do all we can to encourage people to travel more sustainably.
"I'm personally delighted with the uptake of the Challenge this year and we hope to continue this successful partnership."