Cycle to work and arrive energised, alert and ready for the day – and you'll be clocking up your recommended 2.5 hours of physical activity per week before your working day starts.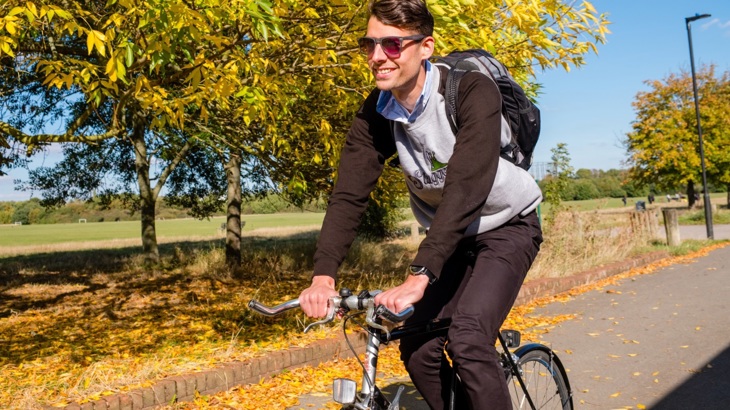 Planning a slightly longer journey through quieter spaces might be more enjoyable.
If you're thinking about cycling to work, here are a few handy tips to get you started.
Be prepared
The easiest way to be put off cycling to work is to jump straight on your bike without being prepared.
Here's what to think about before you start:
The best route to take: remember that the most direct route may not be the most pleasant. Check whether there are any National Cycle Network routes, local cycle paths or quieter roads you can take – they may make the journey slightly longer, but you'll have a more enjoyable journey
Get to know your journey: once you've planned your route, do a practice run at the weekend when the roads are quieter so you'll be confident and less flustered on Monday morning
Where to lock-up: if you haven't got a bike lock-up at work then find somewhere safe to lock your bike on your practice run
Getting the right kit: on short commutes, you may be comfortable cycling in your work clothes, but for longer journeys, it's worth getting a few essentials. Either way, you'll need to ensure your bike is kitted out for the job. Check out

 

our shop for suitable clothing and accessories
Staying fresh
No one enjoys sitting at work feeling hot and sweaty, so make sure you are fresh for the day with these tips:
if your

 

workplace has a shower, keep a bag with a towel, shower gel and other essentials at work
if you're changing at work, look for clothes that won't crease easily and roll them rather than folding, keeping them dry in a plastic bag inside your pannier
if you don't have a shower then leave some cleansing wipes, a small towel and deodorant at work so you can freshen up and change when you arrive
take it easy during the last five minutes of your journey to allow your body to start cooling down before you arrive
if you don't want to change at work, wear a vest under your work clothes in case you get sweaty.  You can remove it once you arrive, leaving your clothes clean and dry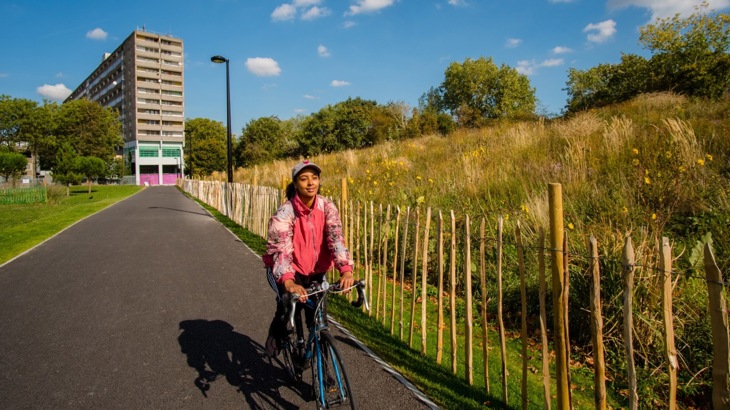 Taking it easy will mean that you enjoy the cycle to work rather than finding it stressful.
Take it at your own pace
It can be intimidating when you start commuting alongside other people who have been doing it for years but don't let a few 'seasoned pros' put you off.
Take your commute at your own pace – time your practice run and make sure you add an extra ten minutes to get freshened up at work.
If you know you aren't in a rush you'll be less inclined to try and compete with other cyclists.
Start slow – commute a few times a week and work up to every day when you feel fit enough.
It's better to enjoy the cycle to work than to force yourself and then give up.
Be road confident
It's likely that at least part of your journey will be on a busy road, so it pays to learn some basic road cycling skills.
Knowing how to signal, position yourself and use roundabouts will give you the confidence to cycle on busier roads, and at busier times.
Cycle training is a good option if you're new to cycling or haven't cycled for a while.
Winter commuting
If you're a 'fair weather cyclist' you have probably dismissed winter commuting as cold, wet and miserable.
Get your kit right and learn a few winter cycling tips, though, and you could be glad to be on your bike rather than the overcrowded bus or congested traffic.
'Combined' commuting
Cycling to your nearest train station and catching a train is a great way to combine all the benefits of cycling into a longer daily commute.
Most trains allow you to take folding bikes on board as they're generally small enough to be stashed in the luggage racks.
Some trains also accept full-size bikes, so check before forking out on a fold-up bike.
You could also buy a cheap second bike to keep locked up at the other end of your train journey.
Commuting by bike can be intimidating at first, so it's always best to know your route before you get going.
That said, we've no doubt you won't miss those steamy busses and packed trains once you're on the saddle.