Children and young people from across Northern Ireland have been showcasing their creativity and community spirit by getting involved in a revamp of the Millennium Mileposts in their local area. From North Antrim to the suburbs of Belfast to County Armagh, dozens have come up with designs to bring back to life these cast iron sculptures that help people navigate the National Cycle Network.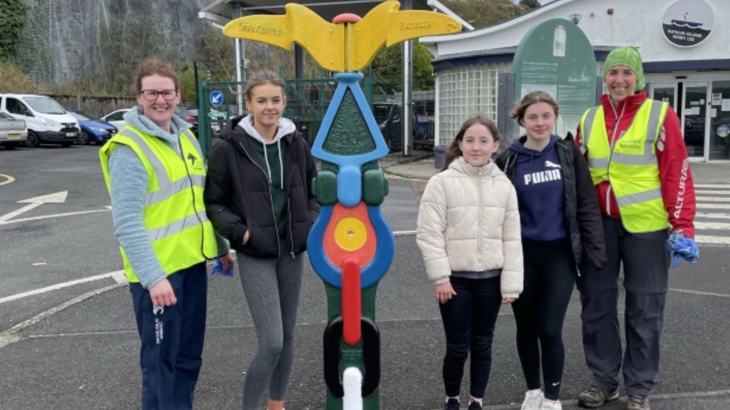 Members of Club Óige an Chaistil were helped by Volunteer Coordinator, Rachael Ludlow-Williams (right) to repaint the Millennium Milepost in Ballycastle Harbour which looks out to Rathlin Island on National Cycle Network Route 93. Photo: Sustrans
Sustrans is the custodian of the National Cycle Network, so it's our role to care for it, improve it, and champion a long-term vision of its future. 
There are four different milepost designs in both rural and urban locations on routes all across the UK. Four artists from the four countries of the United Kingdom were commissioned to design these artworks to mark the dawning of the new millennium. 
Nautical-themed sculpture on North Coast
The sculpture in the North Coast town of Ballycastle is by Swansea native Andrew Rowe and is based on nautical and industrial themes. A team of young people from the Irish medium youth group, Club Óige an Chaistil in the town and across the water in Rathlin Island, collaborated on a bright, vibrant design to reflect the stunning landscape where they live. 
Once that was finalised, they joined forces with our Volunteer Co-ordinator, Rachael Ludlow-Williams to bring the design to life. You can see them at work here.
The Milepost sits in the seaside town's harbour and is positioned close to the Tourist Information Centre and ferry terminal which carries residents and visitors to Rathlin Island – the only inhabited island off the coast of Northern Ireland.  
The design mirrors Rathlin's lighthouses between the vast blue sky and the deep sea. 
The harbour is connected by on-road routes to National Cycle Network Route 93. 
Benefits of cycling in lives of young people
Deirdre Goodlad from Club Óige an Chaistil said: "This project has brought together the young people of Ballycastle and Rathlin Island and let them loose with paint in a public place and they did a fantastic job! They planned the paintwork using the colours of the land and sea around them – how they see it. The result is a colourful and eye-catching Milepost. 
"It was great for them to do something in the community which literally puts them on the map. 
"Meeting Rachael has given us lots of ideas for getting outdoors and on our bikes more. We hope that this is just the starting point in educating and encouraging our young people to think more about transport and the benefits of cycling in their lives."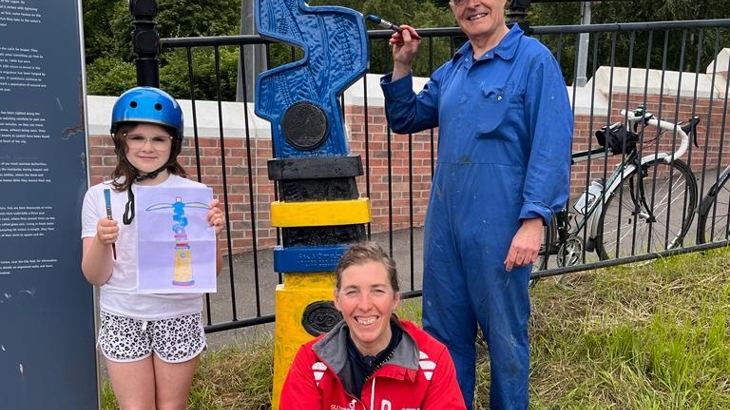 Molly (left) with her winning design helped Rachael and volunteer John to repaint the Millennium Milepost on the Lagan Towpath on National Cycle Network Route 9. Photo: Sustrans
Meanwhile, in the suburbs of Belfast, walkers and cyclists are enjoying the handiwork of another local young person whose brightly coloured creation now adorns the Millennium Milepost on National Cycle Network Route 9, which connects Belfast to Lisburn via the Lagan Towpath 
Stranmillis Primary School pupil, Molly Packman, let her imagination run wild when she entered a competition to redesign the milepost organised by her Active School Travel Officer, Iain Sneddon. She was so enthusiastic, she and her mum Claire joined Rachael and volunteer John in painting the Millennium Milepost. 
Combining schools, volunteers and community
Iain Sneddon said: "It has been great to run this competition with Stranmillis Primary School this year. Incorporating the Active School Travel Programme with Sustrans Volunteers and local communities is really important, and Molly's wonderful Milepost design has certainly done that. Well done Molly, you've brought the Milepost sculpture out of the shadows for everyone to enjoy for years to come!" 
David Dudgeon designed this sculpture, titled Tracks, on behalf of Northern Ireland. It shows the tracks made in the landscape by cyclists. 
Previously, a design by Armagh teenager, Sean Toner, was chosen to update the Millennium Milepost in his local area designed by English sculptor, Jon Mills, entitled The Fossil Trees. The post takes the form of an abstract tree with relief imagery of fossils depicting the passage of time from early primate creatures to the ultimate demise of fossil fuel-driven technology. 
It's found on National Cycle Network Route 91 near the River Callan in County Armagh. Sean is a junior member of the Friends of Callan River. 
Mileposts celebrate National Cycle Network
Unveiled in the year 2000, the Millennium Mileposts are a celebration of the freedom and diversity of the National Cycle Network. 
Over 1,000 Millennium Mileposts were installed, stretching to all corners of the UK, some as far north as the Shetland Islands. 
With the help of our amazing volunteers, we've kick-started a project to work with communities to audit and repaint the mileposts, giving the much-loved artworks a revamp. 
Fabulous artworks jump out!
Rachael Ludlow-Williams added: "It's great to see the next generation of active travel volunteers invest so much time and effort to help ensure these fabulous pieces of art jump out!
"If you'd like to share an idea and see your local milepost repainted, just get in touch at: volunteers-ni@sustrans.org.uk" 
Look out for more Millennium Milepost transformations as volunteers collaborate with local communities to give the local landmarks a facelift.