With the help of our amazing volunteers, we've kick-started a UK-wide project to audit and repaint the mileposts along the National Cycle Network. It's been 21 years since they were first installed, and we'll be working with communities to revamp these much-loved artworks.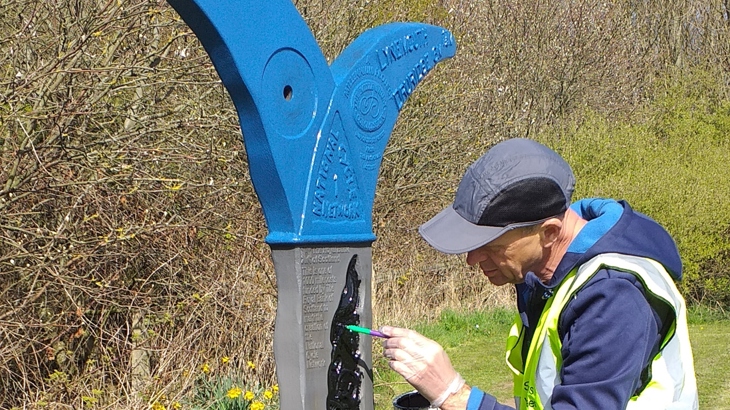 A volunteer repainting a Millennium Milepost on National Cycle Route 1 in Lynemouth, Northumberland.
Volunteers taking the lead
The Millennium Mileposts are 1,000 cast-iron sculptures that act as waymarkers on the National Cycle Network.
In order to preserve the mileposts, volunteers are carrying out a UK-wide audit to determine which ones are most in need of care.
For those that have been identified, volunteers from Sustrans and local community groups will design and carry out the painting of the posts this summer.
The work will ensure the Millennium Mileposts remain much-loved assets of the communities they serve, and the highlight of any journey on the National Cycle Network.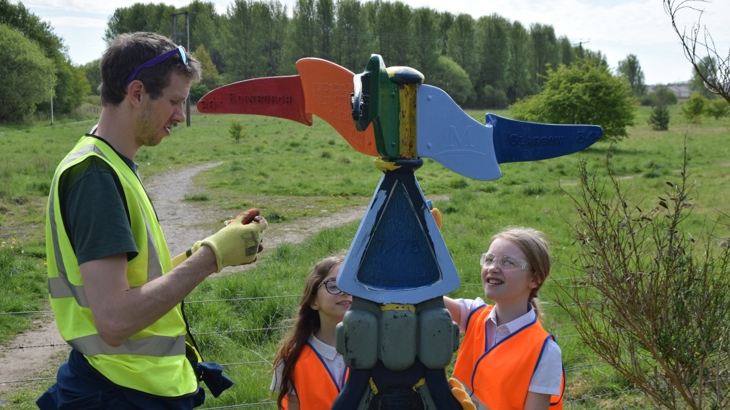 Previous work to preserve mileposts have involved pupils from local schools, such as this team on National Cycle Network Route 75.
Rediscovering freedom on the Network
Speaking of the project, Katie Aartse-Tuyn, Head of Volunteering at Sustrans said:
"The Millennium Mileposts connect us and represent the freedom we can all enjoy on the Network.
"This freedom is one that has been sorely missed during the pandemic over the past year.
"We're hopeful that this project will therefore bring joy to users of the National Cycle Network as restrictions continue to ease and we all start to enjoy spending more leisure time outside."
  
Brightening up the routes
Having already completed work on National Route 1 in Lynemouth, Volunteer Coordinator Sarah Donnelly said:
"A lovely sunny day in Northumberland meant we were able to tackle this Millennium Milepost on the popular Coast and Castles route.
"The milepost was in good condition but I am sure you will agree a lick of paint has really brightened it up.
"No more cycling past on Route 1 and not noticing this artwork!"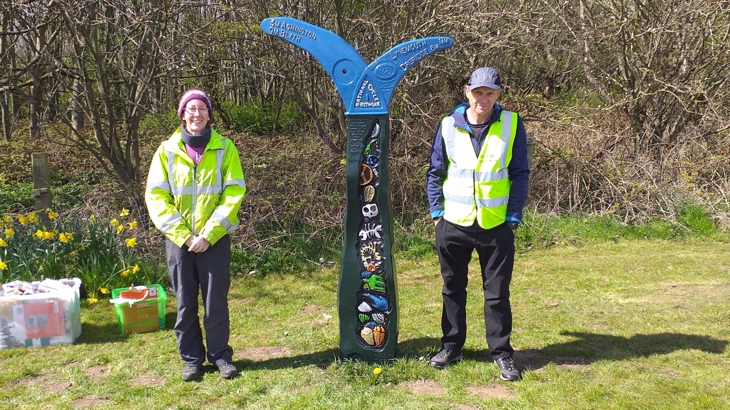 Volunteer Coordinator Sarah Donnelly and Sustrans volunteer Michael Smith next to their freshly-painted milepost in Lynemouth.
The four milepost designs
The Millennium Mileposts were designed by four different artists from the UK's four nations:
Welsh designer Andrew Rowe from Swansea
English creator Jon Mills based in Brighton
Scottish sculptor Iain McColl from Glencoe
and Northern Irish artist David Dudgeon in Belfast. 
Speaking of his contribution to the project, Jon Mills said:
"I fabricated the original three mileposts, found in Cardiff, Bideford and Bodmin Moor, and it's great to occasionally stumble across others on my travels all over the UK.
"It's also really pleasing to see how local communities have been looking after the mileposts for future generations to enjoy."
  
Join the Millennium Milepost Art Trail
Make sure to look out for these artworks while travelling on the National Cycle Network.
Find out more about the Millennium Mileposts and use our milepost map to find one on a route near you.