Want to plan a walking or cycling trip with a difference? The National Cycle Network has plenty of public artworks and art trails for you to explore – and, get some great photos in the process.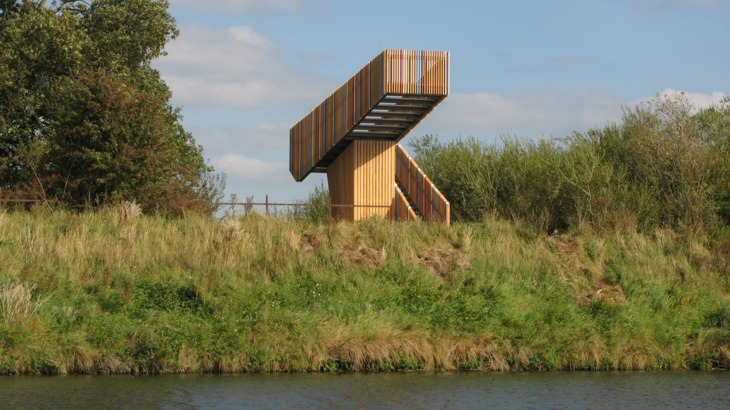 One of Robbrecht en Daem's viewing platforms, giving views over the fens.
The Water Rail Way passes through vast fenland landscapes with long views and expansive skies.
The route features a sculpture trail commissioned by Sustrans.
It includes artworks inspired by the poetry of Alfred, Lord Tennyson, the local environment and animal breeds.
Keep an eye out for Sally Matthews 'Lincoln Reds' and 'Lincoln Longwool Sheep'.
There are also viewing platforms designed by Belgian architects Robbrecht en Daem.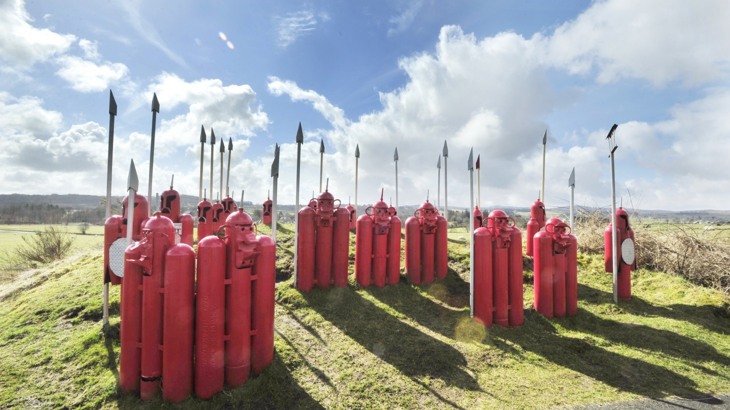 The Mile XVII Legion, which lies on the route between Kilmacolm and Bridge of Weir.
David Kemp's Mile XVII Legion are a striking feature of this route.
Styled as Roman legionnaires in bright red, they stand guard at the side of the cycle and walking path.
Kemp's brickwork sculpture Brick Traction can also be seen along the route.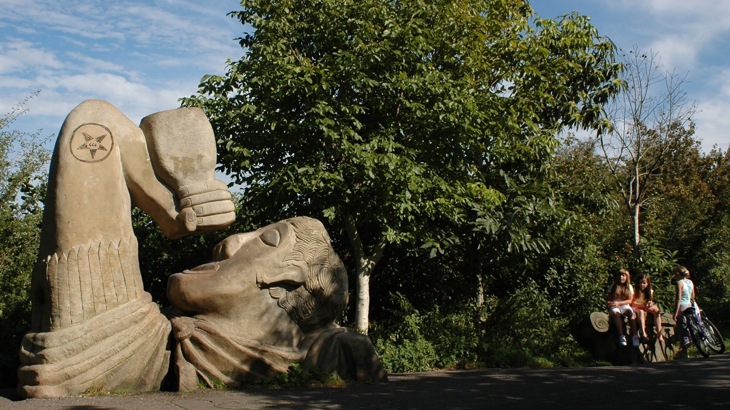 Gordon Young's 1992 sculpture Gaius Sentius, on the Bristol and Bath Railway Path.
Along this route, you can view a stone drinking fountain by Gordon Young which represents a thirsty Roman legionnaire.
As well as other artworks, there's also a signal box café at Warmley and working steam engines at the old train station at Bitton.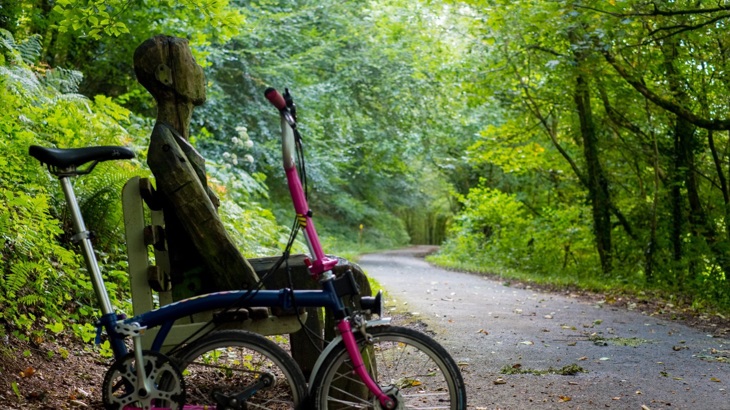 Carved bench sculpture on the Tarka Trail. Image © Jonathan Bewley
The Tarka Trail has 30 functional artworks designed and created by eight artists.
Look out for these as you travel through estuary mudflats and salt marshes, oak woodland, hazel coppice and meadows.
It's worth visiting the Peters Marland area on route where Katy Hallett has developed a series of animal seats.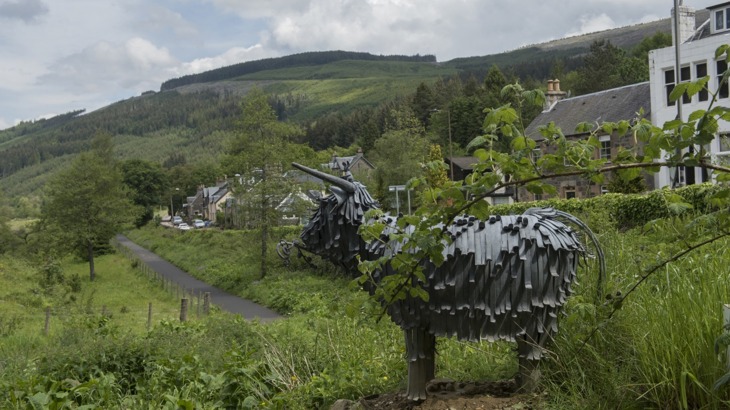 The Drover's Bho at Strathyre.
The BLiSS trail stands for Balquhidder, Lochearnhead, Strathyre and St Fillans.
It links up to 25 sculptures, architectural installations and fun ornamental features in four villages.
Travel North along the traffic-free path through Strathyre to the Drover's Bho.
This is a Sustrans-funded sculpture that features a small cow, representing the Drover's route through the village.
There is an option to go to Balquhidder along a quiet road to see more artwork and also visit the grave of Rob Roy.
At Lochearnhead, you can go under the bridge and see artworks including Ewen the Westie.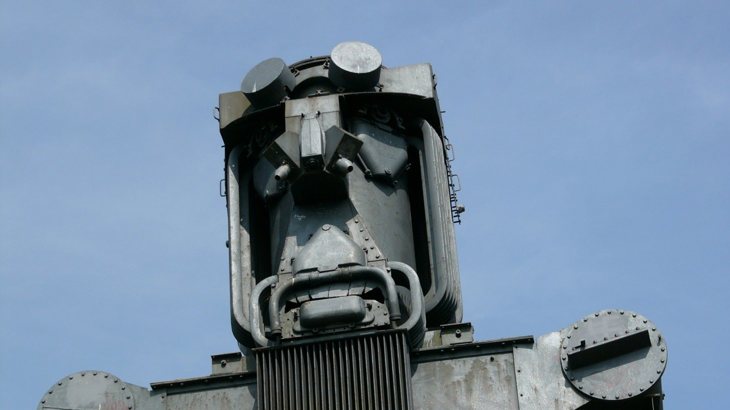 An Old Transformer on the Consett and Sunderland Railway Path.
This route contains many artworks relating to the region's industrial heritage.
Tony Cragg's Terris Novalis is a 6m-high engineer's level and theodolite (an instrument used for surveying) wrought in stainless steel.
Andy Goldsworthy's Jolly Drover's Maze is a large maze earthwork, relating to underground coal mining routes.
Also, David Kemp's King Coal – a huge face made of recycled masonry – and Old Transformers, can be seen keeping watch along the route.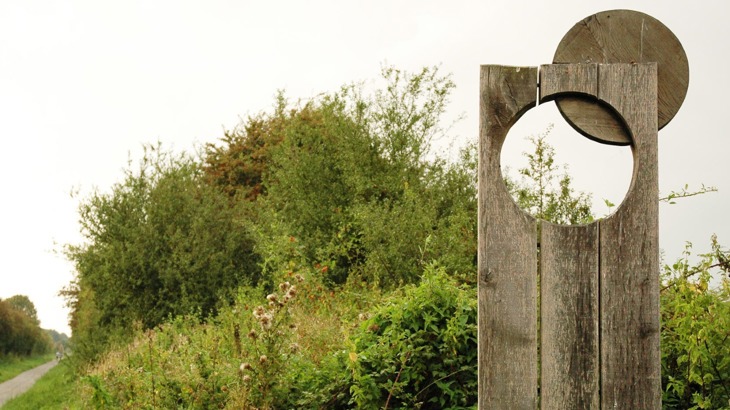 One of Patrick O'Riordan's Waymarkers on the Phoenix Trail.
This route includes a series of 30 artworks inspired by the old railway environment and the landscape looking out to the Chiltern Hills.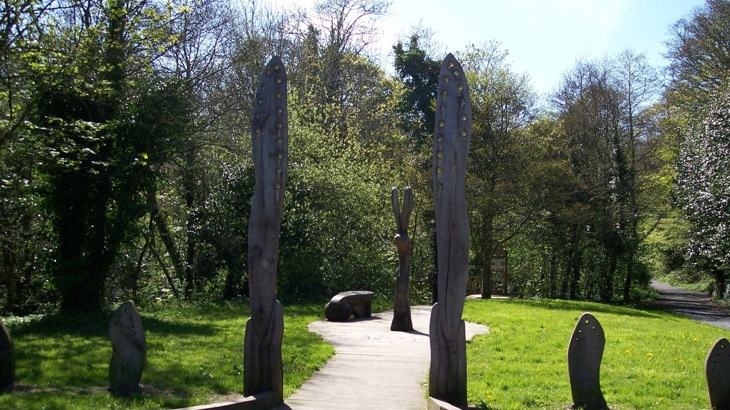 The entrance to Nant Y Pandy, on National Route 566. Image © Isle of Anglesey County Council
The Lon Las Cefni route passes through the Nant Y Pandy nature reserve, also known as The Dingle.
At one of the entrances, you'll see dragonfly-themed artworks by Reece Ingram.
There are also artworks by Dominic Clare and Nigel Talbot elsewhere in the woodland.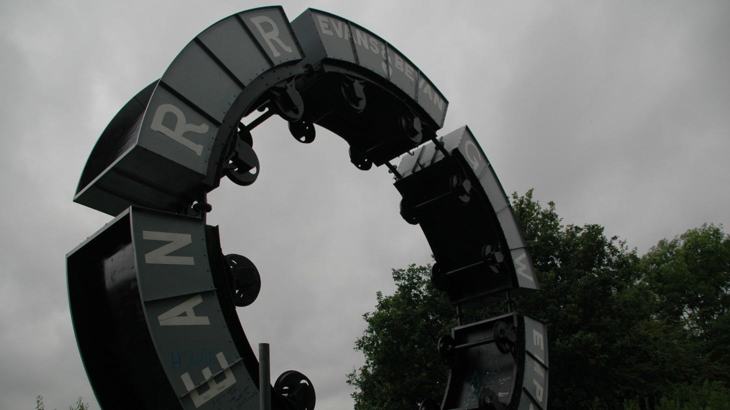 Andy Hazell's Wheel of Drams, a circle of steel coal wagons.
This easy, traffic-free ride takes in three of Wales' most beautiful parks.
Starting from the Sirhowy Valley Country Park, the route takes you over Hengoed's impressive 16-arch viaduct.
Don't forget to look out for The Wheel of Drams – an eight-metre-high artwork and well-known landmark that represents an industrial age gone by.
Continuing along the valley, the route passes through Parc Penallta, carved from a former coal pit.
Look out for Sultan the Pit Pony, the UK's largest figurative earth sculpture.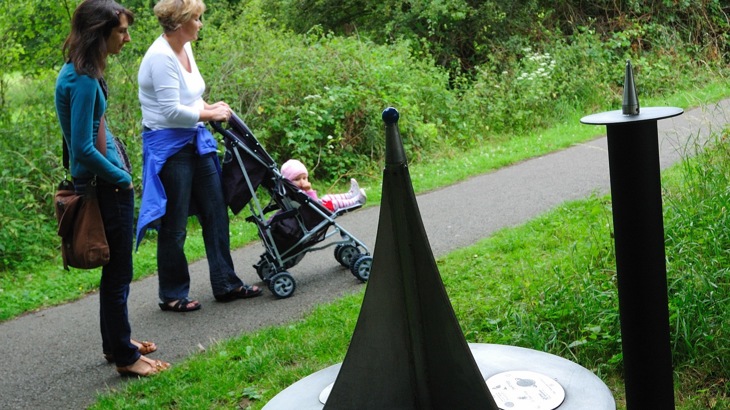 Part of the Cycle the Solar System series.
Along this route, you can see the Cycle the Solar System artwork commissioned by Sustrans.
Three scientists from the University of York constructed this 10.4-km scale model of the solar system.
The scale models of the planets are placed the correct distance (proportionally) from the Sun and from each other.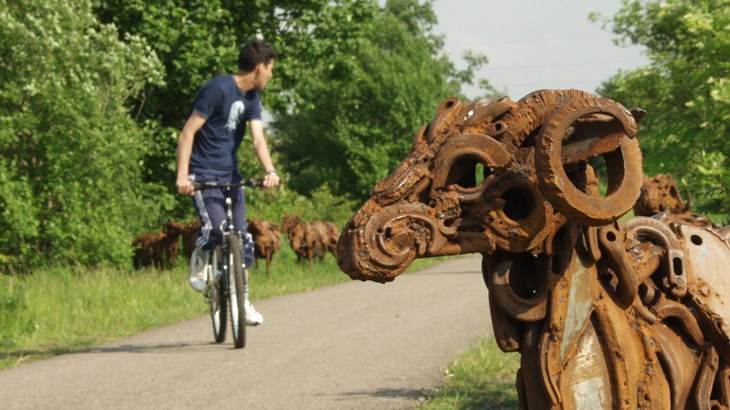 One of the Swaledale Sheep.
Sally Matthews' Swaledale Sheep are made from recycled scrap metal and adorn the edges of this urban greenway.
Here you can also see Rotate, a set of giant steel hoops, by Trudi Entwistle, as well as Spring Along the Greenway.
This is a series of signs highlighting features and events along the route.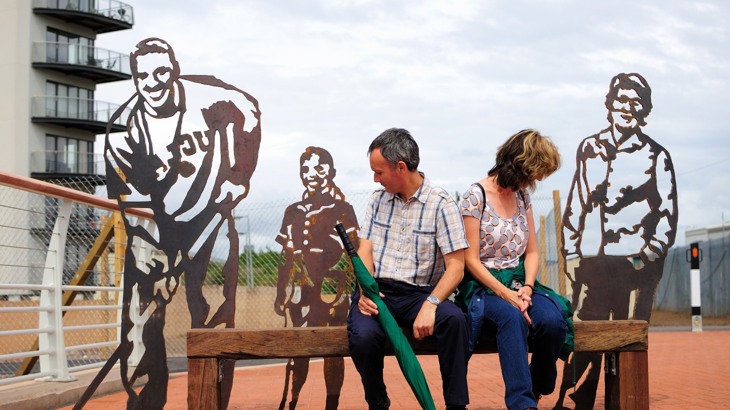 Portrait bench on Pont y Werin, on the Cardiff Bay Trail.
Portrait benches
Wherever you are, be sure to look out for our portrait benches.
In collaboration with communities across the country, we created over 250 life-sized sculptures.
Made from steel, the portraits celebrate local historical or cultural figures, watching on as you take a rest on the bench.