Charlotte Stokes, our Active Travel Officer in Devon, has been awarded 'Partner of the Year' at the recent Exeter and Mid Devon Sports Awards 2020.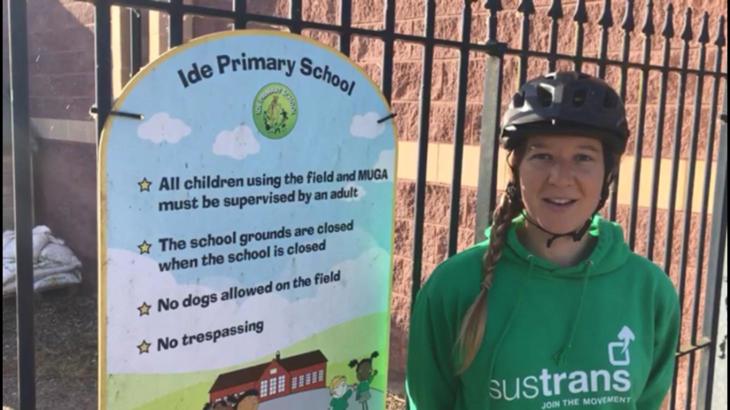 Sustrans Active Travel Officers work with schools to encourage sustainable and healthy travel
This award celebrates an external partner that has made a significant impact on teaching, learning or personal development in schools.
Charlotte was nominated for this accolade by Ide Primary School in Exeter. She has been working with them since 2019, helping to raise the profile of active travel across the school.


A year in the making
In September 2019, Ide Primary School carried out a travel survey. It revealed that none of the children chose to cycle to school.
So Charlotte set about working with the children, and their families, to build confidence and skills to enable active travel.
Throughout the year, Charlotte introduced the school to lots of active travel initiatives.
She also ran activities for everyone. From early years balance bike sessions, to after-school bike club and parent and child learn to ride sessions.
The children, staff and families put their skills into action. They walked, cycled and scooted their way through active travel competitions like Big Pedal and Leg it to Lapland.
Together with the school, Charlotte has helped to increase the number of children choosing to walk, scoot and cycle to Ide Primary School.

Hard work and dedication
Sarah Leeming, our England South Head of Delivery said:
"We're delighted that Charlotte has received this award. She has supported Ide Primary School, and many other schools in Exeter and Cranbrook, to achieve their active travel goals.
"This award is a testament to her hard work and dedication."


Encouraging active travel in schools across Devon
Sustrans Active Travel Officers work with many schools across Devon.
They help to encourage sustainable and healthy travel choices in schools in Exeter, Newton Abbot, Cranbrook, Barnstable and Bideford.
The Active Travel Schools Project is delivered by Sustrans and funded by Devon County Council through the Access Fund.