Picture a typical scene outside a school at drop off time. Some children will be trying to walk, scoot and cycle, but cars are blocking the road and pavements, and the air is thick with the fumes of idling car engines. The space is noisy, dangerous and unwelcoming for parents, pupils and local residents.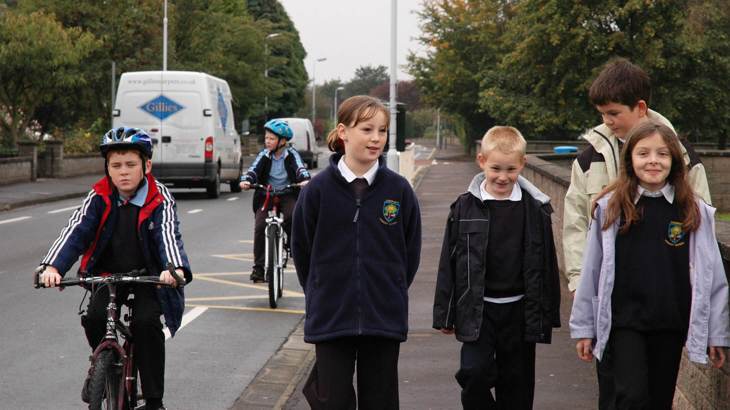 Now imagine that scene without cars – the road is peaceful, everyone can walk, scoot or cycle safely, and breathe in clean air. Sounds like an impossible change?
In fact, it's already being done, and we are working with schools and local authorities to make this dream a reality.
Sustrans Big Pedal
As part of the Big Pedal, we work with local authorities and schools across the UK to close the road directly outside the school, to help create an environment which is safe and free from traffic and toxic fumes.
The Big Pedal is the UK's largest active travel school challenge. Thousands of schools take part, with millions of active journeys made during the two-week competition. The Big Pedal highlights what can be achieved in a small space of time, but to make walking, scooting and cycling to school a reality. We have to limit traffic and address safety on the school run, starting with the road by the school.
We know that across the UK, chaos and congestion outside the school gate is a major barrier to active travel. And we want to highlight the potential of a simple solution, closing the road outside schools to motor traffic at pick up and drop off times.
Taking back school streets 
A number of pioneering local authorities, including Edinburgh, Hackney and Solihull, have established this approach, which has been termed 'School Streets'.
We believe the potential of this approach is huge. And there are many reasons we need to act now: Over 2,000 schools in the UK are in areas with dangerous levels of air pollution and a shocking 1 in 4 cars in the morning rush hour are on the school run. The average journey to school is 1.6 miles, a distance that can be easily walked, cycled or scooted.
Childhood obesity in the UK is increasing, with 20% of 10-11 years old in England now being obese. Creating a safe environment for children walking and getting around by bike to school is one of the best solutions to get them more physically active.
School children have a right to breathe clean air 
Unicef recently published a report titled: 'Healthy Air for Every Child: A Call for National Action'.  We are backing Unicef's call to tackle air pollution head on and protect children's health with a Little Lungs Fund and cross-governmental action plan.