People living and working in Plymouth are getting active this June. From the school run to the daily commute, visiting friends or getting out for some exercise, people are leaving their cars at home and walking, wheeling, scooting or even running for more of their everyday journeys.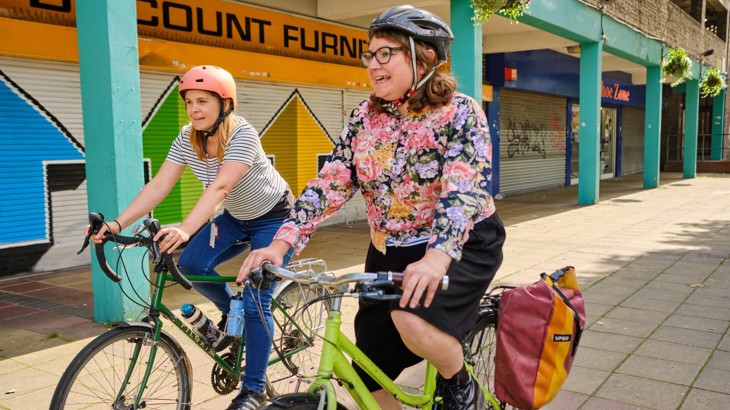 The Big Plymouth Travel Challenge is encouraging people to try healthier, cleaner and greener ways of getting around. Photo credit: photojB
The Big Plymouth Travel Challenge kicked off on 1 June, but there's still to sign up if you live or work in Plymouth.
It's fun and free to join, and a great chance to get active and explore the city in a different way.
Making changes for the better
June is a great month to switch up old habits and try getting around more actively.
Residents of Plymouth are leading the way, and we will be continuing to work with Plymouth City Council and many local community leaders to keep the momentum up.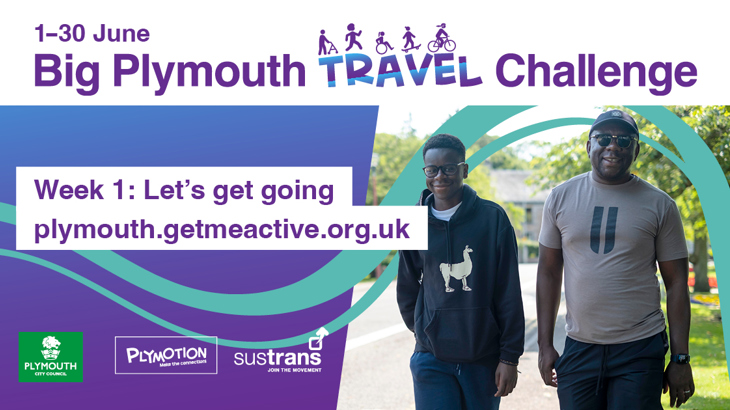 The challenge runs throughout June and is a collaboration between Sustrans and Plymouth City Council.
Track your personal progress and set team goals
The challenge allows you to set targets and goals then track your progress on your personal dashboard.
With prizes and tips every week as well as some great reward discounts, there's plenty to keep you motivated.
You might be returning to exercise or simply need a boost. Either way, we want to help you try to leave your car at home and get active instead.
A weekly e-newsletter sent every Monday throughout the month provides some added support with great tips and advice.
You can also join up with others to create a team and see how far you can go.
Taking part in this friendly competition with others could help you all to keep the momentum up.
Set some team goals, collect badges for your efforts and climb the leaderboard to the top spot!
Improving the local environment and our overall wellbeing
Speaking of the challenge, Councillor Mark Coker, Cabinet Member for Strategic Planning and Transport, said:
"Everyone knows the importance of regular physical activity but we don't always think of the daily journeys we make as a way of achieving this.
"Even if we just walk or cycle for a few of those trips – or part of them – it can make a big difference to our health and overall wellbeing.
"It also helps to reduce the amount of traffic on our roads, which is good for everyone.
"I gave up my car five years ago and haven't looked back.
"We want to promote active travel not just for leisure but also as a safe and practical option for getting around the city."
Councillor Tom Briars-Delve, Cabinet Member for Environment and Climate Change, added:
"We are all aware of the impact of climate change and the more active journeys we each choose to make, the more we are helping to reduce harmful emissions and improve the local environment for everyone.
"This challenge is a great, fun way for us to encourage people to give walking, wheeling and cycling a go and to promote all the support that is available, such as free cycle training, bike maintenance and led rides."
Find out more and get involved in this year's Big Plymouth Travel Challenge.

Keep up to date with news and progress from the challenge on social media with @Plymotion and #PlymouthTravelChallenge.