There's a wide range of awe-inspiring art across the Network in Scotland which can be discovered by walking, wheeling and cycling. From art festivals and circus performances to poetry readings and musical exhibitions, this free outdoor art gallery, aims to enhance neighbourhoods and encourage more people to explore their local area.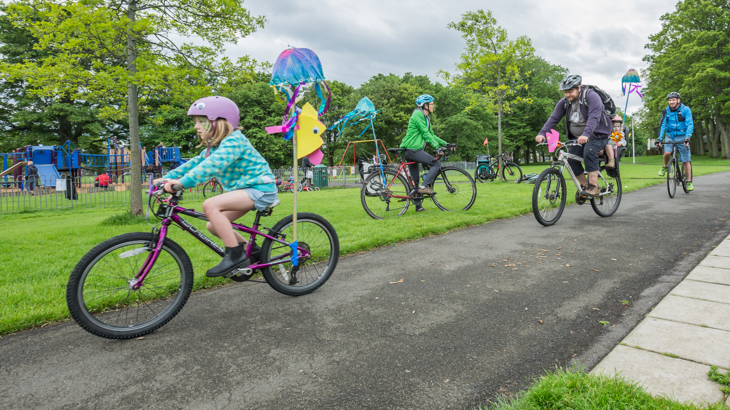 The community-led art projects on the Network aim to enhance neighbourhoods and encourage more people to explore their local areas by walking, wheeling and cycling. Credit: Chris Scott/Sustrans Scotland
Creative communities bringing places to life
A number of traffic-free paths in Scotland are home to a variety of incredible community-led artworks, fascinating art trails and circus performances.
These captivating creations, including vibrant sculptures, murals and thought-provoking installations, have all been made possible by ArtRoots.
ArtRoots is a community fund for art projects along traffic-free National Cycle Network routes in Scotland.
The community-led art projects, which you can find on the ArtRoots map, aim to enhance neighbourhoods and encourage more people to explore their local areas by walking, wheeling and cycling.
Check out the ArtRoots map to find an amazing selection of artwork and projects created by communities across Scotland.
Swapping car journeys for active travel
While reducing car journeys is undeniably beneficial for the environment, it can also improve your overall wellbeing and allow you to experience a taste of what your local area has to offer.
Walking, wheeling and cycling can allow you to explore hidden gems, beautiful artworks and picturesque landscapes that often go unnoticed in the rush of daily commutes.
A recent study by Sustrans revealed that people in Scotland are increasingly embracing this shift from using their car to travelling actively.
The 'reducing car use' report found that people's motivation to do this was driven by a combination of both environmental concerns and the desire for improved health and a better quality of life.
What is ArtRoots?
Since 2017, we've been supporting various community-led projects through our ArtRoots fund.
It's incredible to witness communities embracing a proactive and creative mindset, turning their local areas into lively hubs filled with events and artworks.
ArtRoots has played a pivotal role in bringing over 60 projects to life, making the National Cycle Network an exceptional outdoor art gallery and a beloved community gathering spot.
We've been offering grants up to £6,000 to enable communities to produce art projects along their local, traffic-free National Cycle Network routes.
ArtRoots inspires communities to shape their local environment by making traffic-free routes more attractive and accessible for everyone.
The fund also supports projects led by organisations and individuals who can demonstrate strong community involvement, consultation and engagement.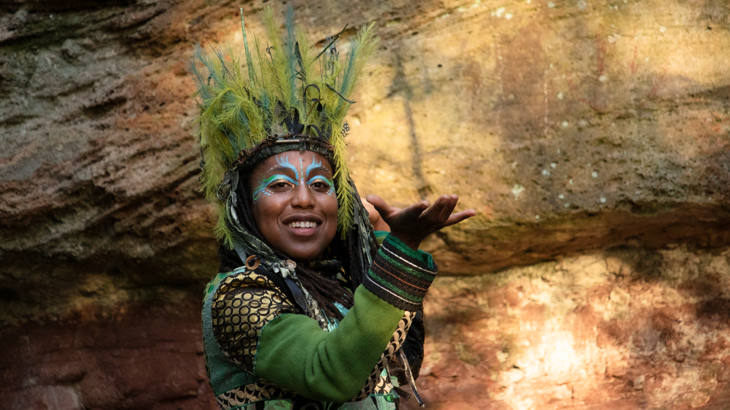 Reducing car journeys offers the opportunity to both discover art and improve your wellbeing. Credit: Jonathan Bewley/Sustrans Scotland
Why is art important to communities?
Art is an outlet for communities and individuals to tell and share their stories, their local history, and bring their heritage to life. 
These creative ideas can come in lots of different forms, from sculptures, performances, events, seating areas, and more.
Mike Scott, the chairman of the Colinton Tunnel Project, explains why art is important to local communities and how that ties in with active travel.
There are many very real benefits of art in public spaces but three shine out above all. It engages communities, it get people walking, cycling and wheeling along our off-road routes to see it, and it makes people smile and feel happy. That's what we all need, and thanks to the Sustrans ArtRoots programme, what is being created all along our National Cycle Network routes.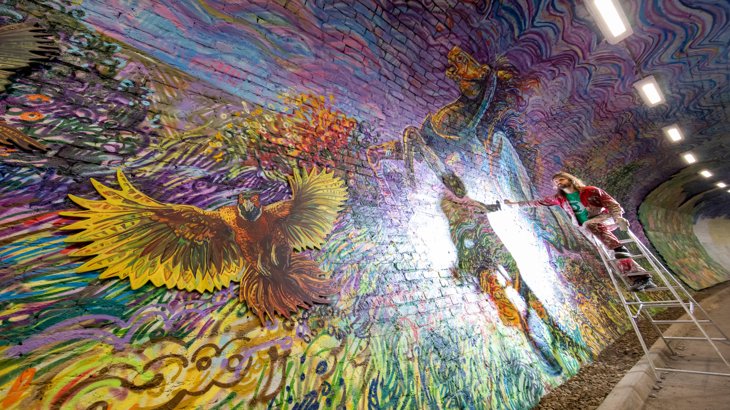 Discover treasures along the National Cycle Network like the Colinton Tunnel Project in Edinburgh. Credit: The Times News