ArtRoots is a community fund for artistic and aesthetic improvements along traffic-free National Cycle Network routes in Scotland.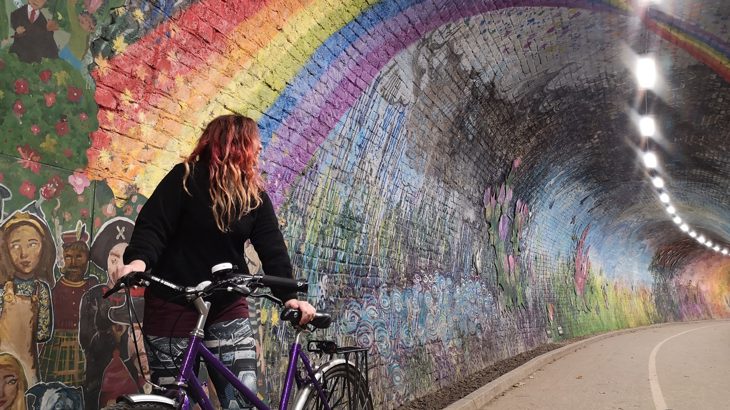 Supported by the ArtRoots fund, the community of Colinton transformed a 140m-long traffic-free former railway tunnel along National Cycle Network Route 75 by bringing to life Robert Louis Stevenson's poem "From a Railway Carriage."
ArtRoots offers up to £5000 to enable communities to make improvements along their local, traffic-free National Cycle Network routes. 
Community-led art projects enhance neighbourhoods.
And they encourage more people to explore their local areas by walking, wheeling and cycling.
ArtRoots encourages communities to shape their local environment by making traffic-free routes more attractive and accessible for everyone.
The fund supports local enterprise, talent and culture by backing projects identified through local consultation and engagement by communities themselves. 
Previous ArtRoots-supported projects include:
temporary installations
one-off performances
sculptures
heritage signs
information boards
murals
seating
Why fund this?
Art and aesthetic improvements send a message that traffic-free National Cycle Network paths and everyone using them are important.
Community-led art makes traffic-free National Cycle Network routes more enjoyable and attractive places to explore.
It also increases confidence in making walking, wheeling and cycling journeys along them.
These improvements empower communities in raising awareness of local routes and the wider Network by creating engaging destinations.  
Communities have the best knowledge of their local area and often the best ideas for how to improve it – we want to put the power to make these improvements into the hands of the community.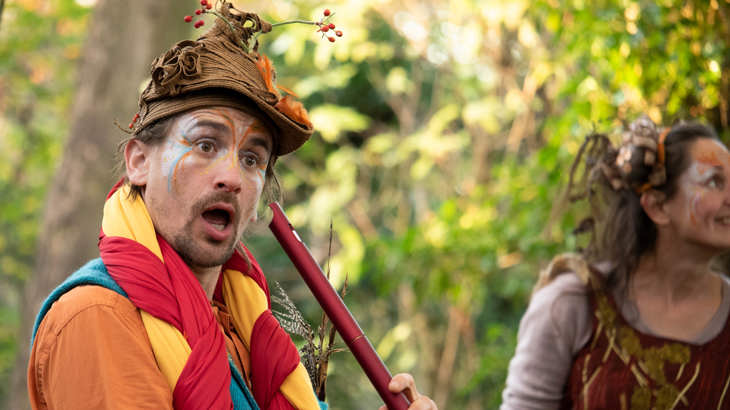 ArtRoots supported the community-led Positive Imaginings children's climate circus along National Cycle Network Route 1 in Craigmillar, Edinburgh.
Who can apply for a grant?
This fund is for constituted community groups based in Scotland.
We will also consider applications from non-constituted groups.
All groups submitting an application must evidence how they plan to work with the local community to develop the project.
How much support can I apply for?
The standard grant awarded for an ArtRoots project is £2,500.
A higher award of £5,000 is available for projects which can demonstrate how an increased award would significantly impact project outcomes and achieve a greater increase in new walking, wheeling and cycling journeys.
Successful applicants can claim funding awards in advance of their project commencing, ensuring communities can afford to progress the work.
ArtRoots does not require any match funding. 


When can I apply for funding?
ArtRoots is open for new applications throughout the year. 
Total annual funding is limited, so prospective applicants are encouraged to apply as soon as possible.
What is the application process?
Download the ArtRoots Fund Guidelines. The document provides a brief overview of the key elements to consider before applying.
Complete an Expression of Interest form.

When will I find out if my application has been successful?
Once the Expression of Interest has been completed, applicants will be contacted within two weeks to advise of their success or to request further details.
Successful applicants will then be invited to make a full application via the Sustrans Portal.
Within the full application, applicants are required to:
Evidence how the community has been actively consulted, or provide information on how they will be engaged throughout development of the artwork.
Provide confirmation that all necessary permissions from relevant landowners or statutory authorities are in place.
Outline how they intend to promote the project to raise awareness and encourage walking, wheeling and cycling.
Art is an essential part of the enjoyment of public spaces and placemaking, encouraging more people in Scotland to travel actively.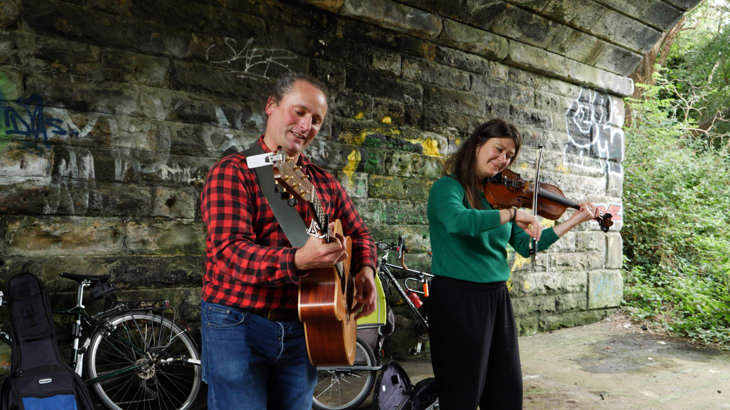 Music For Bridges was a pop-up festival and full day of live music arranged by Tinberbox Collective along the National Cycle Network in Edinburgh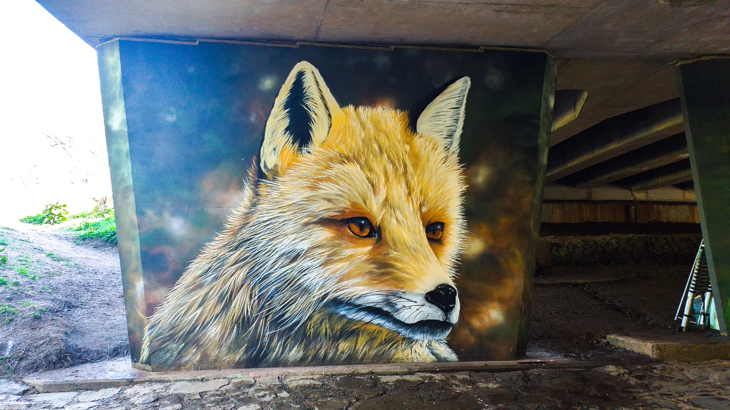 Local artists transformed an underpass along National Cycle Network Route 77 between Perth and Almondbank with a series of stunning, nature-focussed artworks