Supporting pupils, parents and staff to make the journey to school an active one has many positive outcomes across a wide range of policy areas.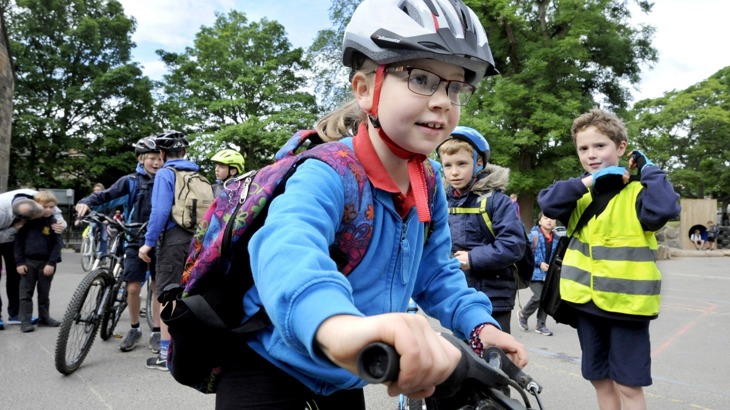 Active travel supports and enriches the delivery of
 

Curriculum for Excellence (CfE)

Active travel, along with other physical activity boosts concentration and prepares pupils so they are ready to learn and achieve at school.

The Curriculum for Excellence (CfE) aims to achieve a more flexible and enriched curriculum. The CfE approach has opened up opportunities to integrate transport/ active travel into classroom learning which allows coverage of wider topic areas of relevance such as health and well-being and exploring the local environment. 

Exploring and promoting active travel in the classroom and embedding it in the school ethos can help to develop Confident Individuals, Effective Contributors, Successful Learners and Responsible Citizens.

Wider work to promote and integrate and active travel into school life contributes to the achievement of Eco Schools Award and can also contribute to Rights Respecting Schools assessments.
Active travel boosts health and wellbeing
Active travel is one way of making up the recommended 60 minutes of daily physical activity for children as recommended by the Chief Medical Officer (CMO) for Scotland. In the report, Start Active Stay Active, the CMO highlights the broad range of health benefits that physical activity, such as active travel can bring. Physical Activity such as active travel improves mental well-being. Evidence suggests that inactive children are at risk of poorer self-esteem, higher anxiety and higher stress levels and outdoor physical activity can reduce this. 
"Promoting active travel on the school journey can make a positive contribution and complement policy and related initiatives to promote healthy lifestyles and physical activity." A More Active Scotland: Building a Legacy from the Commonwealth Games (2014).
The environmental benefits of active travel
Reducing the number of car-related school trips and associated congestion (particularly associated with the school run) would have a positive impact in terms of contributing to the reduction in emissions of atmospheric pollutants. These emissions not only cause poor air quality in the local area but also add to greenhouse gases that lead to global climate change. 
It is recognised in Cleaner Air for Scotland – The Road to a Healthier Future (CAFS) that the health impact of air pollution can have a negative impact in terms of the loss of school time due to absence from school.
The Climate Change (Scotland) Act 2009 sets out the statutory framework for greenhouse gas emissions reductions in Scotland. This establishes an interim 42% reduction target for 2020 and an 80% reduction target for 2050. With the transport sector accounting for approximately 25% of CO2 emissions, more sustainable and greener travel choices for all trips, including the journey to school, have an important contribution to make towards achieving the targets set by the Climate Change Act.
"We need to tackle the congestion problems in many of our cities and towns, including those caused by the School Run which also lead to inactive lifestyles for our children and road accidents which cause deaths and injuries and contribute to problems of congestion and unreliable journey times." National Transport Strategy, Transport Scotland.
For a more detailed discussion of the policy and evidence around school transport choices please see the Scottish Government research study Tackling the School Run.