The school journey is a perfect opportunity for children to learn about their local area, develop wider social networks and gain independence. By walking or wheeling to school, children will feel all the benefits that come with an active school run. So here are some of our top tips.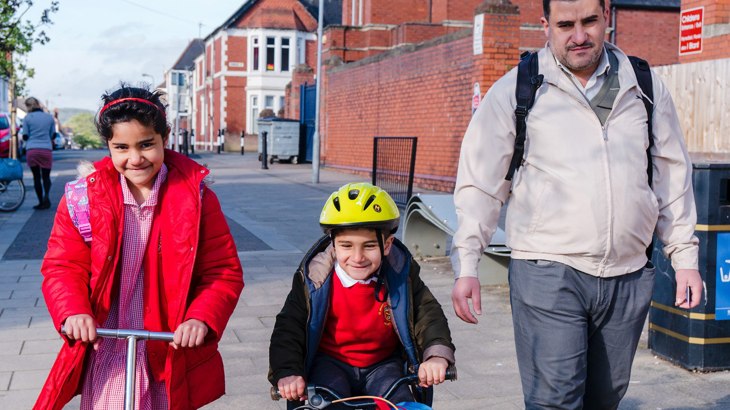 The average primary school journey is just 1.6 miles.
Yet one in four cars on the road during the morning peak are doing the school run.
Encouraging children to walk, cycle and scoot will reduce congestion and pollution around the school gates. 
And it will also help your child's mental and physical health.
Teachers find that pupils who walk and cycle arrive at school more relaxed, alert and ready to start the day than those who travel by car.


Cycling to school
Nearly half of children we surveyed in 2010 wanted to cycle to school but only 4% were allowed to.
The biggest concern of adults when it comes to children walking and cycling to school is traffic danger.
Cycling to school helps young people to develop road safety skills and learn how to manage risk gradually.
As children gain the skills they need to stay safe, they can develop independence, discovering strategies and solutions for getting about themselves.
Of course, an adult can always accompany younger children and help older kids get used to their route until they're ready to go it alone.


Walking to school
Walking to school helps children to engage with their local community, develop wider social networks, greater spatial awareness and improved road sense.
By 2050 it is predicted that 70% of girls and 55% of boys will be overweight or obese, but a short walk each day is easy, free and good for the health.


Scooting to school 
Much like cycling, scooting to school helps young people develop road safety skills and to gain independence enabling them at some stage to be able to travel by themselves.
It is also great fun and encourages exercise and a more active and healthy lifestyle from a young age.
Scooting is also an activity that parents can share with their children and gives an opportunity for the whole family to bond.
There are loads of different types of scooters available, including models for adults. 


Equipment and clothing
Carrying heavy books and equipment is often seen as a barrier to cycling to school.
Panniers fitted to a rack on the bike are the best solution, although a small backpack is often sufficient. See if your child's school provides lockers.
Your child should be as visible as possible to other road users and pedestrians.
Confident road positioning (as taught through cycle training), high visibility clothing, lights and reflectors are great ways to do this.
A white front light and red rear light (constant or flashing) and reflectors are legal requirements when cycling in the dark.
Cycle helmets are designed to give protection from a fall. Though not compulsory, we recommend encouraging children to wear them.


Safety
Fear over physical safety is the main barrier preventing parents and guardians from allowing children to travel actively to school.
Top tips to get your child walking, cycling or scooting to school
Plan your route

 

together in advance, finding quieter roads and cycle paths wherever possible.
Practise the journey at the weekend when the roads are likely to be quieter.
Accompany your child for a few days. As they gain confidence, gradually reduce how far you go.
Make sure they know how to deal with any busier junctions or roads by following our cycling safety tips.
Encourage them to find a friend to walk or cycle with them.
If your child is cycling then cycle training can be a great way to help them develop skills and increase their confidence on the roads.