What's it like to navigate London's streets when you're visually impaired? We asked members of Croydon Vision, a visual impairment charity, and recorded their answers, insights and experiences. In collaboration with artists 'Haus Projects', we turned our recordings into an invaluable audio resource and podcast. Lucy Atkinson, our Senior Collaborative Design Officer tells us more about this very special project.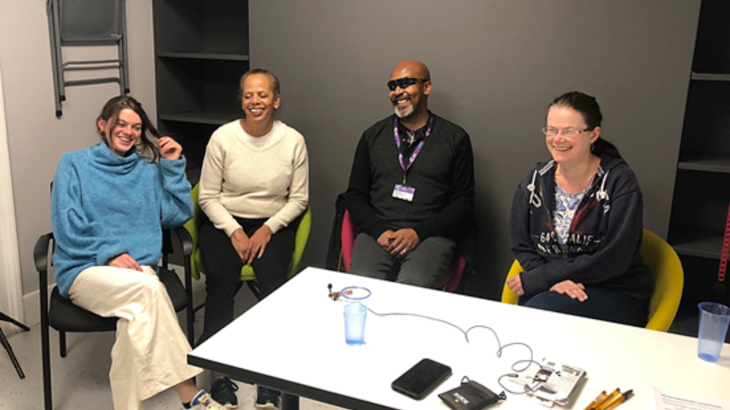 Lucy in conversation with members of Croydon Vision, a project funded by Transport for London's Healthy Streets Officers Programme. Credit: Sustrans
Our streets are not designed to meet the needs of disabled people
We want all streets to be accessible and welcoming for everyone, especially those who are marginalised.
But time after time, we hear from people with lived experience of disability that urban spaces are not designed to meet their needs.
It's part of our mission to make street design more inclusive and as designers and place-makers we have learnt so much from our many conversations with disabled people.
But too often the insights which we gain are never shared beyond the bounds of a project.
We wanted to find a way to amplify voices of lived experience, so that many more people could benefit from listening to them.
Sharing lived experience 
In autumn 2021, we were funded by Transport for London's Healthy Streets Officers Programme to meet with members of Croydon Vision. 
Read more about the Healthy Streets Officers Programme.
Croydon Vision is a thriving community network of hundreds of blind and partially sighted people, and their families, from across south London.
Members shared their stories and experiences of sight loss and the city, in a series of wide-ranging conversations.
From how to plan new walking routes, to how different surfaces and colours affect partially sighted people, plus the problem of bins on pavements.
The recordings of these rich and varied conversations were compiled and edited into an audio resource by participatory artists Beckie Darlington and Andy Field of Haus Projects, commissioned by Sustrans. 
Engaging and educating
This audio resource will be used to engage and educate a range of different audiences on how visually impaired people navigate our streets.
We'll be sharing it when we're running workshops with built environment professionals, hosting community design sessions and training our own designers.
We recognise that everyone's mobility needs are unique and so there can never be a one-size-fits-all solution for the design of a street.
But we also recognise that disabled people are underrepresented in conversations about our streets and that we must amplify their voices, not least through projects like this.
We hope that our audio resource will challenge decision makers, planners and urban designers to make our streets more accessible and welcoming for everyone.
Learn more
Our audio resource is available as a podcast: Sight loss and the city from Open City.
Open City is a podcast dedicated to making the urban landscape more open, accessible and equitable.  
Listen to the podcast: Sight loss and the city.
Read Walking for everyone, a guide to make walking and wheeling accessible, inclusive, and desirable.
Hear Odette from Croydon Vison's story in this video:
Credits: photojB (video), Soundroll (music)
About the author
Lucy Atkinson is a Senior Collaborative Design Officer at Sustrans, working with communities to support wider participation in the design of public space.