Lee Craigie, Scotland's Active Nation Commissioner, bike adventurer and friend of Sustrans, talks about taking active inspiration from a teenage Scottish cycling pioneer of the 1930s. Lee describes here the route that she and two friends took to recreate the ride through Scotland's Highlands and tells us how women can lead the conversation on ways to be active.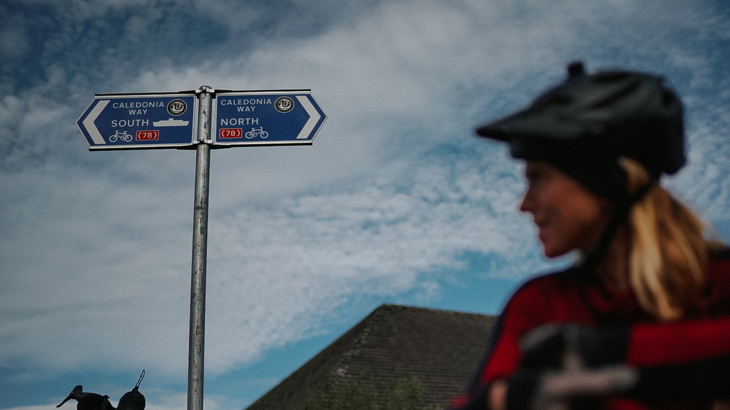 Scotland's Active Nation Commissioner, bike adventurer and friend of Sustrans Lee Craigie recreating the ride of the female cycling pioneer Mary Harvie.
In the summer of 1936, Mary Harvie and her two sisters set out from her home near Glasgow to ride their bicycles around Skye and the North West Highlands.
She was 16 years old.
The three sisters took two weeks to ride the 500-mile route, sleeping in youth hostels and exploring their surroundings with no set agenda.
Their resupply points were few, the road surfaces often poor, the distances long and yet the tone of Mary's journal remained entirely humble and upbeat.
The learning from our foremothers
I read her daily account from my modern day perspective as a woman who encourages other women to do adventurous things.
In doing so, I was struck by how much learning we might have lost from our foremothers.
These strong, resilient curious young women knew what they needed to do to make them feel alive.
Social media now shows us that women can, and do, challenge themselves physically and emotionally in outdoor, adventurous environments.
But this steady trickle of aspirational content is sometimes hijacked and puts these women on pedestals often in order to allow brands to sell stuff.
Being active your own way
The argument is "If you can't see it, you can't be it" and I wholeheartedly agree.
We absolutely need more women, girls and people from black and ethnic minority backgrounds being seen outside doing the adventurous things that have been the traditional reserve of white men.
But do we need to do these things in the same way? 
It seemed to me from her journal that Mary Harvie and her sisters spent their time very much in the moment and easily adapted their plans to accommodate the changing weather or each others personal circumstances.
They didn't think twice about asking for a lift or stopping early to enjoy a swim in a river.
They ate well and slept well.
They took care of their equipment and each other.
They remained gentle and kind when things got tough and often took the easy way out without a backward glance at their egos.
Sensational headlines alienate people from feeling like the relatively safe, free, natural world is theirs to enjoy too.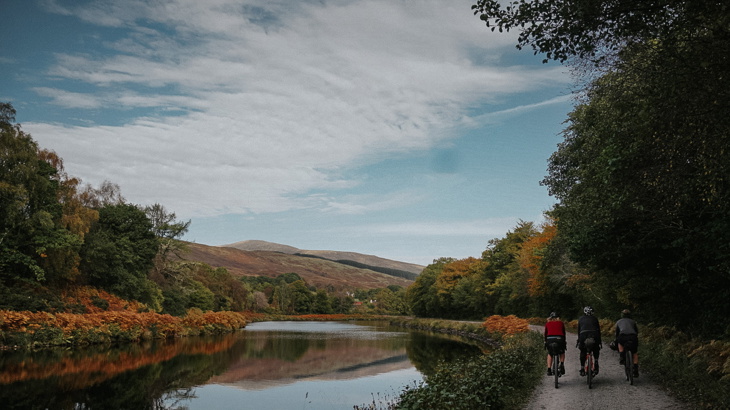 Lee Craigie and her two friends ride in the tracks of teenage cycling pioneer Mary Harvie and her sisters
The way we talk about being active
When the press got wind of our commemorative trip in which three of us recreated Mary's journey over a week, they began reporting on it using words such as "epic" and "challenge".
In reality, we were three friends riding our bikes around the Highlands on holiday together.
We were perfectly comfortable and at ease with the terrain and the distance.
We shared our story online each evening from the comfort of warm hostels and slept soundly in comfortable beds with full stomachs.
Yet it was interesting to us that the automatic angle every single media outlet took when describing our trip hinted at us conquering something, overcoming hardship and suffering discomfort.
Of course there was a little discomfort from time to time, but our trip was not epic or particularly challenging to us and the fact that is was reported this way served no one.
Sensational headlines alienate people from feeling like the relatively safe, free, natural world is theirs to enjoy too.
It puts people like us and Mary on pedestals.
It kept our activity high up out of reach of anyone other than those people motivated to try and clamber onto pedestals themselves.
Completing a challenge versus feeling challenged
I am not anti-challenge.
I raced mountain bikes for many years and I loved it.
My job was to beat other people's efforts around a set course.
This was such a simple, pure form of challenge.
I won a lot but I also got beaten and both were okay.
Often, the races I lost were richer experiences and taught me the most.
I believe we all stand to gain something by being nudged out of our comfort zones from time to time.
Feeling a bit tired or cold or hungry is what reminds us we belong to the natural rhythms of something much bigger.
But going outside and feeling challenged is not the same as completing 'a challenge'.
The latter suggests the point is to achieve a set goal, whereas taking part in something challenging is very personal and not dependent on a set of circumstances that ultimately you have no control over (i.e. other people's performance or their interpretation of what you do).
This is what kept me racing for so long. It was as humbling as it was affirming, and it was about my own progress.
I think Mary and her sisters understood this.
Women can lead the conversation on ways to be active
I believe Mary and her sisters relished personal challenge and didn't shy from it because they knew how being in that moment made them feel.
This was regardless of how they might be perceived by others or the distance they rode each day.
The same social media that shows women being awesome makes it harder in some ways for other women to be active outdoors.
We now have to first separate out our motivations from other people's perceptions of us and choose to take part in an adventure because we think we might enjoy it, not because we stand to win, conquer or prove something.
As women, I believe we can lead the conversation on other ways to be active.
A good place to start may be to look back in time to when things were simpler and less on-show.
It stands to benefit us all.
Read about women's experiences of personal safety when walking and cycling.
Watch the journey of Lee and her friends through the Scottish Highlands.