Working with communities is at the heart of what we do at Sustrans. Where there's a problem, we like to get out there and work with others to find a solution. Sustrans Cymru's Senior Development Officer, Eni Hansen-Magnusson talks about the benefits of our community engagement work at Fairfield Primary School in Penarth, Vale of Glamorgan.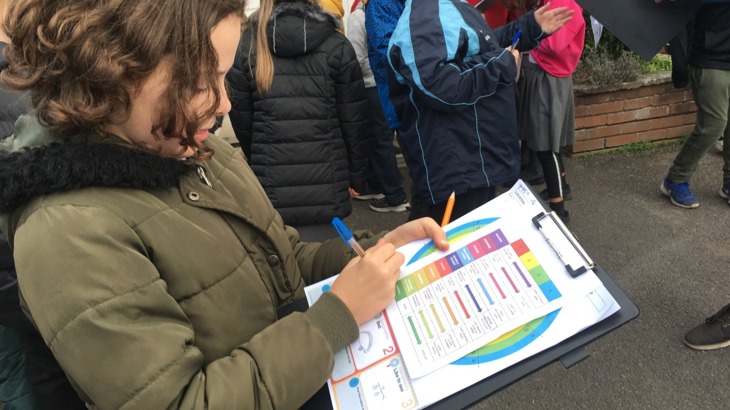 Fairfield Primary pupil taking part in engagement activities.
Our collaborative design process at Sustrans puts people who use a street at the heart of designing solutions to local issues. 
Typical of many primary schools, there are high levels of congestion from parents dropping off and picking up their children by car.
This has created issues for children at Fairfield Primary as well as the whole community.
Fumes from cars leading to poor air quality damages the health of students and local residents.
This creates a sense that the roads around the school are not safe and are stopping people from walking and cycling. 
With our Street Design Project Sustrans Cymru, together with the Vale of Glamorgan Council, are working to create an environment that will encourage walking and cycling to school. 
By combining infrastructure improvements and behaviour change, the project aims to create a safer and healthier environment for everyone.
  
A community-led approach
We know that if people have been part of the creative process they will not only 'own' the design but actually use the street in new and wonderful ways.
Creating healthier places for everyone is one of our main goals and the more we involve "everyone" in the creating process, the more likely it will be used by everyone.
The Fairfield street design project is not just about tackling traffic issues.
It allows us to address broader aspirations, including the reclamation of public space.
This can help create more sociable and playable places and encourage more cautious and courteous driver behaviour.
Local people are experts on their streets.
Years of travelling through their neighbourhood by foot, by bike or by car results in a deep awareness of the issues.
By engaging closely with the community from the beginning, the risk of local resistance is substantially reduced.
  
Local knowledge is essential
The experts in this project are the 320 children attending Fairfield Primary School, their parents, their teachers and the local residents.
And our main task is to develop their aspirations into workable ideas and allowing them to feel ownership of the final design of their street.
Getting as many people involved as possible is key to making sure we create a more liveable place for everyone in the community.
So far we have had several hundred comments and suggestions. We are busy applying these ideas to the development of some early design suggestions.
By engaging local people in events and activities, we show that streets can be a stage for people to come together.
A place to play, a place to walk, a place just to be - a place which belongs to them.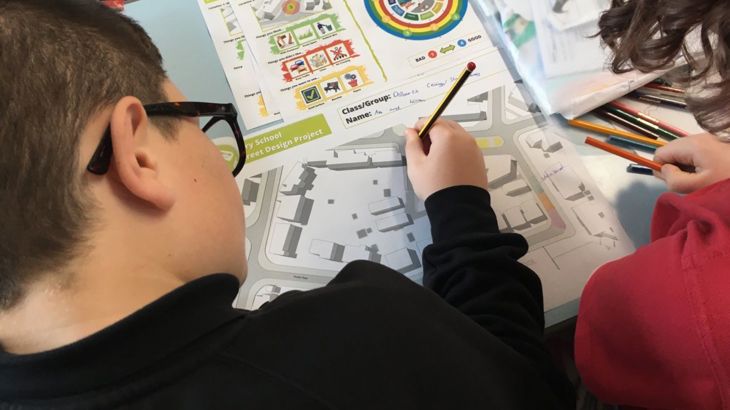 The experts in this project are the 320 children attending Fairfield Primary School, their parents, their teachers and the local residents.
Varying the engagement approach
To collect feedback from a wide range of people - children, parents, residents and local businesses - we engaged on a range of levels.
This included face-to-face events as well as online.
We set up:
a workshop series with Fairfield Primary pupils to understand their views on how the area could be made safer for walking and cycling
led walks with pupils, including a Big Street Survey, to learn about barriers on their everyday journeys to and from school
drop-in sessions at the school gate for parents and residents
face to face conversations with local business owners
leaflet drops informing the community about the project 
project website with an interactive map for people to leave comments and suggestions
letterbox on the school fence
banners on the school fence with regular updates.
Our definition of 'community' is fully inclusive, embracing residents, pupils and parents, local businesses, local stakeholders, community groups and other street users.
This is why it's important to have a range of different approaches when it comes to engagement.
The public drop-in sessions aimed to reach everyone living or working in the focus area.
We were thrilled to see so many people stopping by.
Many parents and even more local residents dropped in to learn more about the project and to share their thoughts on how the area could be improved.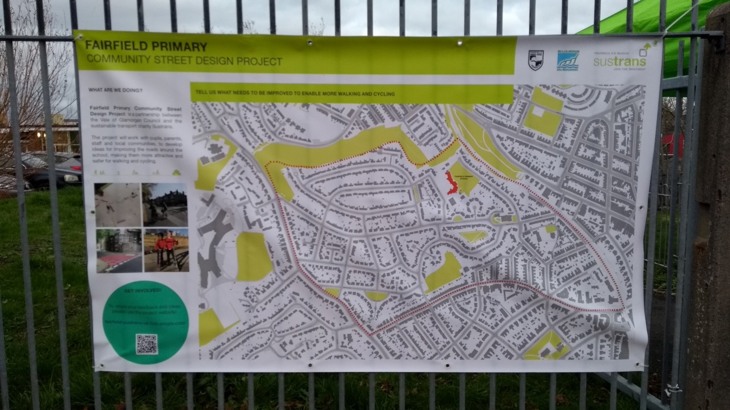 Community engagement included information banners on school gates.
We know that not everyone feels comfortable, is able or has the time to speak to us face to face.
In this instance, digital on-line mapping offers a very easy option for people to have their say and participate in our survey from their homes.
The Sustrans letterbox and distributed paper surveys aimed to reach all others. This meant people could simply drop off their comments, anytime. 
  
Reaching everyone
A key part of our work is reaching the people who often don't get a chance to voice their opinions.
These groups include:
the youngest: It is not common to involve children in the planning process of new infrastructure. But, as we learned in our school workshops, they do know a lot about the principles of street design and what makes a good street
people living with disabilities: bumpy pavements and pavement parking as well as speeding cars in the focus area can make it difficult for disabled people to access
older people: technology can be a barrier for older people, so the drop-in session and post box option works better for them.
  
A fantastic response
The response to this project has been fantastic.
Through the on-line mapping tool, postal surveys and emails we have received hundreds of comments and suggestions. All from local residents. 
The children, parents, teachers and residents have been very welcoming.
We have had many requests from people wishing to be involved on a deeper level and offering their help and expertise.
  
Project aims for the future
Based on the feedback we have received so far, our design team is working closely with the Vale of Glamorgan highways team to start turning ideas and requests into designs.
Subject to further funding, our team will continue to work with the community to detail and make these changes in the next year.
And, if we fast forward 12 months, we would like to see a re-designed street in front of the school and adjoining streets. Making it a healthier and safer environment for everyone.
We hope to see a place that benefits the whole community and creates space for people to come together.
We hope to provide a future model to help other communities across Wales to redesign their streets and public spaces so that they are healthier, greener and more attractive places in which to live and play.