The pandemic has made many of us rethink our lifestyles. Think of all the benefits to you personally and the wider community if you cut down on your car use.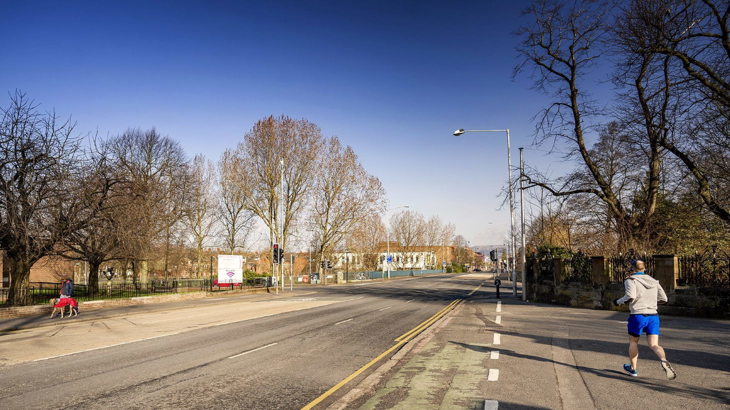 Empty road in Belfast during first Covid lockdown in March 2020.
Many people found their feet, and in some cases, a different set of wheels, during the lockdown.
There has been a massive surge in walking and cycling since March 2020 with bike shops and retailers reporting soaring sales of walking shoes and cycling gear.
As leisure and shopping centres closed their doors, we were forced to find alternative outlets and went back to basics, finding a release pounding the streets.
Many of us also discovered our local parks and outdoor spaces, places we maybe hadn't appreciated before.
Less traffic on our roads meant we could hear the birds sing and those who dusted off our bikes found they could cycle more confidently on quieter streets.
Sadly, the traffic is largely back but our experiences during the pandemic have shown us that walking and cycling are both enjoyable and feasible modes of transport.
And, they are also very good for us and our environment.
  
Benefits of walking and cycling
There is a vast body of evidence reporting the physical and mental health benefits of walking and cycling.
One of the largest recent studies from the University of Glasgow found that cycling to work was associated with a 45% lower risk of cancer.
And a 46% lower risk of heart disease.
Imagine there was a pill you could take that could almost half these health conditions, GPs would certainly be prescribing it.
Walking to work is also beneficial, contributing to a lower risk of heart disease.
There is also increasing knowledge about the impact cars have on both air pollution and climate change.
  
Traffic impact on air pollution
Air pollution is often invisible. Residents in heavily polluted areas are not always aware of the toxins in the air they are breathing.
Some of the most concerning levels of Nitrogen Dioxide (NO2) emissions, which largely come from diesel engines, were recorded across inner-city working-class communities, with heavy traffic prevalent.
NO2 causes a range of harmful effects on the lungs, including cough, wheezing and asthma attacks.
There is also increasing evidence that tiny particulate pollution, from tyre and brake wear, as well as exhaust emissions, contribute to a range of health conditions including stroke and heart disease (Royal College of Physicians, 2016).
If you think you're more protected inside a car than outside, think again. One expert, former UK chief scientific advisor Prof Sir David King, described cars as "boxes collecting toxic gases".
Experiments going back 20 years have shown that people inside vehicles are exposed to far higher levels of air pollution than those walking or cycling along the same urban routes.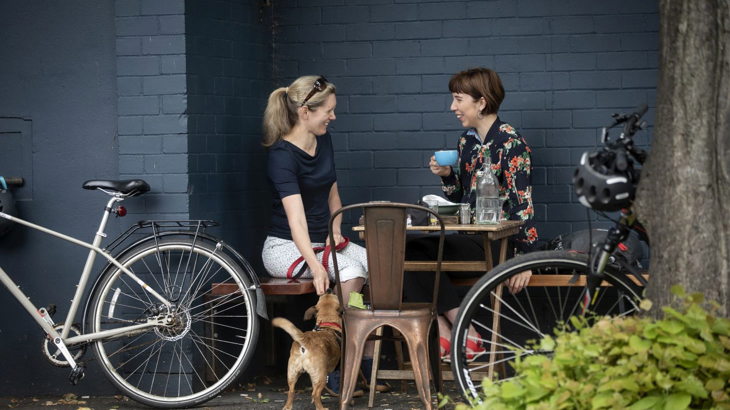 Try the car diet - walk or cycle to your local cafe and burn some calories before you have that slice of cake
Cars impact on climate change
If the health impact isn't enough to concern you, then consider the environmental implications.
Transport is the largest emitter of greenhouse gases in the UK at 28% of all our emissions.
Whilst electric vehicles will help reduce local emissions, they still have an environmental impact.
Modelling suggests we need to reduce private vehicle use between 20% and 60% by 2030 if we are to meet governmental climate change targets that are necessary to mitigate against the cataclysmic predictions of floods, food shortages, droughts and wildfires. 
Acquiring new healthy habits
Our attachment to driving is unhealthy.
We are aware of the issues but choose to jump into our cars anyway, even for that short journey to the shop.
It is not unlike our eating habits. We know we should eat more fruit and less fatty foods but we don't always choose the healthiest option.
Perhaps we should tackle our driving habits as if we are going on a car diet.
Consider that cycling two miles take an average person just 15 minutes, similar to a car journey.
It's also worth considering the amount of time, fuel and pollution caused by people circling in a residential area looking for a car park space.
Think of all the benefits to you personally and the wider community if you cut down on your car use.
Imagine what a difference we could make if all those journeys under two miles were done on foot or cycle.
We would be healthier, the air cleaner and perhaps we'd hear the birds singing again.
  
Why not try the car diet and give the car a rest just one day a week?
Here are a few easy ways you can make a change:
Try walking to your local shop for essentials (support local business).
Meeting a friend for a coffee and cake? Work up that appetite by walking or cycling. Use your local BikeShare Scheme if you live in a city.
Walk, cycle or scoot with the children to school, summer camp or sports activity.
Try walking or cycling to work just one day a week, then try two days a week.
Take the family on a bike ride at the weekend instead of driving to a location.
Check out your local bus or train timetable.