This policy position was published by Sustrans in April 2019 and outlines our position on improving air quality and the role for walking and cycling.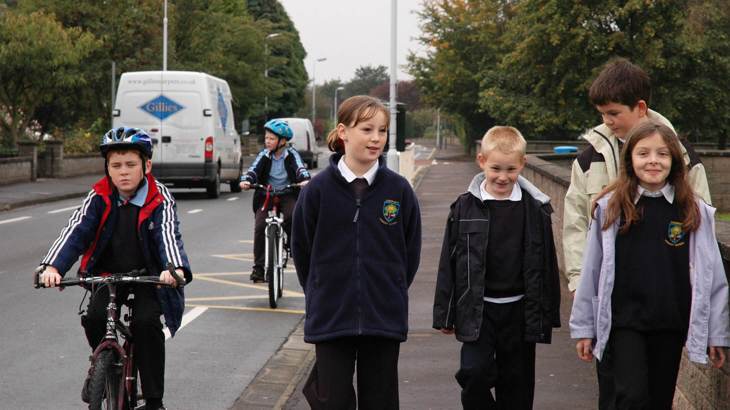 Summary
1. Air pollution is damaging our environment and our health. Between 28,000 and 36,000 early deaths are attributable to air pollution each year in the UK.
Road transport is responsible for 80% of roadside NO2 pollution where legal limits are being broken.
In London, 60% of particulate matter has been found to come from road transport: 45% from tyre and brake wear and 15% from exhaust emissions.
2. Urgent and increased action by governments is necessary to reduce air pollution to safer levels.
In the transport sector, governments must set ambitious modal shift targets underpinned by significant leadership and investment.
Governments must do more to help people leave their cars at home for everyday journeys and make more sustainable trips (by foot, cycle or on public transport).
3. In doing so, governments must take a 'fewer not just cleaner' approach to motor traffic.
Measures aimed at reducing levels of motor traffic should be prioritised, with additional action aimed at incentivising cleaner vehicles for essential journeys that cannot be shifted.
  
Context
Air pollution is the term given for a number of different substances in the air that are harmful to human, animal and plant life as well as the built environment including Nitrogen Dioxide NO2 and Particulate Matter.
Road vehicles contribute about 80% of NO2

 

pollution at the roadside where the majority of legal limits are being broken [1].

 

Less data exists on the level of contribution of road transport to particulate matter in which there are no safe levels. In London, for example, 60% of particulate matter has been found to come from road transport: 45% from tyre and brake wear and 15% from exhaust emissions [2].
The 'Committee on the Medical Effects of Air Pollutants' estimates that air pollution causes between 28,000-36,000 early deaths each year in the UK [3].
Air pollution particularly affects children and older people because of their age as well as those with existing respiratory conditions [4].
Air pollution has been linked to cancer, asthma, stroke and heart disease, diabetes, obesity, and changes linked to dementia [5].
Air pollution is closely linked to greenhouse gas emissions, fuelling dangerous climate change [6].
Air pollution contributes to health inequalities because deprived communities are often in areas with higher levels of pollution or near busy roads.
What we think
Fewer vehicles not just cleaner vehicles
Action to reduce levels of motor traffic should be the priority for governments when tackling transport-related air pollution.
Electric vehicles are useful for those essential journeys that cannot be shifted to walking and cycling (particularly for certain social groups, individuals with specific mobility needs, and residents in rural areas).
Their roll-out requires investment, support and a clear legal framework from the UK Government, and action at regional and local levels.
This is the bulk of the position statement and sets out what measures Sustrans believes are necessary to achieve the value above including quantitative and qualitative evidence to support these measures wherever possible.
However, they only provide part of the solution as they still contribute dangerous particulate matter emissions from tyre and brake wear and do not increase physical activity.
We need to reduce overall traffic levels so that there are both fewer as well as cleaner motor vehicles.
  
We need action from across governments at all levels
Tackling the sources of air pollution requires government action at local, national and international levels.
We need a cross-government approach that maximises the co-benefits for physical activity, health inequalities, congestion and climate change.
This requires action from across transport, public health, planning and environment departments.
This must prioritise shifting everyday trips from the private motorised vehicle to walking, cycling and public transport. This has the potential to dramatically reduce the amount of pollution we create.
  
We need new Clean Air legislation
Over 60 years ago, the Clean Air Act came into force tackling the pollution caused by fires in people's homes.
We now face a challenge on a similar scale largely as a result of motor traffic.
We support Client Earth in calling for new clean air legislation of the scale and scope reflecting the challenges we face today.
Such legislation would include:
Tackling the sources of modern air pollution – motorised vehicles.
Safeguard legal protections to breathe clean air that we could lose, leaving the EU.
Adopt more ambitious air quality standards, based on the latest scientific evidence.
Be backed up by an independent watchdog with the power to take action.
  
A broader network of Clean Air Zones and school streets
Air pollution is most acute on busy and congested roads in our towns and cities.
Sustrans believes that a broader network of Clean Air Zones (also known as Low Emission Zones in London and Scotland) that reduce motorised transport, underpinned by a legal framework that sets minimum standards and consistency between towns and cities is required.
This should run alongside a roll-out of 'school streets' (streets closed to motor traffic outside schools) to protect children, who are most vulnerable to air pollution. 
Why cycling and walking is key to improving air quality
Public Health England has recently published a report on interventions to improve outdoor air quality which recommends a targeted reduction in traffic emissions with investment in, and promotion of active transport such as walking and cycling [7].
Sustrans developed a model with Eunomia which is the first of its kind to quantify the contribution of walking and cycling to improving air quality. It found:
Savings to the economy of £5.67 billion over 10 years would be realised from improved air quality, by delivering and meeting the targets to double cycling and increase walking set out in the UK Government's Cycling and Walking Investment Strategy in England. It would also mean more than 8300 premature deaths from air pollution would be prevented over this time.
Savings of £3.64 billion would be realised in Scotland over 10 years from improved air quality alone if 10% of everyday journeys by bike were achieved. It would also mean nearly 4000 premature deaths would be avoided over a decade [8].
This evidence highlights the need for large scale investment in walking and cycling infrastructure and behaviour change projects to help reduce the number of journeys made by motor vehicle and increase the number of journeys made actively through walking and cycling to help improve air quality.
References
---
[1] Department for Environment, Food and Rural Affairs (2017) UK plan for tackling roadside nitrogen dioxide concentrations, An overview, July 2017
[4] Royal College of Physicians (2016) Every breath we take: the lifelong impact of air pollution. Report of a working party. London: RCP
[5] Royal College of Physicians (2016) Every breath we take: the lifelong impact of air pollution. Report of a working party. London: RCP
[6] Royal College of Physicians (2016) Every breath we take: the lifelong impact of air pollution. Report of a working party. London: RCP