We're excited that today TfL has announced the creation of one of the largest low traffic areas in a European city as well as the return of London's pollution mitigation measures, prioritising walking and cycling to keep our streets healthy. Our London Head of Healthy Streets, Theo Highland, takes a look at the plans and what this means for the capital post lockdown.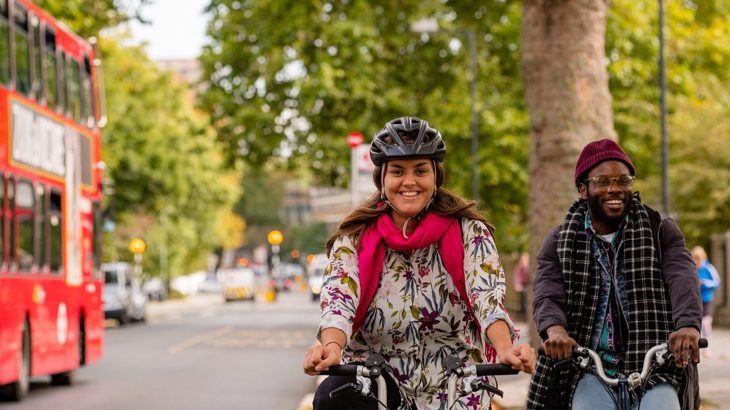 Plans that keep London moving are exactly what's needed right now.
TfL taking such bold steps is a potential game-changer in helping Londoners who need to travel to make those journeys on foot or by bike.
They can also create a better environment for people in the city to exercise, which is vital for our health and wellbeing.
Maintaining cleaner air after lockdown
The walking and cycling corridors along key central routes are positive strides towards maintaining the cleaner air and quieter streets we have experienced in recent months.
In some locations, traffic levels had fallen 60% and nitrogen dioxide was down by 50%.
Unfortunately, we are already starting to see this rise again.
But, we have already seen many journeys switch to cycling, and the additional cycle parking spaces will help make these new journeys by bike possible.
Combatting public health crises
It is this level of ambition that we need to stop London being choked by toxic traffic jams and long queues for public transport as the lockdown eases.
We welcome the reinstatement of the congestion charge and the Ultra-Low Emission Zone (ULEZ).
This will act to reduce emissions and combat the public health crises related to pollution and inactivity.
By increasing the cost and extending the hours of the congestion charge, TfL is further discouraging private vehicle travel in the centre of the capital.
Raising ambition
However, we have to ensure that initiatives are rooted in communities, especially those that are disproportionately impacted by increases in road traffic.
For example, we know that people in the lowest-income households in London are least likely to own a car but more likely to suffer from air pollution and road danger.
For most Londoners, our essential journeys are those we make within our own neighbourhoods.
To our workplaces, our high streets and our schools, as well as to access the green spaces so vital for our mental and physical wellbeing.
Together, borough councils, TfL and partners - like Sustrans - can make it easier for people across London to make these journeys on foot or by bike.
From small-scale local initiatives that respond to the needs of communities all across the capital, we can make a big difference.
Sustrans can help
We have already been supporting those needing to make essential journeys through initiatives like our Cycles for Key Workers campaign.
Our Space to Move tool is also helping to gather residents' feedback about temporary interventions that some borough councils have already put in place.
As we emerge from lockdown, Sustrans is focused on supporting local authorities and the people who live there to make journeys sustainable.
From strategic engineering advice to helping people who have just started cycling to build their confidence.
Healthy streets for everyone
During the past few months, we have seen more and more Londoners experience the joys of walking and cycling.
Now is the time to make the changes that are required to reclaim our streets for people, permanently.
If so, Sustrans is confident that London can emerge from this pandemic with healthier, happier and fairer streets.