After seeing measures introduced on two busy high streets in Birmingham over the weekend we were left wondering, what was next? Our Midlands and East Partnerships Manager, Gavin Passmore, takes a look at the Birmingham Emergency Transport Plan and how cycling and walking are helping to combat the Coronavirus pandemic in the city.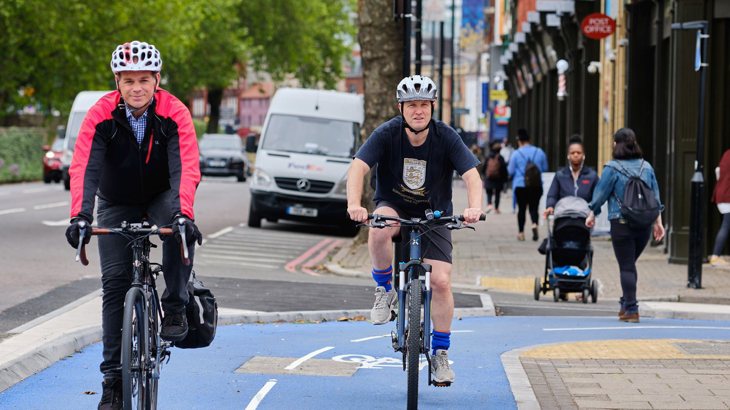 We were invited along with other stakeholders to hear about the plans earlier this week. And today the Emergency Transport Plan went live.
The team at Birmingham City Council had clearly been working hard to bring together a plan that can make a meaningful difference.
What the plan proposes
The plan prioritises and accelerates some of the measures that were outlined in the draft Birmingham Transport Plan consulted on earlier this year. Read our response.
Proposals are organised around the same four "big moves":
1. Reallocating road space
A phased approach to support the creation of safe space for walking, cycling and social distancing while maintaining public transport provision. 
2. Transforming the city centre
Through the creation of walking and cycling routes alongside public transport services and limited access for private cars. 
3. Prioritising active travel in local neighbourhoods
So that walking and cycling is the way most people get around their local area most of the time and these become places where people are put first, creating stronger communities.
4. Managing demand through parking measures
Where land and space currently occupied by car parking is repurposed for walking, cycling and social distancing. 
Communities leading the way
One of the high streets that closed parking bays to support better social distancing is Kings Heath.
Sustrans delivered the DIY Streets Kings Heath back in 2015 and it brought a smile to my face seeing these measures introduced.
Since our project ended the community has developed ideas, closed the bays again and even featured on a BBC documentary.
This sort of community campaigning across the city has helped define the areas listed in the new Emergency Transport Plan.
A green recovery after lockdown is critical
The phrase I keep hearing as part of the plan is a 'Green Recovery'.
With messages nationally about avoiding public transport along with a fear that private car use will once again create poor air quality and congestion in the city, now is the time to act.
There is a genuine feeling that the council want to do this in partnership and deliver meaningful interventions that can have a lasting impact.
The four big moves create the framework for a city that can hopefully recover.
And not forget about the quieter streets, increase in walking and cycling and the sense of community we now feel every Thursday evening as we call for our frontline heroes. 
Learning from our successful projects
Our Age Friendly Tyburn project has shown that the condition of the streets, crossings and layout of neighbourhoods around us contribute to social isolation and physical inactivity.
They also make it difficult to socially distance in parts of the city.
We've seen that parents want safer crossings, segregated cycle lanes, wider pavements, and far less traffic near to schools.
We're taking our learning from Tyburn and working with partners to create lower-traffic neighbourhoods.
If delivered through the Emergency Transport Plan our ideas in Castle Vale create the space and conditions for people to walk and cycle whilst maintaining the recommended social distancing.
By working together we can create a better environment
We are still to see what the announcement by the Secretary of State for Transport means and how the £2 billion package to support active travel will be spent.
Now is the time to help support councils across the UK and offer support where we can.
This is a collective effort, and by working together we can create a better environment for walking and cycling for the future.
We have to ensure that as the economy gets back on its feet we don't lose sight of the chance to enable walking and cycling.
Isn't now the time to act on this new sense of freedom we have tasted in our local neighbourhoods and create space to socially distance and keep the risk of infection down?