The UK Government today announced £2 billion funding for walking and cycling with the first £250 million available immediately to support widening pavements, pop-up cycle lanes and streets closed to motor traffic to support social distancing as we move out of lockdown. Sustrans CEO, Xavier Brice, on behalf of the Walking and Cycling Alliance, responds to this announcement.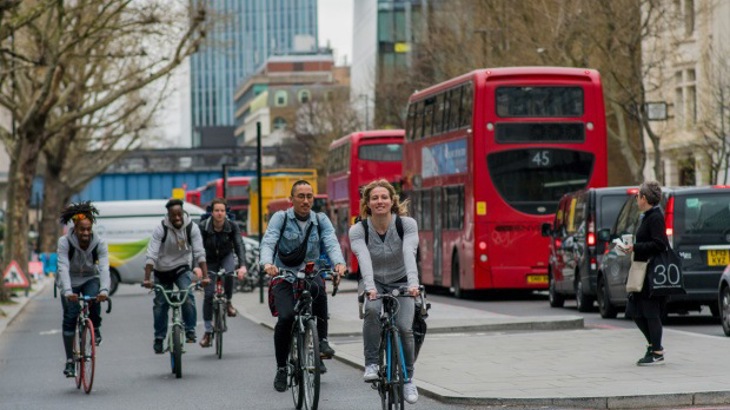 "We welcome the UK Government's immediate commitment of £250 million for new pop-up protected cycle lanes, the widening of footways and to support car free, cycling, bus and walking streets to allow for social distancing as we begin to move out of lockdown.
"Public transport systems are vital but will not be able to operate at full capacity for some time due to social distancing.
"Our towns and cities can't cope with the increased private car journeys this could cause.
"Instead we must increase walking and cycling.
"This won't just help with social distancing. This will help with tackling the climate crisis, air pollution and public health, decreasing the burden on our NHS.
"This funding is a first step that allows more local authorities to put temporary measures in place so more people can move around safely and actively as we emerge from the Covid-19 crisis.
"UK Government of £2 billion funding for walking and cycling in the longer-term, with a plan to support this funding expected in June, is the next step in helping to create real long-term change in the way we move around our towns and cities and should also be used to help support people new and returning to cycling.
"As we begin to rebuild after this devastating Covid-19 pandemic, we encourage all Local Authorities to use this funding as soon as possible to make the changes needed.
"The Walking and Cycling Alliance is here to help and share our expertise with the public and local authorities as we adapt to and create changing environments, whether its tips for cycling and walking or helping to put new infrastructure in place.
"It is imperative going forward that we don't solve one crisis by perpetuating others and instead create healthier, happier and greener places that we all want to live in."
     - Sustrans CEO Xavier Brice, on behalf of the Walking and Cycling Alliance
The Walking and Cycling Alliance is made up of the Bicycle Association, British Cycling, Cycling UK, Living Streets, The Ramblers and Sustrans.
For more information, please contact:
Anna Galandzij, UK Press and Media Manager, 07557915648, anna.galandzij@sustrans.org.uk,
Emily Edwards, Press and Media Officer, 07825 904266, emily.edwards@sustrans.org.uk