A TUC-commissioned economic assessment of possible Covid-19 recovery projects finds cycling and walking infrastructure is one of the best investments the UK government could make, with the potential to create 103,000 jobs in the next two years. Guest blogger Anna Markova, a consultant for Transition Economics explains why.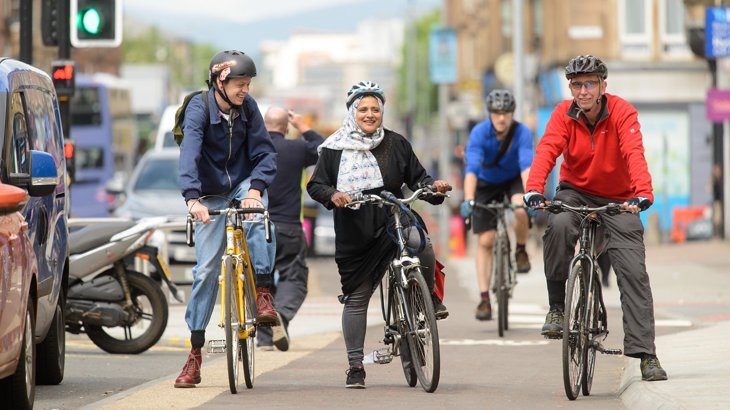 Chancellor Rishi Sunak is planning to announce emergency infrastructure investments in July to minimise the impacts of the recession. 
Cycling and walking infrastructure is one of the best ways to build and maintain our resilience against Covid-19. 
Transition Economics' analysis for the Trade Union Congress (TUC) - launched this Wednesday - has found that cycling infrastructure is also one of the best economic recovery investments the UK Government could make right now. Why?

1. It is a job creation champion
Our analysis for the TUC compared the job creation potential of 23 different infrastructure projects that the government could invest in as part of Covid-19 economic recovery.
Building cycle lanes and pedestrian infrastructure have the highest employment multiplier, ie it creates the most jobs per £1 million invested - after energy efficiency retrofit projects.

The modelling estimates that cycling and walking infrastructure projects create 32.6 immediate jobs per £1 million invested per year.
These jobs are in construction and in the supply chain that supports it.
These are sectors that have high proportions of workers furloughed, 40.5% in construction and 28.8% in manufacturing, respectively.


2. It can be built quickly
A crucial lesson of the 2008 economic crisis is: jobs need to be created quickly.
Countries such as the US and South Korea successfully delivered infrastructure stimulus programmes in 2009.
These projects reduced the impact of that crisis on livelihoods and accelerating economic activity, but only where the projects were ready to go at short notice.
Where investment and expertise are scarce, cycling infrastructure can take longer to get right.
But with the emergency funds and urgent need to enable more people to cycle to work, local and regional authorities across the UK have begun building temporary cycleways and pavement expansion. 
Transport for London is rapidly building a "strategic cycling network, using temporary materials, including new routes aimed at reducing crowding on Underground and train lines, and on busy bus corridors".
And Transport Scotland is funding Spaces for People programme, which is being administered by Sustrans Scotland, to make walking and cycling safer and support social distancing.
As part of the Covid-19 economic recovery package, central Government could fund mass scale temporary cycling and walking infrastructure.
With time for local authorities to assess the longer-term needs and then get to work on longer-term cycleways.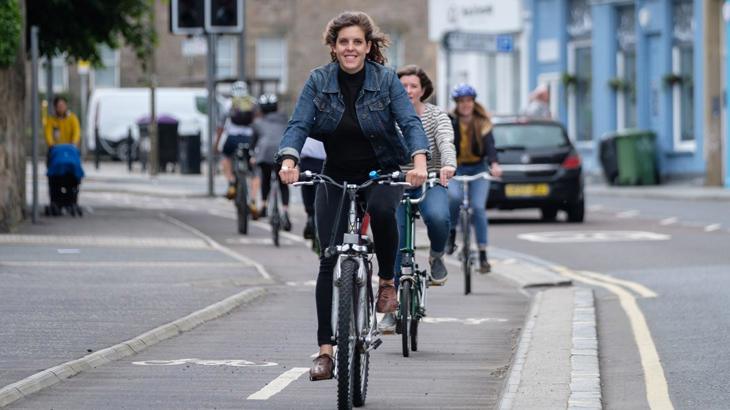 As part of the Covid-19 economic recovery package, central Government could fund temporary cycling and walking infrastructure which would accelerate economic activity.
3. It can revive our cities
Former New York City transportation commissioner Janette Sadik-Khan told Wired magazine recently:
"This is a moment for cities to be as big and bold as the crisis we're addressing.
"…The global transportation response to [Covid-19 has been] to do with revealing the streets that we've always needed.
"Oakland, Denver, Minneapolis - all these cities are using this opportunity to make the kinds of changes they wanted to see a decade ago.
"…People are looking at this moment to bring new life to cities without bringing back the old congestion and the traffic and the pollution that threatened them before."


What does thinking big and bold mean for UK cities? 
Our analysis shows that investing an additional £7 billion in cycling and walking infrastructure as part of an economic stimulus package could roll out 'Mini Holland' style pedestrianisation and cycling programmes.
Specifically across 46,406 miles of urban non-trunk roads: A, B, C and U roads in urban settings, reaching 50% of the UK's towns and cities.
It could create 103,000 jobs in the immediate term, sustained for two years, to help prevent soaring unemployment in the wake of the Covid-19 crisis.
All this alongside helping our cities stay cleaner and healthier.
About the author
Anna Markova has conducted economic modelling and policy development on energy and climate change for the past 10 years and provides consultancy through Transition Economics.