Spaces for People is a new, temporary infrastructure programme in Scotland which offers funding and support to make it safer for people who choose to walk, cycle or wheel for essential trips and exercise during Covid-19.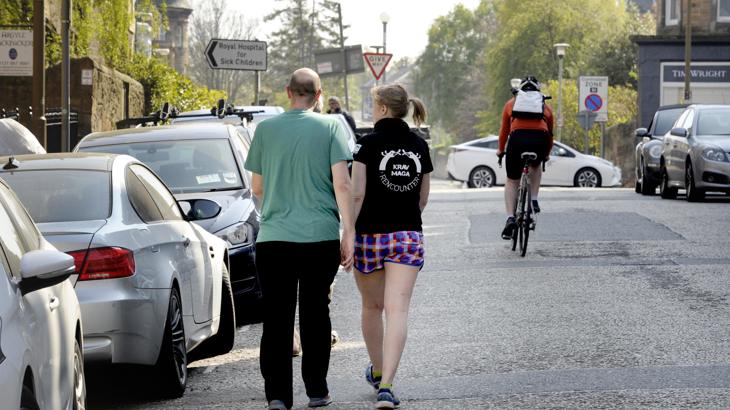 The Spaces for People programme has been funded by the Scottish Government and managed by Sustrans Scotland.
By providing additional funding, Spaces for People has allowed local authorities, transport partnerships and NHS Trusts to  implement measures focused on protecting public health, supporting physical distancing and reducing transmission rates.
Spaces for People has supported a wide variety of measures to assist statutory bodies, including:
In partnership with Atkins, we also developed design guidance aimed at supporting partners with the implementation of temporary active travel facilities in Scotland. 
Guiding principles for temporary measures
Spaces for People is designed to improve health and wellbeing so that everyone is able to move around their local area safely while keeping to physical distancing requirements as we transition through and out of the Covid-19.
Fresh air and being outdoors is not only positive for physical health, but it can help to reduce stress and support our mental health.
Walking, cycling or wheeling in the local area helps people feel connected in times of isolation, and can allow communities discover their neighbourhood.
Assessment Criteria
Applications for Spaces for People funding ran from May to June 2020, at which time all funds were allocated to statutory bodies.
All applications were assessed against the following criteria:
Protecting public health
Provide temporary walking and cycling infrastructure that helps to protect public health.
It will enable safe physical distancing for essential journeys and exercise for everyone, in particular where there are space constraints or user safety concerns.
Essential journeys
Projects should focus on essential journeys including:
to and from hospitals and health services.
to shops, pharmacies and schools for key workers.
for recommended exercise, for example, neighbourhoods and local parks.
Immediate delivery
Projects should be delivered quickly and provide a visible improvement that has an immediate benefit.
Applicants were asked to consider retaining funding for maintenance or removal of Spaces for People measures in the future.
Following requests from some local authorities, Transport Scotland and Sustrans developed guidance to allow temporary projects to be made permanent through the Places for Everyone programme.


Find out more
Find out how other towns and cities have been making walking and cycling safer during covid-19.
Email us on spacesforpeople@sustrans.org.uk.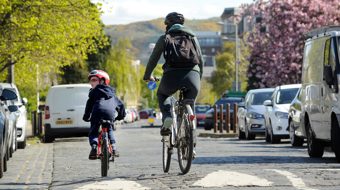 Walking, cycling and wheeling during Covid-19 in Scotland
We've teamed up with Transport Scotland, Public Health Scotland, the Mobility and Access Committee for Scotland and various active travel organisations in Scotland to provide a summary of things to consider when walking, cycling and wheeling during Covid-19.
Take a look at the summary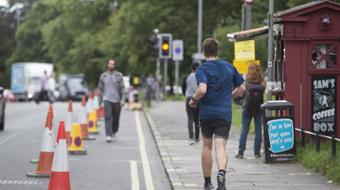 The health benefits of creating Spaces for People
Public Health Scotland has produced a briefing on the short and long-term impact Spaces for People interventions can have on our health and wellbeing.