Latest figures from the Bikehangar® creators Cyclehoop suggest that over 35,000 Londoners are already on borough waiting lists for space. This figure has increased by over 15,000 in just the last few months. Our senior engineer, Jose Almendros, talks about the urgent need for secure cycle storage in London and why funding for more is vital to help get large numbers of people cycling in the capital.
With thousands of people living in flats and shared accommodation in the UK, it can be difficult to store your bike safely and that puts people off cycling. But there is an answer. Cue the Bikehangar.
Lift, turn, mind the step, regret the scratch on the wall, and keep moving slowly.
If you store your cycle somewhere inside your home, this might sound too familiar to you.
You don't need to live in a flat to suffer this. It's more than likely that your home is set up to comfortably start a journey by car while your cycle is stored in a hard to reach corner.
Secure on-street cycle parking creates a fairer society
Bike Life, the UK's biggest assessment of cycling in 12 cities and towns, suggests a lack of cycle storage or facilities at home or work is one of the major barriers to cycling.
In fact, 21% of respondents said that it's why they don't cycle, or cycle less often.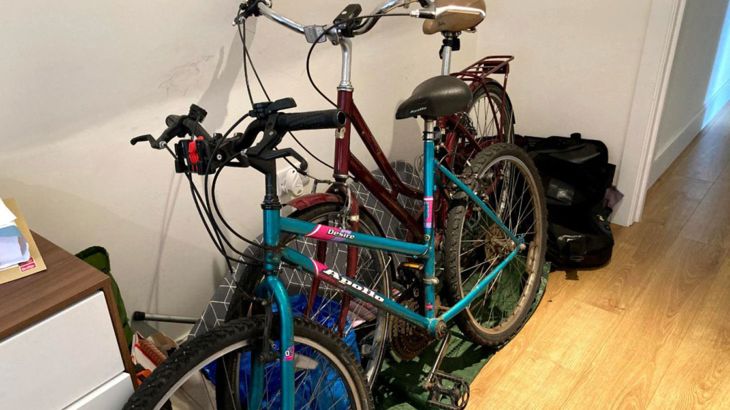 Research shows that a lack of cycle storage at home or work is one of the major barriers to cycling.
Storage is especially challenging if you use an adapted cycle.
Women make more journeys with children and may be more likely to use a cargo bike. Disabled people face difficulty in particular when it comes to manoeuvring their cycles from inside their home onto the street outside.
Overcrowded accommodation in some poorer areas of London is also a problem when it comes to storing bikes securely.
Recent Transport for London data shows that 13% of ethnic minority households were found to be overcrowded in London, compared with 5% of white households.
On average, people on low incomes live in smaller homes and have less storage space.  
They are more likely to fear crime. This is likely to lead to greater concerns for cycle security.
Lack of secure cycle storage holds people back
Many Londoners find their greatest barrier to cycling is simply getting their wheels to the street.
Numbers and frequency of people riding have been constantly going up before the Covid-19 pandemic. Now they are skyrocketing.
This has brought into focus the barriers that can stop those who want to cycle from getting started. Safe, easy to access and secure cycle parking is one of them.
Since the pandemic, Bikehanger waitlists have grown enormously. This map by Cyclehoop shows their Bikehangar waitlist for London.
Bikehangars help but many have vast waiting lists
Bikehangars - the metallic box to store up to six cycles you may have seen on some streets - have become a popular solution for residential cycle parking across the city. They are safe, secure and convenient.
Residents can apply for a space or suggest a new location through Cyclehoop's website.
If you are based in Hackney or Islington, residents can apply through council websites. And lots of us are doing it.
Figures provided by Cyclehoop and following on from the research carried out by Sustrans reveal that London borough waiting lists for Bikehangar places currently tops 35,000 people.
Current demand is the tip of the iceberg
Transport for London (TfL) are aware of high demand, and most importantly, the even higher forecast.
According to TfL, cycling infrastructure is predicted to increase three-fold in the next five years.
However, current numbers are just the tip of the iceberg.
Simon Capper, Project manager for the London Borough of Waltham Forest's walking and cycling programme, said:
"An interesting issue that we have come across is that when a hangar is installed, rather than reducing demand, it actually creates it".
Waltham Forest is among the boroughs with the most secure cycle spaces and one of the longest waiting lists.  
Induced demand must be factored in for neighbourhoods planning and funding calculations.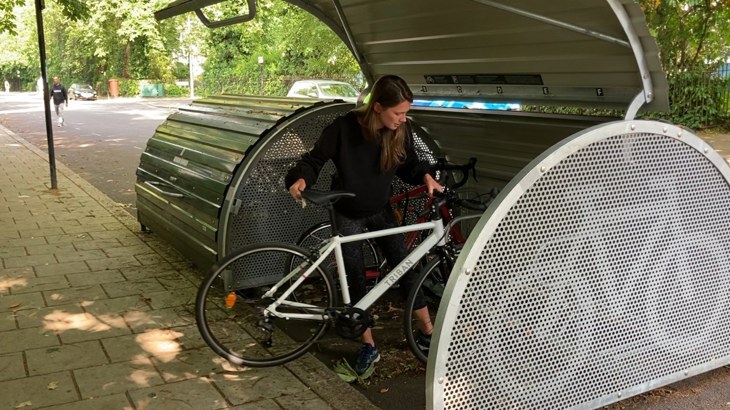 Funding currently covers only 5% of the waiting list demand
Transport for London's Cycle Parking Implementation Plan (2019) committed to funding 1,400 hangar spaces on top of what was already planned by boroughs, assigning £3.5m for cycle parking in early 2020.
We must celebrate that there is a city-wide strategic policy in something as specific as cycle parking and that it is followed by money.
But the current TfL commitment only tackles under 5% of "visible" current demand. That's only the people who proactively ask for a space.
Lower public transport capacity means more funding is needed
Of course, we're now in a world with Covid-19.
Streetspace for London - TfL's recently issued guidance for adapting streets to the current situation - advises that "cycle hangars would only be appropriate for rapid roll-out where residents have already expressed an interest in provision".
TfL knows that cycling infrastructure is essential for getting more people cycling. They're working with boroughs on improving cycling facilities.
Through their Streetspace for London plan, they are creating more space on our streets so more of us can walk or cycle while social-distancing.
For people to be confident that they can store their bikes safely, an initial 1,000 extra cycle parking spaces are being installed across London, in busy areas like high streets and transport hubs.
This could be a message mostly addressed to outer London boroughs, where the current installed numbers are very low.
But we should not forget Mr Capper's words on induced demand: this policy could increase the already huge existing cycle parking gap between boroughs.
On top of that, the first wave of Streetspace funding has been competitive.
Boroughs that have a history of being proactive about making their streets easier to cycle and walk on are better placed to know what their funding bid should include and are therefore more likely to be successful in getting TfL funding.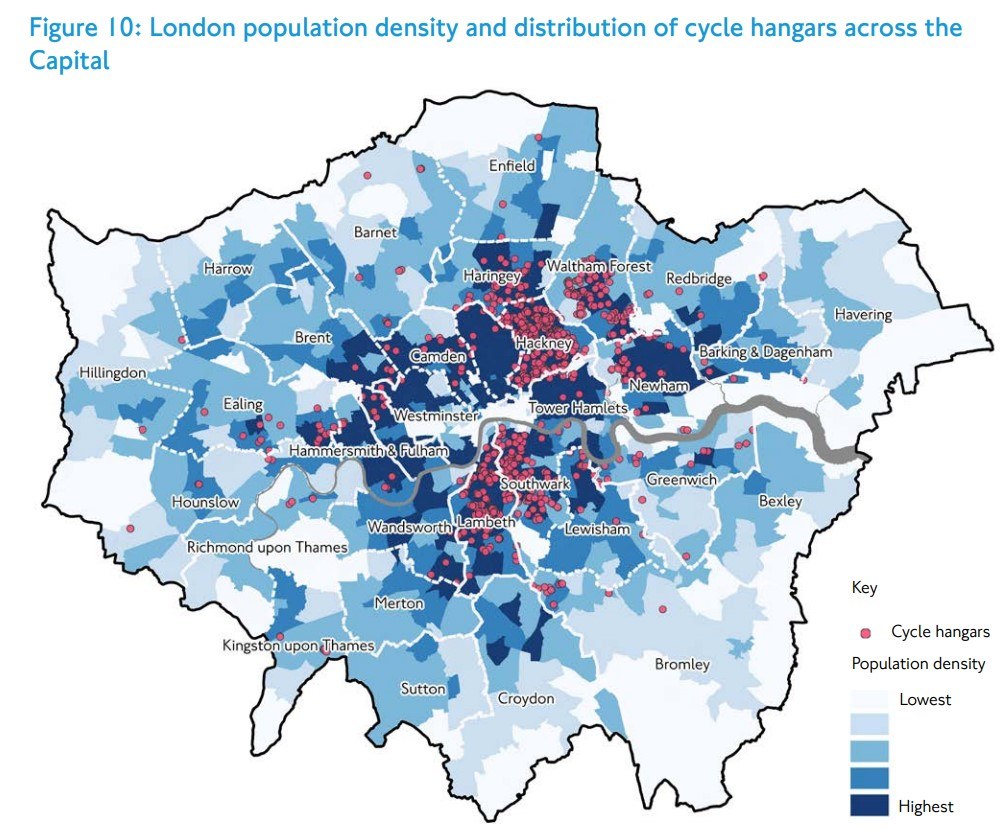 Image: Transport for London
A resident's experience
Hannah is a Lambeth resident who got her Bikehangar space at the beginning of the Covid-19 confinement period. She said:
"I can go out whenever I want without thinking 'I have to bring it downstairs again'."
When asked about how this will change her way of moving around London after lockdown, she's clear:
"Well, it means that I'll cycle to work, which I didn't do before."
Time to help Londoners get on their bikes
On paper, goals are clear: every Londoner should be able to replicate Hannah's positive cycle parking experience.
But boroughs, particularly from outer London, are going to need much more funding and support to address this challenge.
So if the first words of this article resonated with you, you should check out Cyclehoop and register your request for a Bikehangar space. Or take a look at Falco and other providers.  
Your action will push London closer to having safe and convenient cycle parking for everyone.