Research shows that volunteering can have a positive effect on our mental health and wellbeing. Our Head of volunteering, Katie Aartse-Tuyn looks at why volunteering is crucial now more than ever before. And she explains how we've been supporting our 3,500 volunteers during the pandemic.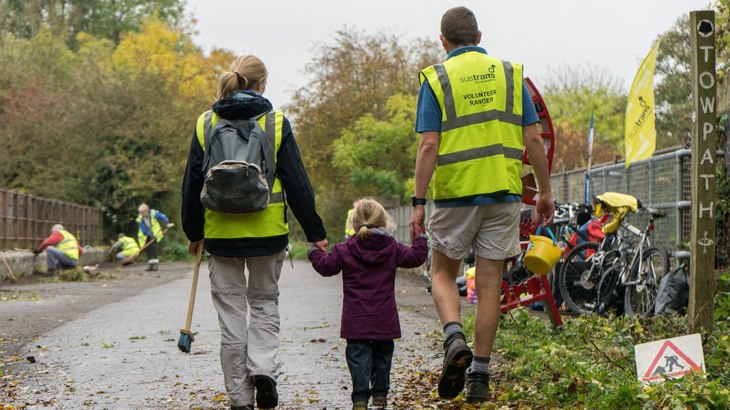 Studies have found that volunteering can help manage depression and improve our mental health.
What impact has Covid-19 had on volunteering?
As with many aspects of our day-to-day lives and routines, Covid-19 has impacted volunteering at both a local level and across the world.
Many charities have had to pause or limit their day to day involvement of volunteers.
There has been a surge in volunteering in other areas such as the NHS volunteer responders and other informal, community-led initiatives.
Mutual aid and community support groups, who are self-organised groups of volunteers offering help and support to their neighbours, have played an enormous role in the country's response to the Coronavirus pandemic.
  
How we kept up with volunteering during the pandemic
As the Head of volunteering, myself and the UK-wide team needed to make agile decisions in response to the changing government guidance, the variations in our devolved nations and localised restrictions.
It felt like Sustrans staff and volunteers, along with the rest of the world were all on a learning curve.
But our volunteers, along with staff and our beneficiaries have all been supportive, adaptive, patient and considerate.
We know that for many of our volunteers, meeting as a group and the social aspect that volunteering brings to them is really important.
And so we wanted to ensure that we provided ways for volunteers to remain engaged and connected during this disruptive time.
  
Why is volunteering still important during Covid?
Research shows that volunteering can have a positive effect on our wellbeing.
And some studies have found that giving your time can help manage depression and improve our mental health.
During the Coronavirus pandemic, many people turned to volunteering as a way to give something back, enjoy social connection safely and to feel part of their community.
With the many benefits that volunteering can bring to our mental health and wellbeing, it's no surprise that people found it comforting to give their time through the pandemic.
And some said it helped them overcome feelings of helplessness. 
Sustrans volunteering activities were quite limited during Covid-19.
But we worked hard to keep in touch with our volunteers and to make sure they still felt the benefits of volunteering during this difficult time.
We supported volunteers to take small actions on the National Cycle Network whilst following guidance for social distancing.
And we provided ways that volunteers could get involved from the comfort of their own homes, like attending training and virtual conferences.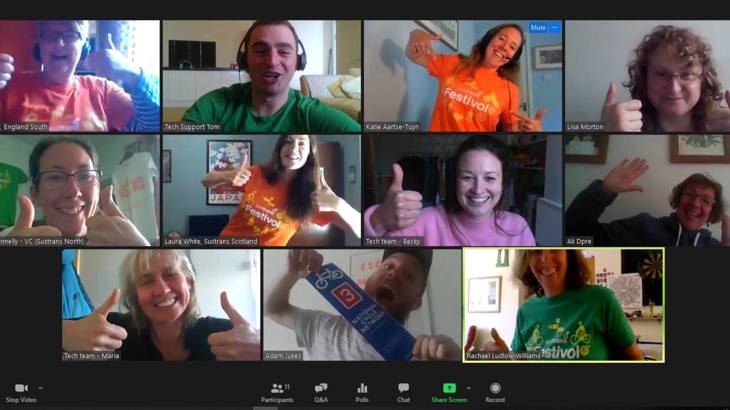 We used tools like Zoom to keep in touch with our volunteers and make sure they were supported during the pandemic.
What has changed with Sustrans volunteering?
A complete pause in April on volunteering which involved leaving the home put stop to the thousands of activities our volunteers would normally carry out through the summer months.
We drew back on outdoor, face-to-face engagement and moved to connect with volunteers online. We used tools like Zoom to host:
webinars
meetings
training sessions
discussion groups
and social gatherings.
I have followed Sustrans for over 20 years and Festivol was the first opportunity to participate in anything, without having to travel a considerable distance. I felt fully connected with the organisation and its work as a result of the event. Thank you.
What we learnt from volunteering during the pandemic
We have seen a greater attendance than our pre-Covid face-to-face meetings.
281 volunteers joined our first virtual Festivol – a yearly event that brings together volunteers for a day of learning and collaborating – in July 2020.
This is three times the number of people who attended our 2018 face-to-face event.
This online event included an afternoon and evening of inspiring talks from Sustrans colleagues.
And feedback from both staff and volunteers has shown that this online format made it much easier for people to attend.
It felt tremendously collaborative and I loved the fact that different people from all corners of the UK introduced different presentations. The informal chat function and the live Q&A added to the feeling that we were all in a room together.
Not only have our volunteers been able to hear from different areas of the organisation through webinars, but staff have also been better connected with volunteers.
We know from our research that a key contributor to a volunteer's positive experience is being connected to Sustrans staff, other volunteers and having clarity of the charity's vision and direction.
And providing easy, online access to these events meant that more volunteers had the opportunity to take part.
One staff member said:
"2020 has been a challenging year and these last 8 months have been a trying time for us all.
"Being able to still get outside and spend some time in the outdoors with nature has been a godsend for me.
"Volunteering continues to be important for our physical and mental health."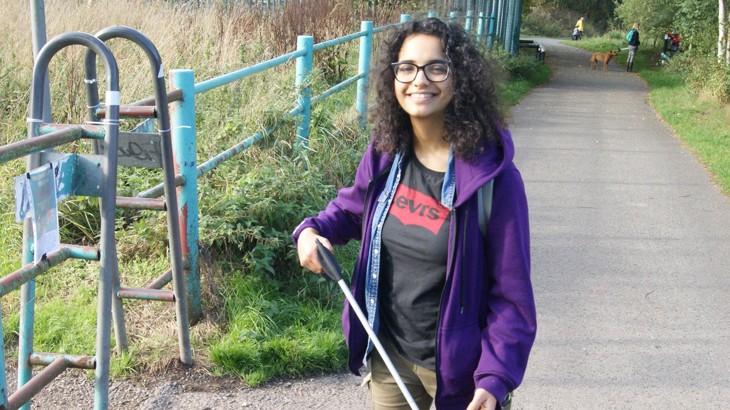 People found it comforting to give their time through the pandemic, and some said it helped them overcome feelings of helplessness.
What does the future hold for volunteering?
Risk management is key in being able to initiate action on the ground.
We have put in place new volunteering safety processes, lone working guidance, tools and online training to support those ready to get out again.
However we know for some volunteers, their age, underlying health conditions or a significant change in their circumstances will mean they won't be able to get involved in the same way.
We need to continue to adapt to this changing world.
The importance is greater than ever to provide volunteering opportunities which are flexible, accessible and connect with partners and community groups.
Technology will play a key role in ensuring we can effectively engage online with volunteers.
We need to continue the great work of providing online communication, which got pushed along due to Covid.
Face-to-face interaction and the social aspect that volunteering brings is irreplaceable.
In this new normal, we'll aim to safely provide opportunities for volunteers to connect and socialise, whilst continuing to offer creative and informative online options that are suitable for everyone.
Check out our list of quick ways to volunteer to see how you can get involved too.