New data from the 2022 Hands Up Scotland Survey, which looks at how young people travel to school across Scotland, shows that walking, wheeling and cycling journeys are higher than pre-pandemic levels. Tremaine Bilham, our Delivery Manager for Education & Young People and Communities, takes a closer look at the results.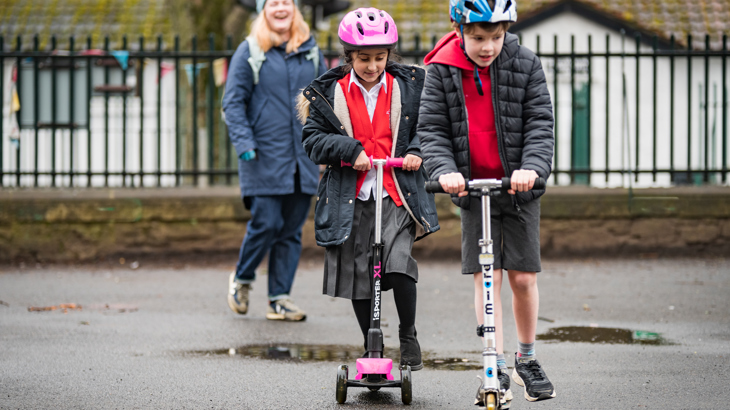 What is the Hands Up Scotland Survey?
The Hands Up Scotland Survey looks at how children and young people across Scotland travel to school and nursery.
It was first established in 2008, and since then the survey has been providing insight into journeys to school.
It's the largest national dataset on school travel in Scotland.
The survey is funded by Transport Scotland and is a joint project between Sustrans and Scottish local authorities.
The survey has been designated an Official Statistic for Scotland by Parliamentary Order.
The question posed to all school pupils and nursery children is "how do you normally travel to school?", with a choice of travel mode options.
The number of pupils present is recorded, and pupils are asked to raise their hand for one of the modes only.
The latest survey was conducted during September 2022.
Active travel to schools remains higher than pre-pandemic levels
Almost half of all survey respondents said they travelled actively to school in 2022.
While this represents a slight drop since last year, it is encouraging to see that active travel to school remains higher than pre-pandemic levels.
With more employers than ever continuing to offer flexible working, many parents and carers are still able to get that extra quality time with their children by walking, cycling, skating or scootering to school together.
Bus trips are on the rise
Interestingly, travelling to school by bus has risen for the second year in a row and is now comparable to pre-pandemic levels.
Not only does this suggest that children and young people have reengaged with sustainable public transport since the disruption caused by lockdown, but it seems that the free bus travel for under 22s initiative is starting to have a positive impact.
It was introduced in January 2022, so we'll be looking at next year's Hands Up Scotland Survey to track that trend. 
With the rising cost of living, free bus travel has made it more accessible for children to use sustainable public transport.
Every bus journey starts and ends with a walk, so it's also essential that young people can safely and easily access public transport by foot, wheelchair or other mobility aid.
More pupils take part in the survey
We've seen an increase in the proportion of state schools in Scotland responding to the survey, as well as an increase in the number of independent school pupil responses.
Overall, nearly half a million children and young people completed the 2022 survey.
This is despite the Hands Up Scotland Survey taking place following a week of national teacher strikes in September 2022.
Although schools continue to face pressures relating to time and resources, teachers are still making time for their pupils to contribute to this official statistic.
Walking and cycling habits stick
Compared with 2021 figures, walking to school dipped slightly.
However, it remains by far the most popular way of getting to school.
Cycling to school has remained largely the same since 2021 and is at its third highest level of the past ten years.
The figures for scootering or skating have seen little variation since 2013.
Between 2021 and 2022 there was a slight drop in the proportion of pupils saying they are normally driven to school, and this remains lower than the pre-pandemic levels of 2019.
Enabling independence for young people
Access to active and sustainable travel is key to enabling children and young people to be independent, which plays a part in their development.
It's especially important for teenagers and we can see this reflected in the proportion of secondary school pupils traveling by these modes compared to primary school pupils.
Find out more about our Hands Up Scotland Survey and download the latest results.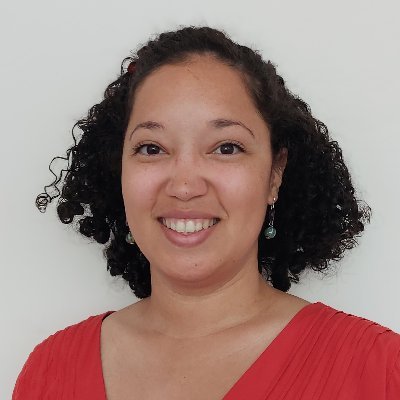 About the author: Tremaine Bilham
Tremaine is the Delivery Manager for Education, Young People and Communities and has been working at Sustrans Scotland since 2019.