The Hands Up Scotland Survey looks at how pupils across Scotland travel to school and nursery. Established in 2008, the survey has been providing an insight into journeys to school for more than a decade and is the largest national dataset on school travel.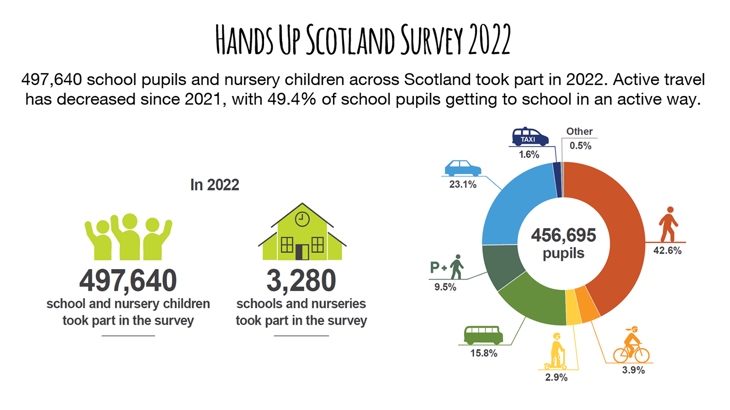 School survey packs 2023
This 2023 survey will take place between 11 and 15 September.
Please ensure that the survey is conducted at your school during this week.
You will find the survey materials for the Hands Up Scotland Survey (HUSS) 2023 below.
Your local authority should have indicated that your school either submit data on the online survey platform or return all of the completed survey forms to your Local Authority contact.
The survey materials vary slightly between these two methods of submitting data.
Online survey platform
Hands Up Scotland Survey (HUSS) forms:

All data should be returned via the online survey platform by Friday 29 September, unless you have been instructed otherwise by your local authority.
The online survey platform will open on 11 September 2023.
Access the online survey platform. 
Returning completed survey forms to local authority contact 
Hands Up Scotland Survey (HUSS) forms:
Please ensure you only use this set of resources if the local authority has indicated that the completed survey forms should be returned to them.
Should you require anything further or have any queries, please contact your local authority contact, or email: handsupscotland@sustrans.org.uk.
Thank you for your continued participation and support of the Hands Up Scotland Survey.
Top findings from the 2022 survey
Some of the key findings from the 2022 survey are:
In 2022, the percentage of school pupils travelling actively to school, either by walking, cycling, scootering or skating, is at 49.4%. This represents a continued decrease since a 51.2% high in 2020, but is still higher than the pre-pandemic levels of 2019 (47.8%)
Walking rates decreased by a percentage point but walking is still by far the most common way school pupils get to school
Bus use has increased by 1.3 percentage points since 2021, to 15.8%, and is now comparable to pre-pandemic levels, though is still 3 percentage points lower than in 2013
The percentage of pupils scootering or skating to school has increased to a joint recorded high of 2.9%.
Download the Hands Up Scotland Survey 2022 results
About the Hands Up Scotland Survey
The project is funded by Transport Scotland and is a joint survey between Sustrans and all 32 Scottish local authorities.
Each September, schools across Scotland complete the survey by asking their pupils 'How do you normally travel to school?'.
Local authority officers distribute the survey to schools and return pupil responses to our Research and Monitoring Unit for overall collation, analysis and reporting.
A Parliamentary Order was passed designating Sustrans as Official Statistics Providers in the production of Hands Up Scotland on 1 June 2012. 
The results provide a valuable annual snapshot of school travel.
They are used by Sustrans, Transport Scotland and other groups to:
inform policy areas
monitor trends in school travel over time
and provide information relevant to a variety of health, transport and education initiatives.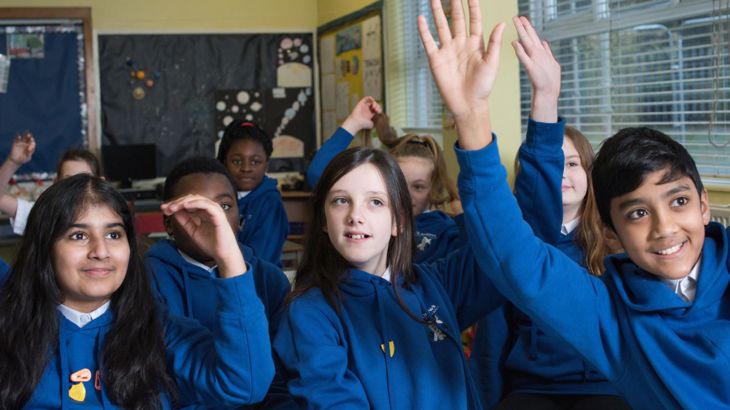 Hands Up Scotland Survey data request
The Hands Up Scotland Survey team also produces reports containing information at a school level for local authorities.
To access these local authority reports to aid more in-depth analyses for a specific project or purpose, please submit a data request to the Hands Up Scotland Survey team.
Download the Hands Up Scotland Survey Data Request Form.
Sharing of school-level data is at the discretion of the relevant local authority and Sustrans' Research and Monitoring Unit.
The usual turnaround period for a simple dataset request is two to three weeks. More complex requests may take longer. 
Your submitted data request will be processed in accordance with the Hands Up Scotland Data Request Guidelines Terms and Conditions.
If you encounter any problems in submitting your data request, please contact the Hands Up Scotland Survey team.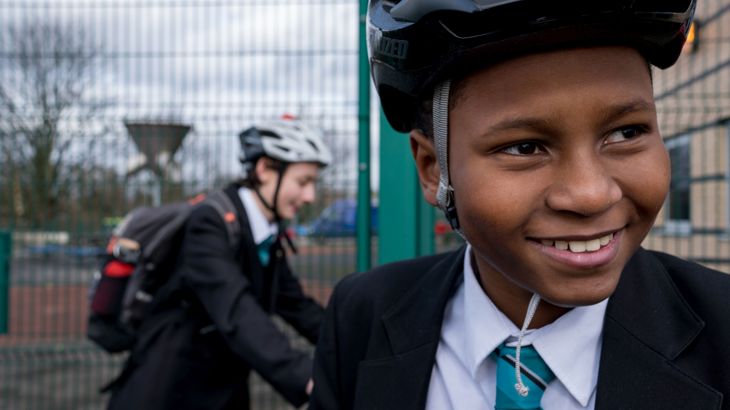 Previous survey results
| | | |
| --- | --- | --- |
| Hands Up Scotland 2021 |   | Hands Up Scotland 2020 |
| Hands Up Scotland 2019 |   | Hands Up Scotland 2018 |
| Hands Up Scotland 2017  |   | Hands Up Scotland 2016 |
| Hands Up Scotland 2015 |   | Hands Up Scotland 2014 |
| Hands Up Scotland 2013 |   | Hands Up Scotland 2012 |
| Hands Up Scotland 2011 |   | Hands Up Scotland 2010 |
| |   | Hands Up Scotland 2008 |