50 people seeking asylum have been loaned free cycles by Brompton bicycle company and Newham council. Free cycle training is also equipping them with the skills to use their Bromptons to explore their local area.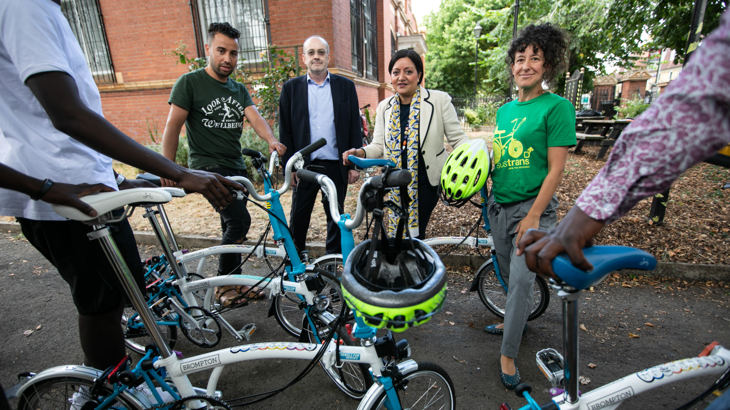 Participants in the project with council officials, Mayor of Newham, Rokhsana Fiaz (second from right) and Sustrans Head of Behaviour Change and Healthy Streets, Ruth Chiat (right) at the project launch. Photo: © Kois Miah/Sustrans
We've organised a project in which 50 people seeking asylum in the London borough of Newham have been loaned cycles from bike company Brompton.
Participants from Somalia, Egypt, Sudan, Eritrea, Chad and Kurdistan now have access to the cycles for six months, along with cycle training from provider Cycle Confident.
The project aims to widen access to essential services and reduce isolation.
Addressing transport poverty
Many people seeking asylum are housed in temporary accommodation without the funds to use public transport.
As a result, many must walk long distances to access essential services such as supermarkets, health centres and colleges.
Volunteers at local charity Care4Calais provide support to new arrivals.
They regularly receive requests for bikes from the communities they work with, but donated cycles are few and far between.
To address this, Sustrans and Newham Council have partnered with Brompton to offer loan bikes to 50 people as part of a six month trial.
It's hoped that this will enable people seeking asylum to make everyday journeys in a fraction of the time and open up opportunities for them to travel much more widely.
Participants will also receive training sessions from cycle training provider, Cycle Confident.
They'll be learning key skills for riding safely in London and getting to know the best cycle routes in the area.
Isolation and loneliness can be a huge challenge for people seeking asylum.
The issue is exacerbated when communities are housed in remote areas.
Cycles enable people to get around under their own steam, they open up the city for exploration, make accessing community services easier and support people in getting to know their neighbourhoods.
This project is a partnership with Newham Council, Brompton, Care4Calais and Cycle Confident. Newham Council is funding the scheme.
This bike will make a big difference for me. At the moment I'm having to do a long walk to college which takes a lot of my time. Now I have this bike I can cycle in which is faster and I'll enjoy it more.
I enjoy exercise and keeping fit but have very limited options other than running as I can't afford much. With this bike I can cycle around the area, it means a lot to me to be able to exercise more.
Easing challenges with practical support
Rokhsana Fiaz, Mayor of Newham said:
"As part of our building a fairer Newham plans, celebrating our diversity, and making sure our borough is an inclusive place to live, I am thrilled that we are collaborating with Care4Calais, Sustrans, Cycle Confident and Brompton to offer 50 bikes to residents who are amongst the most marginalised because they are refugees.
"We know that for these residents in Newham, it is particularly hard to meet the costs of travel, as well as contend with the cost of living crisis.
"This bike scheme will help ease the challenges they face, support their wellbeing, and show how in Newham they are being supported by trusted partners working with the Council."
James Cleeton, Sustrans London Director said:
"I'm proud that Sustrans is making such a positive impact on the lives of people who are living through circumstances which are unimaginable to most of us.
"It's great that we have been able to bring together a group of organisations to redress some of the inequalities faced by people who are experiencing transport poverty.
"Sustrans has also helped to deliver similar schemes for migrants in Belfast and refugees in Hastings, with both groups benefitting from cycle loans and skills training.
"This kind of practical support is life-changing and helps to ensure equal access to towns and cities for everyone."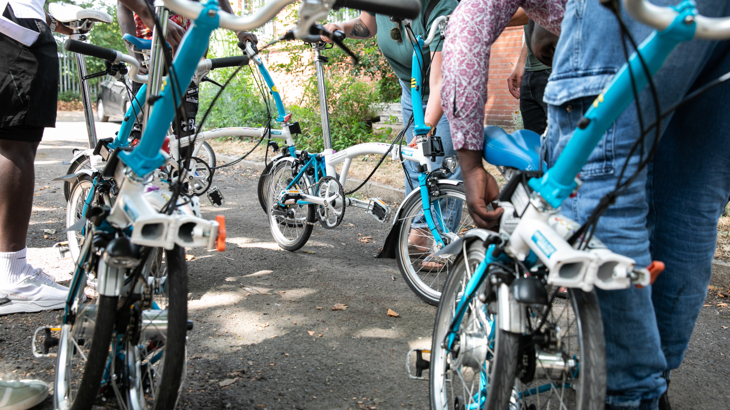 This is an amazing project, I can't believe I can use this bike for the next few months. I am so happy. Thank you for making this happen.